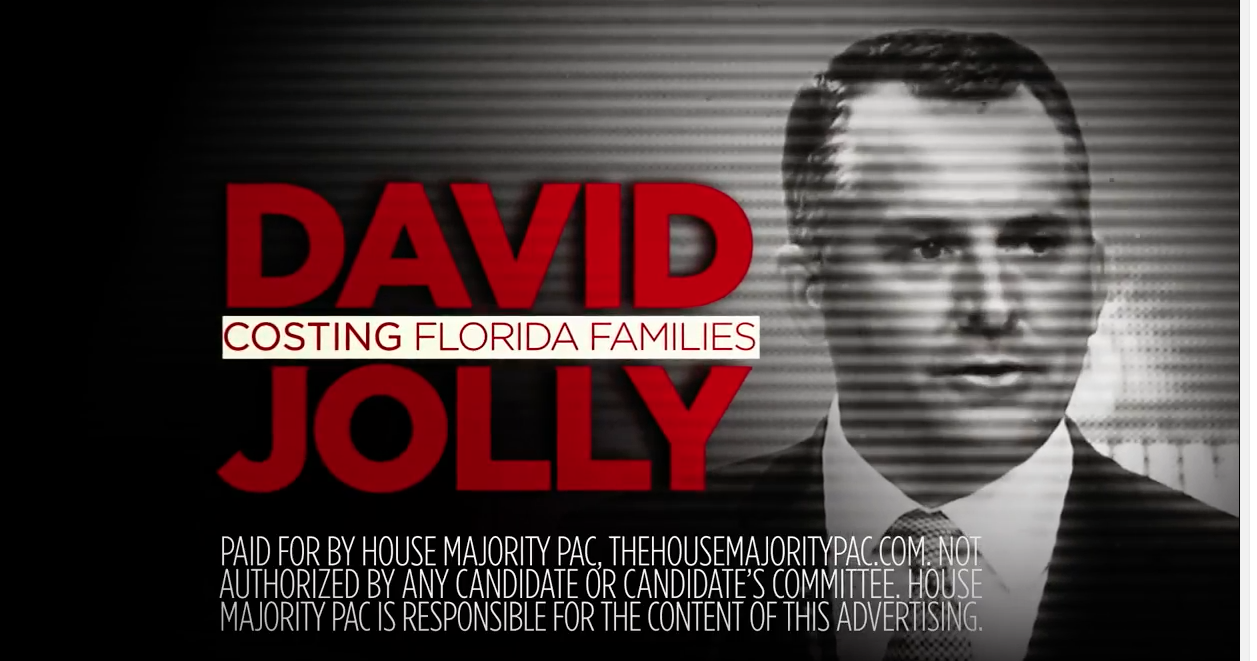 House Majority PAC is out with its second ad of the political cycle attacking David Jolly — this time on Florida's controversial nuclear cost recovery law.
Called "Cost," the ad hits the Congressional District 13 Republican for taking thousands of dollars in campaign contributions from Duke Energy while saying he was doing nothing to stop the utility from charging taxpayers for a nuclear power plant that will never be built.
The ad opens with a St. Petersburg couple identified as "Lucinda and Howard J." complaining about their utility bill from Duke continuing to rise while paying for a power plant that won't ever be built "is ridiculous."
The issue revolves around the 2006 nuclear cost recovery law that allows utilities like Duke and Florida Power & Light to collect billions of dollars from customers to cover nuclear construction costs. The law has been challenged several times in the courts, but still remains law.
The Florida Public Services Commission has allowed Duke to bill customers $1.2 billion since 2008 to increase generating capacity at its Crystal River nuclear plant and begin work on a new plant in Levy County. Duke retired the Crystal River plant in 2013 after unrelated construction problems, and also canceled plans for the Levy County plant.
Although the culprits for allowing that were the Republicans and Democrats in the Florida Legislature in 2006, Jolly is getting hit for not doing enough to get rid of the law. Pinellas County District 68 Democrat Dwight Dudley has introduced legislation in recent years to repeal the law, with little success.
Jolly is running against Democrat Charlie Crist in Florida's 13th Congressional District race.
House Majority PAC is also airing ads this election cycle supporting Stephanie Murphy, the Democrat challenging John Mica in Florida's 7th Congressional District. The Democratic-based super PAC announced six ads are airing around the country in support of Democrats running for Congress this fall.
"It is odd that they would attack David Jolly on a state issue the Congressman has no control over, when Charlie Crist actually served four years as governor and a total of 18 years in state government during and did nothing when he actually had a chance," said Max Goodman, a spokesman for Jolly's campaign. "In fact, the ad would be more accurate if they simply switched out David Jolly's name, and replaced it with Charlie Crist."