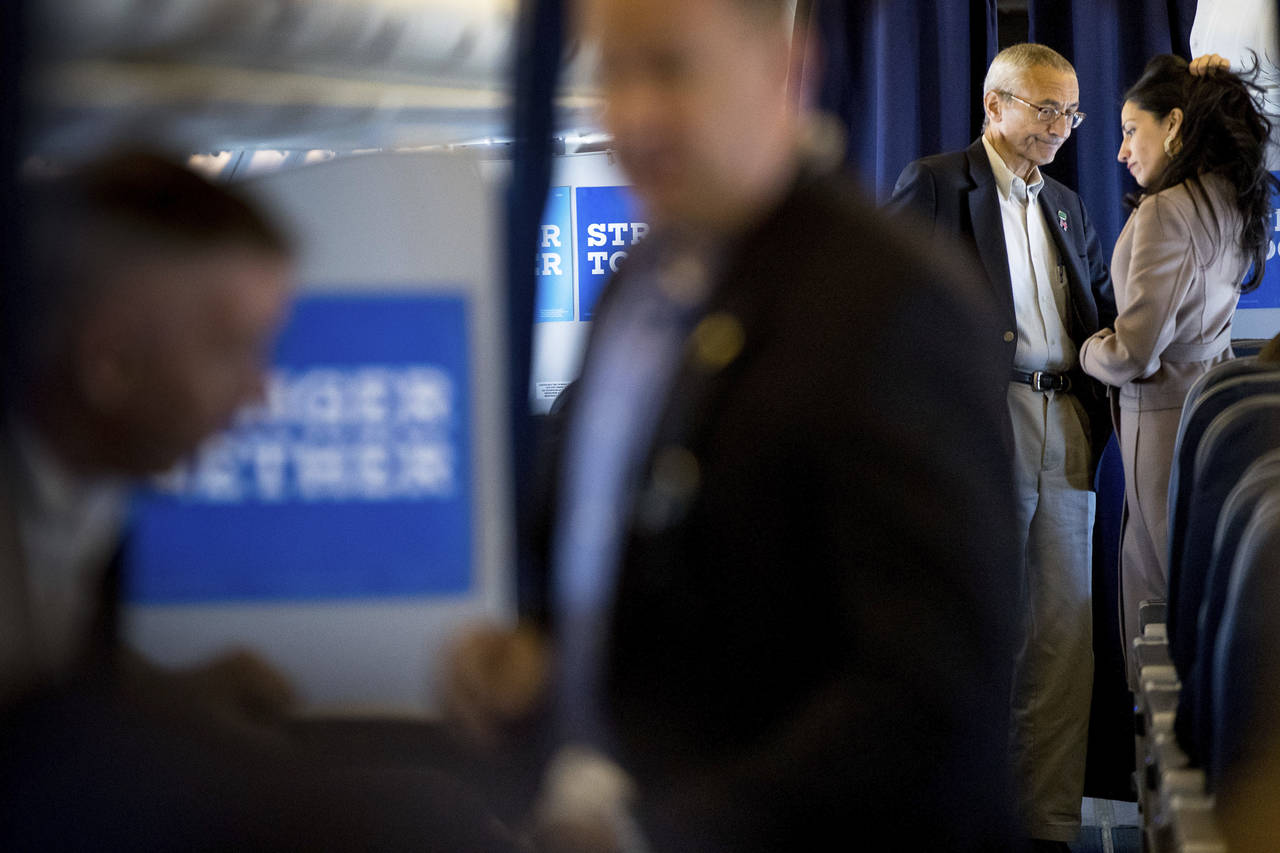 Hillary Clinton's top adviser said the FBI is investigating Russia's possible role in hacking thousands of his personal emails, an intrusion he said Donald Trump's campaign may have been aware of in advance.
If true, the assertion from Clinton campaign chairman John Podesta would amount to an extraordinary link between Russia and an American presidential campaign. Podesta said the alleged ties could be driven either by Trump's policy positions, which at times echo the Kremlin, or the Republican's "deep engagement and ties with Russian interests in his business affairs."
To Podesta, the central figure in the swirling controversy is longtime Trump adviser Roger Stone, who has said he has been in touch with WikiLeaks founder Julian Assange. Podesta also raised as evidence an August tweet in which Stone said Podesta's "time in the barrel" was coming. The tweet was sent shortly after WikiLeaks published scores of hacked emails from other Democratic officials.
"I think it's a reasonable assumption, or at least a reasonable conclusion, that Mr. Stone and the Trump campaign had advance warning about what Assange was going to do," Podesta told reporters aboard the Clinton campaign plane. Podesta acknowledged the evidence was "circumstantial."
Stone, in an email to The Associated Press late Tuesday, said Podesta's accusations were "categorically false" and "without foundation." WikiLeaks tweeted Wednesday that it "has had no contact with Roger Stone."
Podesta said the FBI contacted him over the weekend and confirmed it was investigating the hacking of his account as part of the ongoing probe in other Democratic Party hackings by groups with Russian ties. Last week, intelligence officials said they believed the individuals responsible are working for Russian intelligence and coordinating with Assange on the political hacking.
Russian Ambassador to the U.S. Sergey Kislyak dismissed the accusations as untrue.
"We are watching very carefully the election campaign in this country," Kislyak said Tuesday at a discussion of bilateral affairs at Johns Hopkins University's campus in Washington. "We don't interfere (in) the internal affairs of the United States, neither by my statements nor by electronic or other means."
Clinton has repeatedly accused her opponent of being soft on Russia, pointing to his praise of Russian President Vladimir Putin as a strong leader, his suggestion that he would rethink sanctions against Russian officials, his sharp criticism of NATO and other policy positions.
While Podesta didn't directly accuse Trump of assisting in any Russian meddling with American campaigns, he suggested Trump was either "willfully ignoring" intelligence officials' warnings about Russian government involvement or "an unwitting agent of the Russian Federation."
The Clinton campaign would not confirm the authenticity of Podesta's leaked emails, noting that Russian hackers often fabricate documents.
"The pattern is they hack, they leak truthful things, and then they build up to leaking documents that are either doctored or wholly fabricated," said Jennifer Palmieri, Clinton's communications director.
Trump seized on the hacked emails at a rally Tuesday night in Florida, alleging the documents show that "Clinton is the vessel (of) a corrupt global establishment that's raiding our country and surrounding the sovereignty of our nation."
Also citing WikiLeaks, Trump said: "The Department of Justice fed information to the Clinton campaign about the email investigation so that the campaign could be prepared to cover up for her crimes. What is going on?"
In May 2015, Clinton spokesman Brian Fallon alerted staffers that the Justice Department was proposing to publish Clinton's work-related emails by January in response to requests by news organizations. Fallon, a former Justice Department spokesman, wrote that unspecified "DOJ folks" told him there was a court hearing planned soon in the case.
The dates of court hearings would have been publicly posted in advance on the court's docket. Fallon did not respond to a request for comment from AP. The Justice Department declined to discuss Fallon's email.
Still, Trump said, "This is collusion and corruption of the highest order and is one more reason why l will ask my attorney general to appoint a special prosecutor," following up on his debate threat to put Clinton in jail.
WikiLeaks dropped the first batch of Podesta's emails shortly after news organizations released a video in which Trump is heard making sexually predatory comments about women. That video has deeply damaged Trump's campaign, leading several Republicans to revoke their support for the businessman.
Podesta said Tuesday the timing of his emails' release was an "awfully curious coincidence."
"Mr. Assange wanted to change the subject," Podesta said. "He didn't succeed in doing that."
Republished with permission of the Associated Press.