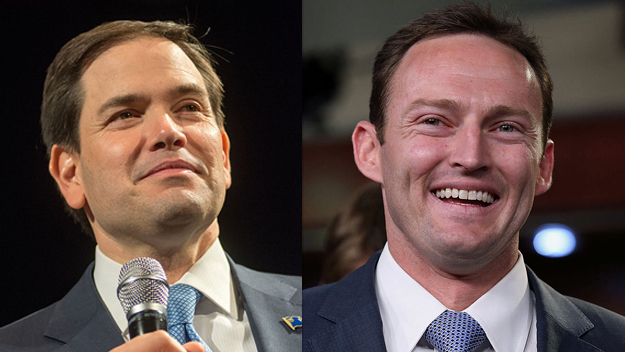 Another poll of Florida's U.S. Senate race shows Republican incumbent Marco Rubio with a solid lead over Democratic U.S. Rep. Patrick Murphy.
The Public Policy Polls survey released Friday afternoon shows Rubio leading Murphy, 44 percent to 38 percent. Libertarian candidate Paul Stanton gets 6 percent.
Removing Stanton from the list of available choices doesn't improve things much for Murphy. In a one-on-one matchup, Rubio leads 48 to 43 percent.
Murphy has been blasting Rubio for standing by his endorsement of Donald Trump, even in the wake of his lewd sexual remarks from 2005 that rocked the presidential race in the past week.
When asked if that makes one more likely or less likely to vote for Rubio, 32 percent say more likely, 39 percent say less likely, 25 percent say it doesn't make a difference, and 4 percent aren't sure.
The poll comes just three days before Murphy and Rubio will debate for the first time, in an hour-long forum broadcast live Monday night at 7 p.m.
Public Policy Polling surveyed 985 likely voters on Oct. 12-13. The margin of error is +/-3.1 percent.