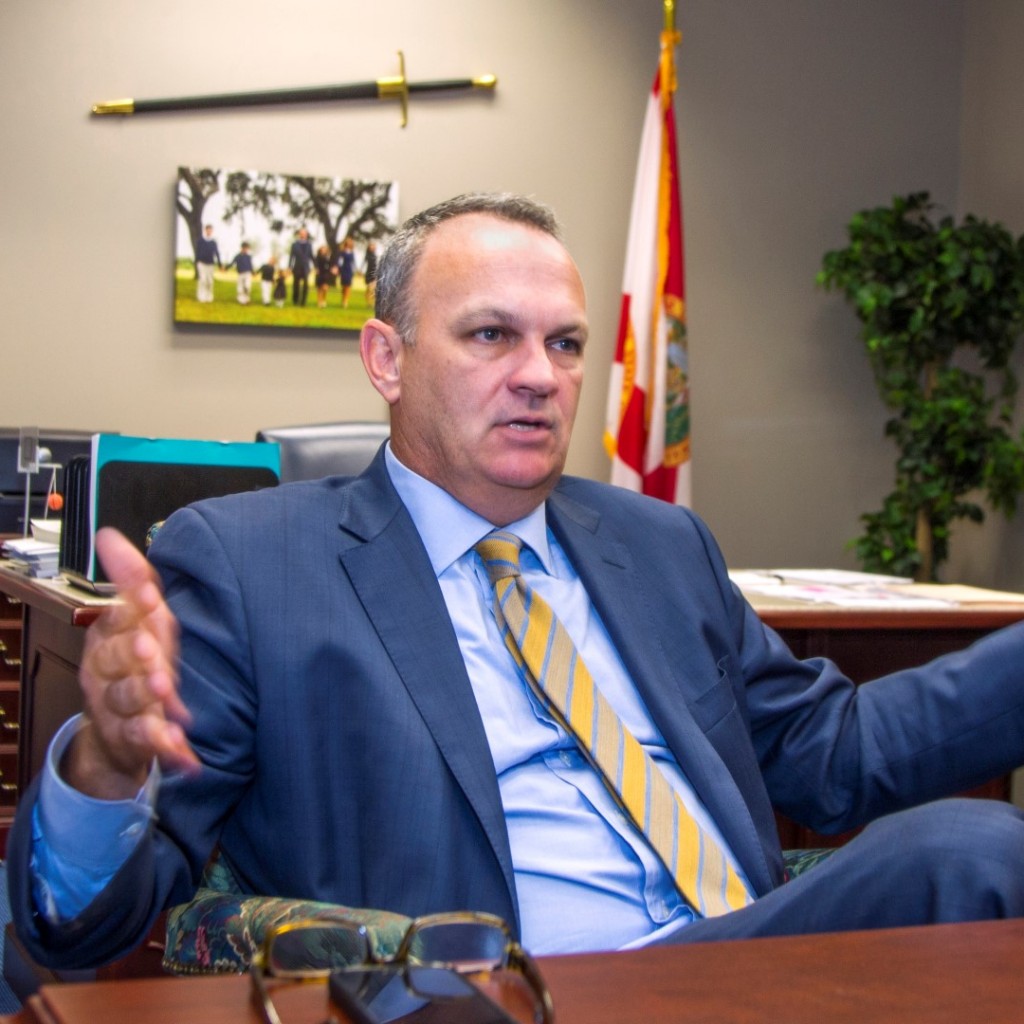 House Speaker-designate Richard Corcoran grins widely when you suggest he's stealing a page from the "progressive" politics playbook.
The Land O' Lakes Republican held an impromptu press conference Tuesday after he welcomed new members at their two-day orientation session, another Corcoran innovation.
He was asked: Prohibiting state representatives from flying in lobbyists' airplanes? Increasing the ban on former members lobbying their colleagues from two years to six years?
Aren't these usually — dare we say — proposals that come from the other side of aisle? Corcoran would have none of it.
"I would just say, everything you just said, I reject," he said with a laugh. "I don't know where you got that concept. That is not who we are."
Message delivered: Good government ideas don't just belong to the Democrats.
Corcoran, who is expected to formally become Speaker at next Tuesday's organization session, also said he doesn't expect pushback from the Senate over his increased transparency plans for budgeting.
Even Janet Cruz, the incoming Democratic leader, has endorsed the new rules.
For instance, Corcoran is requiring lobbyists to disclose every bill, amendment, and individual appropriation they are trying to influence. Another rule requires House members to file separate bills for each budget request they make, such as for hometown projects.
Based on conversations he's had with some senators, "I think that they understand what we are trying to accomplish," he told reporters. "They've been supportive. It's easy to understand the motive: We're trying to have the most open, transparent process in the nation. I think we've achieved that."
Why? Because "knowledge is power."
"The more knowledge our members have, the less powerful the special interests," Corcoran said. "And the less distracting the outside noise or circus is."
Even the lobby corps hasn't complained — yet. Or at least not to him.
The reaction to the new, stricter rules "has all been favorable," Corcoran said. His brother Michael is a prominent state lobbyist. "Look, we were talking about these things all the way back in our 'blueprint.'"
Corcoran and other members of his class of lawmakers elected in 2010 wrote their own good-government manifesto, "Blueprint Florida." Many of the current rule reforms are taken straight from that 86-page policy paper.
"All of the stuff we've been working on has been meant to say, at the end of the day, we're the enemies, we're the problem," he said. "The only reason they" — the special interests — "have power is because we voluntarily abdicate and give to them what (power) is rightfully ours.
"And what is rightfully ours belongs to the people."
Corcoran also said he hadn't responded to a recent letter from Dave Mica, chair of the Florida Association of Professional Lobbyists, asking to weigh in on the House rules before they were released.
"If Dave wanted to have input, there's a process, and it's called an election," he said. "I like Dave; I don't have anything against him. But he can go out there and knock on doors … if he wants to sit at the table."
Finally, Corcoran was circumspect when asked about the need for "healing" after a particularly divisive election year, saying the division wasn't as bad in Florida.
Candidates do "need to be true to the principles they espouse," he said. "There'd be a greater healing in the public's confidence in government … and I think you'd have a happier electorate."