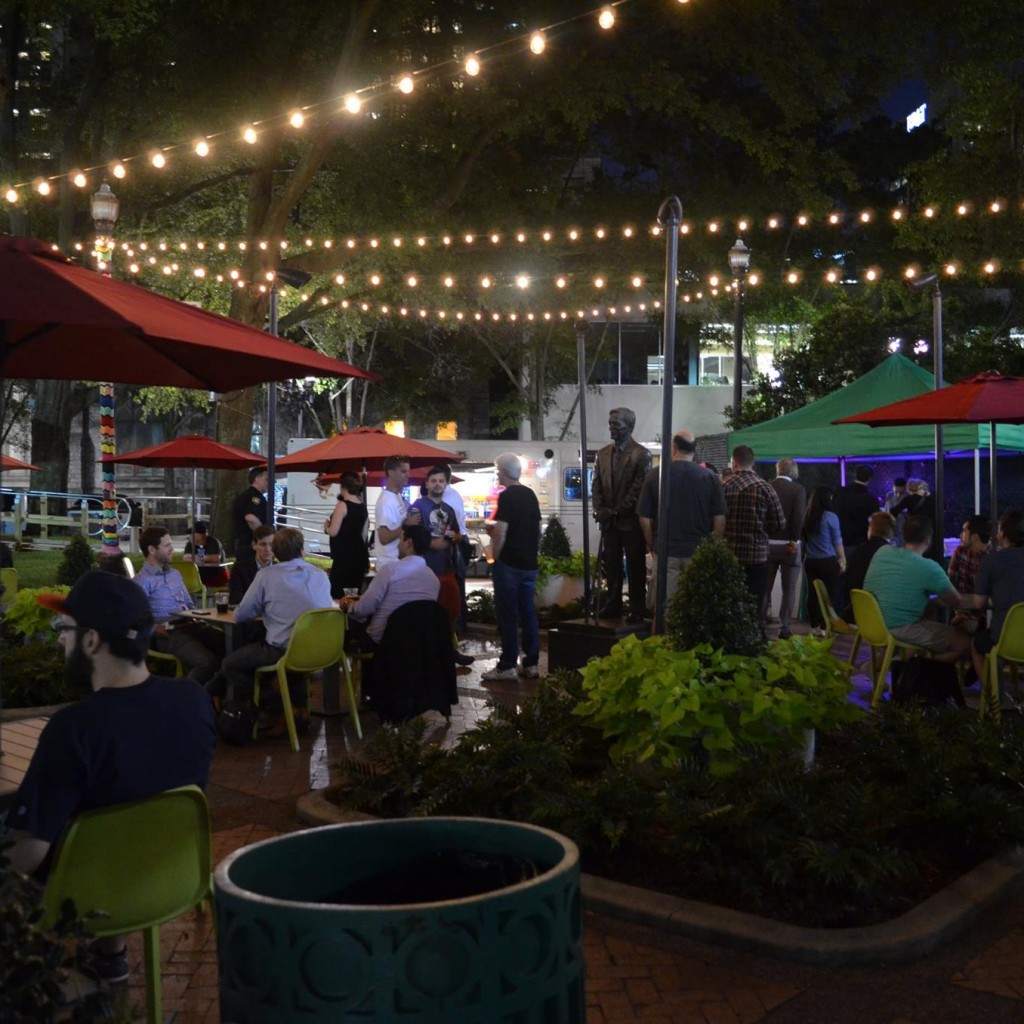 On Wednesday afternoon, Jacksonville City Council members convened to discuss a recurrent topic: enforcing regulations in Hemming Park.
The so-called "front door to city hall" has encountered challenges of late, with the most recent narrative twist being the mayor's office saying last week that it was time that the "Friends of Hemming Park" experiment end.
Funding from the city for FOHP runs out at the end of March 2017.
Despite over a million dollars of city money being spent on trying to turn the park into a showcase, the predictable problems created by the transient park population (alcohol and drug abuse, vociferous squabbling, and so on) have stymied the city's attempts to create an oasis of gentrification in the heart of downtown.
While Hemming Park's future is in doubt, council members sought to refine the rules governing the park on Wednesday.
Among the discussion points on Wednesday, a potential expansion of park rules, with Councilman John Crescimbeni noting that rules mandating pants, shirts, and shoes might get some "weird challenge about not being able to wear a dress, a kilt, or whatever they want to wear."
A representative from the sheriff's office suggested that rules "not address bottom covering at all," as that would fall under the aegis of indecent exposure bans that exist citywide.
Park boundaries were also discussed, with the boundary of the roads surrounding the park (Hogan, Duval, Monroe, and Laura Streets), and the Skyway stop also coming up for discussion.
Those given trespass orders banning them from the park could pass through the park on the Skyway, but would be disallowed from getting on or off the people mover at the Hemming Park stop.
There is case law to back this up, said a representative from the office of general counsel.
"This gives absolute clarity," concurred Councilman Greg Anderson.
Public feedings were also a point of discussion; some individuals and groups feed the regular park congregants, who often are divested from the workaday world of traditional employment and social mores.
These feedings raise First Amendment issues, as there have been contentions that they are protected speech.
"The council's grappled with this feeding issue for a while," said OGC representative Peggy Sidman.
The current cutoff for non-permitted feedings: 20 meals distributed per person distributing them.
Crescimbeni believed the number 20 was "taken out of the air," an arbitrary designation inserted into a previous settlement agreement between the city and a rogue feeder.
Of course, the looming issue over the discussion is the mayor's desire to take control of the park from FOHP.
"I personally feel like we're kind of coming to the end," said Anderson.
FOHP is funded through March 31, but there is no guarantee they will satisfy that term.
"The mayor may change his mind," Crescimbeni said, but the council has an obligation to follow through regardless.
"The park has changed," said FOHP head Bill Prescott, with unsavory patrons telling security that they've been "fired."
Prescott said that the uncertainty created by the mayor's office regarding the management of the park is an example of "one step forward, two steps back."