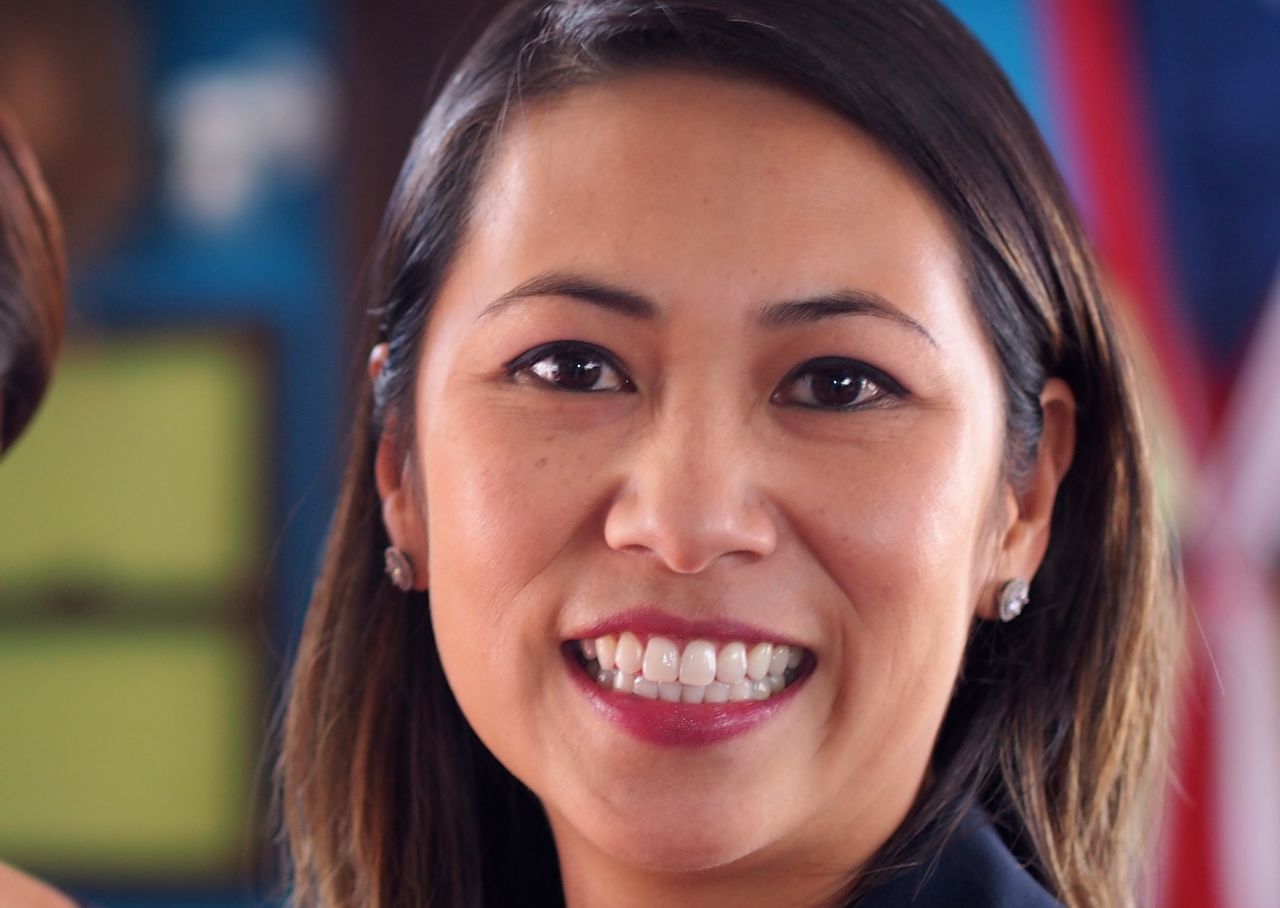 An event in Congresswoman-elect Stephanie Murphy's infancy keeps redirecting her life, a life that has the 38-year-old business professor heading to Washington to represent Orlando and Central Florida as the first Vietnamese-American woman in Congress.
When she was six months old, her family fled Vietnam on a refugee boat. Stephanie, her mother, father, brother, and dozens of mostly strangers, all yearning for freedom and better lives, went adrift when their boat ran out of fuel. Supplies were running low. This was on the South China Sea, in thousands of square miles of open water.
Along came her hero, the U.S. Navy, which intercepted their little boat, provided fuel, food, water and other supplies, and helped them make the crossing to Malaysia. The Lutheran Church took it from there, getting them from a Malaysian refugee camp to America, where her family settled in Virginia.
'The girl rescued at sea," as a congressional campaign flyer dubbed her, will not forget the humanitarian assistance the sailors provided. Nor does she want to disappoint them.
Fast forward 22 years and Stephanie Dang was a young strategy consultant at Deloitte Consulting in Washington D.C. when the Sept. 11, 2001, attacks occurred. Through her parents, that South China Sea rescue had driven into her a deep sense of wanting to help others, to serve the public, she said, and the 9/11 attacks awakened that desire. She quit her job and went to graduate school at the Georgetown University School of Foreign Service. And when she got out she was hired at the U.S. Department of Defense as an analyst.
She worked on a Navy service budget staff, and with the combatant command and the Pacific command. Eventually she moved up to the secretary of defense's office as a policy analyst, and was chief of staff to a global strategic guidance planning effort that won her a Defense Department Medal for Exception Civilian Service.
But it was an earlier effort there that defined her. She helped organize the U.S. Navy's rescue, relief and recovery assistance to victims of the Indian Ocean tsunami that swept through south Asia, particularly Indonesia, in late 2004. The effort was critical to U.S. foreign diplomatic and strategic defense interests because Indonesia is the world's most-populous Muslim country. Through the effort, the U.S. may have made new, strong and lasting inroads into relations. But set that aside. For her the effort was, in many ways, a full-circle trip from when the Navy rescued her family just a few hundred miles away.
"I always say it was the greatest honor of my life, to be able to work alongside uniformed men and women, knowing that they rescued me at sea," Murphy said in an interview with FloridaPolitics.com. "And then to be working alongside them, rescuing other people in southeast Asia in the aftermath of such a devastating tsunami, the long hours, getting home in the middle of the night, and then turning on the TV, and seeing U.S. men and women in uniform delivering water and caring for the people who had been injured, it was incredibly satisfying, and something I'm so proud of."
Along the way she married a Winter Park guy she had worked with at Deloitte, Sean Murphy, and when he got the opportunity to come home from Washington to set up a small company, she came too, leaving her public sector career. And she landed a job with Sungate Capital in Winter Park, part of her husband's family's myriad of business interests in the Orlando area, most notably as principals in the for-profit Full Sail University.
She and Sean had two children, Liem, now 6, and Maya, 2. She got involved in some local efforts, particularly mentoring disadvantaged young women in college and business. She also won an appointment to Rollins College as a business professor in the school's social entrepreneurship and business program, which allowed her to continue plugging into that humanitarian-aid, public service spirit that awoke on Nov. 11, 2001.
And then politics happened. Early in 2016, Bill Phillips, the Democrats' candidate running against Republican U.S. Rep. John Mica in Florida's 7th Congressional District, withdrew from what had been a foundering campaign. That left the national Democratic Congressional Campaign Committee scrambling to find a replacement. And it was a priority for he Democrats, because the committee believed Mica was highly vulnerable. Murphy initially was one of the people advising the DCCC as it tried to assess other potential candidates. But as one after another either declined or washed out in the vetting, the DCCC started looking at its own advisor.
In some sense it may have appeared preposterous. Murphy was not even a Democrat yet, registered until mid-June as no party affiliation voter. And though her husband's family had long been active in politics, and she had played the role of government affairs advisor, her political profile was low in Central Florida, while Mica arguably was the most plugged-in politician in town. He had won 12 terms, the last 11 easily. And she could have only four months to campaign. Still, she bore an impressive resume and deep, thoughtful convictions, and was positioned to be packaged as a bright, hopeful, attractive representative of the young, diverse constituency within the newly-defined CD 7.
She remembered what those sailors had done, and the legacy sense of duty and giving back which they and her parents had given her. She thought of her political idols: Jimmy and Rosalynn Carter, whom she admires for their lifelong commitment to humanitarian causes. How could she say no?
Murphy's campaign was turbo-powered by $8 million in Washington money that turned a long-shot bid into a sometimes nasty and overwhelming campaign against Mica. Regardless, she herself turned out to be an aggressive, hard-working, and articulate candidate who learned quickly from the savvy Democratic campaigners who joined her on her trail, such as Nancy Pelosi, Wendy Davis, Gwen Moore, Nydia Velazquez, and Val Demings, who won her own election in the adjacent Florida's Congressional District 10.
Murphy 51, Mica 49.
Now what?
Murphy campaigned on changing how Washington works, and she's sticking to that. She said she'll focus on efforts to create higher-paying jobs in the district and Central Florida, particularly in the rising high-tech industries in Lake Mary, the University of Central Florida's Research Park, other areas, and the emerging private space sector.
She pledged a willingness to work across the aisle and that includes working with a Donald Trump White House, even though her campaign had demonized Trump in an effort to also demonize Mica by association.
"The campaign is over. And as I said throughout the campaign, I'm willing to work with anyone who is willing to work with me," she said. "That's the approach I'm going to take with this administration."
Together with Demings and Democratic Congressman-elect Darren Soto, who won the third major Central Florida seat in Congress, in Florida's 9th Congressional District, Murphy will be part of a rookie triumvirate serving Orlando. She dismissed concerns about their inexperience and lack of seniority clout, choosing instead to describe their backgrounds – an African American former police chief, a Puerto Rican civil rights attorney, and her – as a new way to represent the growing and diverse community.
"I think Val, Darren and I bring a really bring a really palpable set of life experiences to Congress. These are the types of experiences that truly reflect the diversity, the youth, the political leanings of Central Florida," she said. "And so I really believe that Central Florida has elected a powerhouse trio, each with our own strengths that will help serve Central Florida very well."