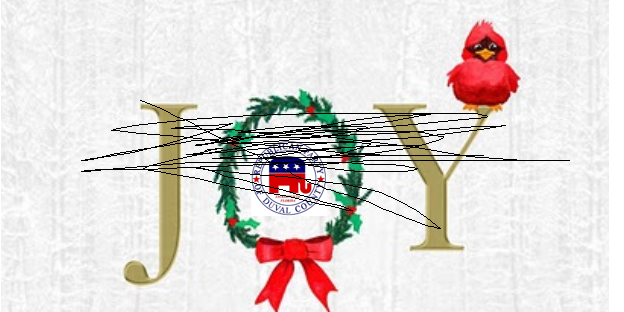 The Republican Party of Duval County continues to fracture after Monday's surprising leadership elections, which saw longtime chair aspirant Karyn Morton topple Cindy Graves.
The establishment, the donor class, and incumbent politicians all have a comfort level with Graves.
However, it was Morton who scored a coup over Graves on Monday night.
And it's Graves who is saying the race was essentially rigged, and that Morton is singularly unqualified for leadership.
In an email to members of the Duval Republican Executive Committee, Graves threw the shade and dished the dirt, effectively undermining Morton less than 48 hours after her election, even before Morton took the chair she has sought for so long.
"I could not be more thrilled given the current circumstance.  I dodged a huge bullet as I would be unable to lead this new group at the REC and am now free to return to my real and very happy life," Graves said.
"Although me and my team received a standing ovation [at the] November 21st REC meeting," Graves continued, "all enthusiasm and talk of victory and unity abruptly ended abruptly when the 'new group' of REC members took over the local Party on December 1st in accordance with the rules."
Graves is "concerned for the party," because unity was breached, and also because she doesn't trust Team Morton with the books.
"My successor was among the leaders and active bank signers with a Party credit card who failed to provide a smooth transition in May. As the rest of us were hurriedly rebuilding the Party, I discovered they had failed [to] reincorporate the Party, file IRS taxes, or properly pay bills. We cleaned that all up in June," Graves wrote.
Graves then went on to discuss the meeting and the vote.
"Karyn Morton challenged me for chair," Graves wrote, "although she has no real record in my opinion and served as great hindrance to our team and staff during the election."
Graves went on to depict Morton as a yahoo.
"She also openly told her supporters from the microphone Monday that she had nothing but distain for elected officials – which was applauded by her supporters," Graves wrote, saying Morton ran "on a series of misstatements and pitted her supporters against 'the establishment' read: anyone who has ever contributed money or led the grassroots before in Duval before."
Graves then described how the establishment was disestablished.
"In a very odd turn of events," Graves notes, "Ms. Morton and her friends comprised the majority of the people who voted Monday and are now in charge of the Party."
"Longstanding members like Sheriff John Rutherford, Suzie Loving and Mike Hightower along with 30 some odd others showed up and were not allowed to vote. Additionally," Graves adds, "almost 40 members and supporters with the ability to vote did not show up all on Monday because they thought this was not really a contest."
Notable: Morton won by 30 votes.
Graves notes that "the members of the 2017 voting body did not include those with Party continuity …  because their 'paperwork"' (paperwork I personally saw) never made it to the SOE before qualifying, unbeknownst to me or those affected."
Morton was in charge of the paperwork, Graves said.
Conspiracy?
"Sadly," Graves said, "we will never know the real story."
"After Morton won," Graves continued, Jacksonville City Councilman "Sam Newby who has served brilliantly as the REC Vice-Chair also since May promptly withdrew his name from nomination to the shock of the crowd, as did our REC secretary."
Newby spoke to us Wednesday morning, confirming that take, representing Graves and him as a "package deal" and a "great team" that brought $192,000 of new money into the party in the five months prior to the election (though some of that was pass-through money from the state party).
Graves was not done savaging Morton, saying that she came into the party during the Rick Hartley years, and was "best known for her affiliation with the Ron Paul supporters or "Liberty Caucus'."
"Last June," Graves notes, Morton "won election as state committeewoman with the support of former chair Robin Lumb, to fulfill my unexpired term."
Then, still more shade.
Morton "failed to be elected SCW on the Primary ballot in August after a very unusual and bloody race in which two of her friends were oddly running 'against her' and then suddenly "endorsed" Morton against Peret Pass creating mass confusion on the REC and among GOP voters."
"In the midst of the confusion, Ms. Morton's friend, Ms. Youngblood, who is 80 years old and who put up no campaign and had no intention of winning, actually won on the ballot (largely because of mistaken name identity I suspect)," Graves continued.
All of this sets the stage for the GOP "'Tis-the-Season" Holiday Party on Thursday at the Jacksonville Landing.
The Landing is owned by Toney Sleiman, a Jacksonville developer who supported Graves and who left the REC meeting after the chair vote went the other way.
Should be a fun holiday bash.
We've reached out to Morton for her take.
She has been incommunicado since offering a brief, anodyne statement in the wake of Monday night's result.