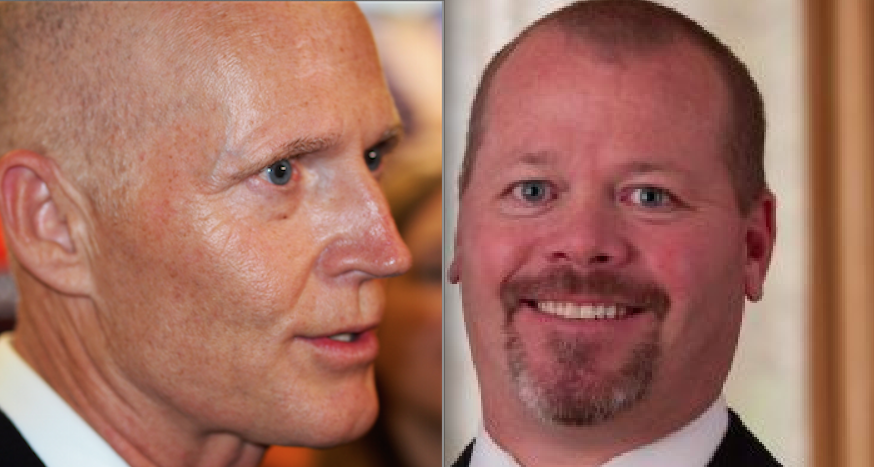 Gov. Rick Scott called on Visit Florida's Executive Director Will Seccombe to resign Friday afternoon, continuing a bloodbath at the pseudo-state agency that saw two other top executives fired earlier in the fallout from how it handled a marketing contract with Miami rapper superstar Pitbull.
In a letter the governor sent to Visit Florida's board chairman, Scott called for a complete overhaul of how it does business, telling the board he wants to see it publish details about how it spends money, including contracts.
And to do so, Scott said that Seccombe has to go.
"The major changes outlined above require new leadership and ideas at the agency, and I believe it would be best for the future efforts of Visit Florida for Will to step down and allow new leadership to come in at this critical time," Scott wrote to Visit Florida Chairman William Talbert III of Miami. Seccombe was also sent a copy of the letter.
"The notion that Visit Florida spending would not be transparent to the taxpayers is just ridiculous," Scott wrote. "We must have major reforms at Visit Florida in the weeks ahead that require new leadership."
The action comes just hours after Scott confirmed that Seccombe had fired two of his top executives, Chief Operating Officer Vangie McCorvey and Chief Marketing Officer Paul Phipps.
Seccombe has been president and chief executive officer since Nov., 2012, of Visit Florida, a non-profit company set up by the state to promote tourism to Florida.
Scott did extend some credit to him.
"The mission of Visit Florida is crucial to the economic growth of our stature, and Will Seccombe has played a major role for many years in helping Florida attract record numbers of tourists," Scott wrote.
However, Scott concluded, "Visit Florida's mission is imperative to the continued success of Florida's economy and record growth in tourism, but in order to achieve that success, the organization must be run in an open and transparent manner, which will demand major reform."
Concerns about how Visit Florida conducts business, particularly veiled in secrecy at times, have exploded this week, over inquiries into the $1 million contract it signed with Pitbull. Earlier this week House Speaker Richard Corcoran sued Pitbull's company to get the contract publicly released. Pitbull himself publicly released it on Thursday, and the suit was dropped. However, the concerns over Visit Florida continued into Friday's housecleaning.
Corcoran responded Friday with an ominous statement, suggesting Visit Florida's very fate is at stake.
"Our job is to decide if Visit Florida should exist and if so how much should it be funded," he said in a statement. "We're not engaged in their hiring and firing decisions."
Visit Florida gets $76 million a year in state money, though $74 million of that comes from a tourism trust fund.
Scott made it clear in his letter to Talbert that he thinks of Visit Flordia as "a steadfast part of Florida's amazing record growth in tourism over the last six years." But he expressed the same frustration that Corcoran and others have held about secrecy. His recommendations to Talbert were all about transparency and accountability.
He urged Talbert to consider reforms that would lead the corporation to publish, online, externs reports detailing public spending; all reports that include metrics and return on investment calculations; employee position and salary information; an organizational chart; relevant audits, tax returns, financial reports and summaries; statutory required reports; and public expenditure details by vendor and contract, with all contracts provided online.