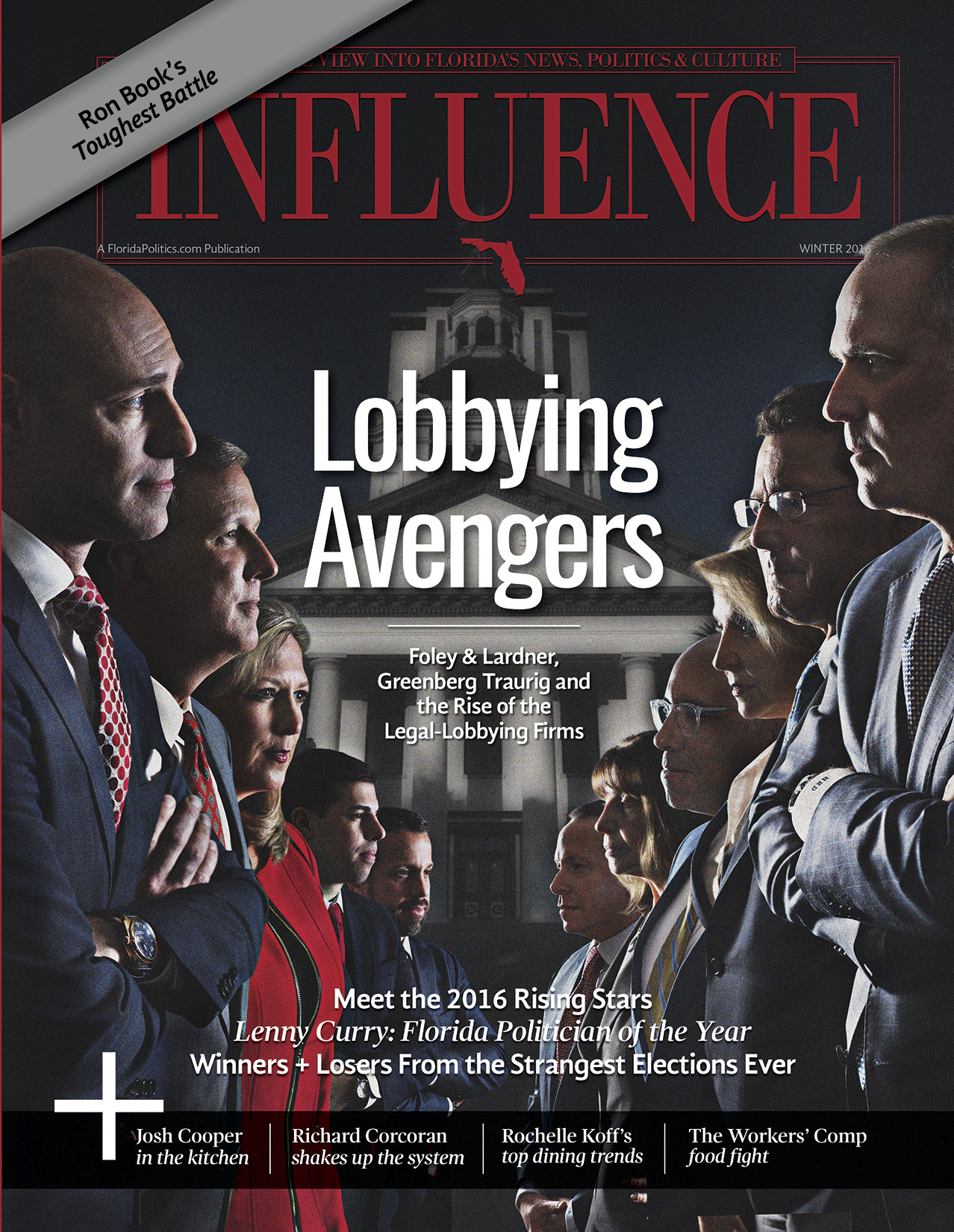 Sunburn – The morning read of what's hot in Florida politics.
By Peter Schorsch, Phil Ammann, Jenna Buzzacco-Foerster, Mitch Perry and Jim Rosica.
LAUNCHING TODAY: THE LATEST EDITION OF INFLUENCE MAGAZINE
Yes, we did it.
Yes, we based the cover of this quarter's INFLUENCE Magazine on the poster from a comic book movie, "Captain America: Civil War"
Because why can't lobbyists be superheroes?
Actually, the perception lately of lobbyists seems to be anything BUT super. Upon taking the gavel of the Florida House, Speaker Richard Corcoran promulgated new rules designed to rein in the power of the influence industry.
To extend the superhero metaphor, it's as if Corcoran is serving up a healthy dose of Kryptonite to Florida lobbyists. But will the new rules have the impact Corcoran — whose brother Michael is a lobbyist and actually was in the very first edition of INFLUENCE Magazine — seeks? Our Jim Rosica explores the issue beginning on page 82.
Whatever impact Speaker Corcoran's new rules have on The Process, the consensus among many of the most successful lobbyists is that they will quickly abide by and adapt to the changes. In fact, INFLUENCE Magazine's 2015 Lobbying Firm of the Year — Capital City Consulting —was the first to register with the House under the new guidelines.
Also ready to embrace the new day: Ron Book, perhaps the most well-known lobbyist walking Florida's halls of power. In an in-depth interview, Book talks about the privilege of working in the people's Capitol, while also opening up about the toughest battle he's had to face — his fight against prostate cancer. It's simply must-read stuff.
CLICK HERE TO READ A DIGITAL VERSION OF THE WINTER 2016 EDITION OF INFLUENCE MAGAZINE.
Anchoring this edition of INFLUENCE are two major features. The first is a look at the re-emergence of the legal-lobbying firms, like Foley & Lardner and Greenberg Traurig.
If the last decade saw the decline of the one-man (or woman) shops and the rise of the networked mega-firms, the end of this decade is seeing this other trend, where major legal firms are also major players in the governmental affairs industry. For the first time in some time, one of these firms (GT) is in the Top 5 for compensation, while several other law firms, like GrayRobinson and Gunster, are seeing increased revenues.
The second big feature in this edition is the debut of the 2016 class of Rising Stars in the governmental affairs industry. One thing we've prided ourselves on is identifying early on the fresh faces to watch … people like Katie Ballard and Sydney Ridley, who we took notice of quickly and are now watching as they bloom into power players.
THIS YEAR'S CROP OF RISING STARS includes Carol Bowen, Emily Duda Buckley, Melanie Brown, Katie Crofoot, Jose Diaz, Eric Edwards, Josh Gabel, Bianca Garza, Whitney Harris, Jasmyne Henderson, Brittney Hunt, Andrew Ketchel, Kristen McDonald, Drew Messer, Jo Morris, Drew Piers, Tara Reid, Joe Salzverg, Kelly Schmidt, Samantha Sexton, Kelsey Swithers and Jared Torres.
Do yourself a favor and get to know the 2016 class. These are the men and women who could be your next big hire — or competition.
A housekeeping note: Instead of publishing the INFLUENCE 100 every year, we've decided to alternate it with the list of Rising Stars. The truth is, the INFLUENCE 100 ebbs and flows with the election cycle and there's just not enough movement within a year to publish it annually. So, for those looking to see who made that list — or are angling to get on it — you have 12 more months.
All of this leads me to say goodbye to 2016, a truly annus horribilis, although not entirely so for the influence industry. It seems even in difficult years, the governmental affairs business prospers. Perhaps this says something about the essential nature of the work done by those in "The Process."
CLICK HERE TO ORDER THE PRINT EDITION OF INFLUENCE MAGAZINE.
***Today's SUNBURN is brought to you by Spectrum Business. Bright House Networks Business Solutions is now Spectrum Business, and we are committed to delivering your business with superior business Internet, Phone, and TV services to help power your success. We offer the best value in business with the fastest Internet for the price, advanced phone with unlimited long distance, cloud-based Hosted Voice, and reliable TV – all delivered over our reliable, state-of-the-art, fiber-rich network.  Find out why so many businesses in your area trust their communications needs to Spectrum Business. Learn more.***
DAYS UNTIL: Shopping days until Christmas – 5; FSU vs. Michigan/Orange Bowl – 11; Inauguration Day – 34; Super Bowl – 48; Pitchers & catchers start reporting for Spring Training – 57; Start of 2017 Legislative Session – 88: Election Day 2017 – 322: Election Day 2018 – 689.
DONALD TRUMP BRINGS VICTORY TOUR HOME, FIRES UP THOUSANDS IN ORLANDO via Allison Nielsen of Sunshine State News – "With your votes, the great citizens of this country declared to the world that from now on it's going to be 'America first," Trump said in Orlando Friday. Trump soaked in the energy of the 20,000 Floridians who came to support him, vowing to restore "respect" to the American flag, rebuild the military and restructure the country's foreign policy. "It's a horrible thing. We are going to do everything we can, we are going to get it straightened out one way or another," he said about the nation's foreign policy. Trump promised to build safe zones in Syria, promising to "help people" overseas all while fixing the country's jobs sector and education system. He recalled election night in great detail, naming all of the states he won and all the upsets which happened during the evening. "The map was so bloody and red. It was beautiful," he said.
SPOTTED at the Trump rally: Gov. Rick Scott, AG Pam Bondi, U.S. Reps. Dennis Ross and Neal Dunn, former House Speaker Steve Crisafulli, state Sen. Dennis Baxley, state Reps. Joe Gruters, Blaise Ingoglia, Carlos Trujillo, former state Rep. Adam Hasner, Sharon Day, Brian Ballard, Robert Coker, Nick Diceglie.
DUMP TRUMP? WON'T HAPPEN WHEN FLORIDA ELECTORS VOTE via the Associated Press – Florida's electors will meet in the state Capital today to cast their votes for president, after voters in the state chose Trump. Don't expect any surprises. The people picked to cast Florida's votes in the Electoral College are among the most faithful Florida Republicans and it's extremely unlikely any will be swayed by the tens of thousands of emails, letters and phone calls pleading with them not to cast their votes for Trump, who carried the state in November. "I really appreciate all the postcards that I've gotten. The front side of them were pretty," said Sharon Day, an elector who also serves as co-chair of the Republican National Committee. "I kind of find it amusing. What lemmings they are." … The Associated Press interviewed 22 of the 29 electors and all expressed complete support for Trump.
NICK DICEGLIE: "I'M CASTING MY VOTE FORTRUMP" via Florida Politics – In case there was any doubt, Electoral College member DiCeglie says yes, he's still voting for President-elect Trump. The Pinellas County Republican Party Chairman spoke with reporters Sunday night before Monday's Electoral College meeting in the Capitol. He's also sure none of his colleagues will be defecting, either. "The state party selects all the electors and they do that very carefully," DiCeglie said. "I have 100 percent confidence that Donald Trump will get 29 electoral votes tomorrow," the number of Florida's GOP electors.
HOT VID – SNL'S HILLARY CLINTON GOES FULL 'LOVE ACTUALLY' ON ELECTOR Click on the image below to watch
ASSIGNMENT EDITORS: U.S. Rep. Gwen Graham, joined by community leaders, will hold the final news conference as a member of Congress to reflect on her time in office and announce the return of more than $2.5 million and benefits owed to her constituents, while cutting her office budget by $375,000. Event begins 11:30 a.m. at the Tallahassee City Hall, 300 S. Adams St. in Tallahassee.
CHARLIE CRIST TO HOST JAN. 3 FUNDRAISER IN D.C. — The St. Petersburg Democrat will host a fundraiser from 5:30 p.m. to 7:30 p.m. on Tuesday, Jan. 3 in The Forum Lounge at the Newseum Residences, 565 Pennsylvania Ave. NW in Washington, D.C. The fundraiser is meant to celebrate his "swearing-in to the 115th Congress," and will be held hours after Crist takes the oath of office. The fundraiser starts at $500 for an individual, $1,000 to be listed as a co-host, and $2,700 for an individual host. The maximum individual contribution is $5,400.
TIM CANOVA CONSIDERING ANOTHER RUN AGAINST DEBBIE WASSERMAN SCHULTZ via Mitch Perry of Florida Politics – "I'm seriously considering it. An awful lot of folks are putting that bug in my ear and urging me to do so," Canova [said] on WMNF radio's MidPoint program … Canova says a lot has happened since his first ever bid for elected office ended Aug. 30, when his effort to defeat Wasserman Schultz in Florida's 23rd Congressional District, fell short. The biggest change, of course, since Canova's loss was Donald Trump's stunning election victory Nov. 8, a defeat that the ever-combative Nova Southeastern University law professor doesn't give his former opponent a pass on. "Just the weekend before the election she was on HBO's Vice News doing an interview in which she played the victim," he recounts. "She complained about how Bernie Sanders supporters had demonized her for her role at the DNC. Even if there was validity to that argument, and I don't think there is – I think she earned all the criticism that she got – but even if there was validity to it, why would somebody in her position, go on the air, three days before the presidential election, to alienate Bernie Sanders supporters who Hillary Clinton needs to get elected?" … "It showed the typical arrogance and overconfidence and really stupidity to be doing something like that," he said, adding, "So yes, I am thinking of running against her again."
THE TIMES GETS RESULTS – PAM BONDI'S OFFICE INVESTIGATING RESTAURANT CLAIMS, STATE STEPPING UP INSPECTIONS via Laura Reiley of the Tampa Bay Times – "We are currently looking into restaurants throughout the state of Florida," Bondi told the Tampa Bay Times … The state's investigation began just after the Tampa Bay Times published its series "Farm to Fable," an examination of food misrepresentations. The stories, questioning trendy menu claims of "local," have been shared nationally. The reporting has inspired similar efforts in other cities. The attorney general's investigation accompanies other state-level changes to stem what many perceive as a rising tide of food fraud. The Florida Department of Business and Professional Regulation has stepped up inspectors' investigations of restaurant claims, unveiling new training tools and an industry bulletin. And the Department of Agriculture has made efforts to more rigorously define terms, changed language on consumer websites and developed materials to help inspectors assess where food is coming from. Still, farmers and experts around the state say, it all may not be enough. … Bondi declined to say how many investigators were assigned to the task or when the investigation would be complete. She encouraged citizens to report false representations of food products. Misrepresentations fall under the authority of the Department of Business and Professional Regulation, but the Florida Department of Agriculture and Consumer Services has developed a flier to help train inspectors on the seasonality of Florida's produce, according to Jenn Meale, communications director for Agriculture Commissioner Adam Putnam. She said the department is currently defining more specific terms related to Fresh From Florida, a state-run food marketing program with a budget this year of $13.6 million. They are also refining the requirements for use of the Fresh From Florida logo and the penalties for misuse.
***SUNBURN is brought to you in part by Bascom Communications & Consulting, LLC, a top-notch public affairs, political communications and public relations firm. Visit www.bascomllc.com to read about their growing team, success stories and case studies.***
IS A CONTRACT A TRADE SECRET? RICHARD CORCORAN SAYS NO, BUT DID THE BILL PASSED LAST YEAR SAY IT IS? via Mary Ellen Klas of the Miami Herald – Just months ago, Gov. Scott and legislators passed legislation to expand trade secrets and potentially keep more business deals with entertainers from public view. The governor signed and all but seven Democrats voted for two bills that expanded the definition of trade secrets to allow more agencies to shield commercial and financial information from the public. The legislation took effect Oct. 1. If the now controversial Pitbull contract hadn't already been signed, Visit Florida could have argued that the state law required it keep the contract details secret, said Barbara Petersen, president of the First Amendment Foundation who urged the governor to veto the bill. "It would allow them to do exactly what Visit Florida did," she said. "If the amount of a contract is not commercial information, I don't know what is." … Pitbull released the details of the contract on his Twitter feed … Scott ordered Visit Florida to make a series of changes designed to make its operations more transparent … Petersen lobbied against the bills, sponsored by Sen. Garrett Richter … and Rep. Ray Pilon … and sent letters to the governor urging him to veto them. She argued that because the law added " financial information" to the information that constitutes a trade secret, and it failed to define that that is, it was "unconstitutionally vague" and could apply to contracts. Instead of a veto, the bills were signed into law. Had the Pitbull contract been signed after the provisions took effect, Visit Florida could have argued that the state law required it keep the contract details secret, Petersen said.
AFP – FLORIDA HAS A HOLIDAY MESSAGE FOR FLORIDA LEGISLATORS – Americans for Prosperity-Florida has launched a new web ad that will run statewide to target Florida legislators over the holiday season with key policies they should focus on when they return for the 2017 Legislative Session. From statewide director Chris Hudson: "As 2016 comes to an end, I am thankful for the hard work of our activists who knocked on over 1,000,000 doors and made over 3 million phone calls. Together, AFP-Florida stopped $250 million dollars in corporate welfare to Enterprise Florida, forced the failed Film Tax Credit to sunset, successfully advocated for several free-market healthcare reforms, and kept "pay-more" Patrick Murphy out of the U.S. Senate! But if we want to make Florida the best state for families and entrepreneurs we need to stay focused on successfully advocating for policies that continue to cut red tape, keep taxes fair while ending political favoritism, and expand the successful school choice policies that empower our kids with the best education possible. I hope legislators, new and old, enjoy this holiday season with their families and come back in 2017 prepared to tackle the most critical issues to our state." To view the website, click here.
FLAT FUNDING, NEW RULES COULD MEAN TOUGH STATE BUDGET NEGOTIATIONS via Tia Mitchell of the Florida Times-Union – Every member of the Florida Legislature … has local projects they hope will get a small piece of the budget pie. The act of advocating for and monitoring these member-driven projects is a large part of legislators' workload during the regular session. That process will change drastically this year in the House, which will ultimately affect negotiations with the Senate. New rules approved in the House require every budget request to be filed as a standalone piece of legislation, making the process more transparent but also more difficult for members to navigate. The Senate chose not to adopt the new House rules, especially since the deadline for these budget bills is March 7, the first day of the session. Senate President Negron said he wanted flexibility to consider requests or new information members could receive during the 60-day session. House Speaker Corcoran included the budgeting overhaul as part of a package of ethics and transparency reforms. He said the late-session process of negotiating a budget agreement — called conference — could get tense if the Senate plan includes funding that doesn't follow the House rules.
New rules alone aren't the only thing making the budget process more difficult this year. State economist are predicting that revenue will remain mostly flat, meaning there is little wiggle room for new projects or boosts in funding. The Legislature also approved property tax cut last year that, if continued again, would cost $400 million. Other budget concerns include tens of millions of dollars the state could owe homeowners as a result of lawsuits pertaining to the removal citrus trees as part of an effort to contain the canker-disease outbreak. Lawmakers must also decide how to spend $400 million in funding from the BP oil spill settlement.
LAWMAKERS WANT TO MAXIMIZE CLASSROOM LEARNING via Kristen Clark of the Miami Herald – How much classroom time Florida students spend actually learning will be a major focus for key state lawmakers in charge of dolling out more than $23 billion for pre-K-12 education next year, and some of those overhauls could be further reductions to mandatory testing as well as tweaks to the school-year calendar. The specifics are yet to be proposed and debated, but Rep. Manny Diaz Jr. and Sen. David Simmons, the new chairmen of the pre-K-12 budget committees in their respective chambers, are both approaching their new responsibility with broad ambitions. They also share a unified goal to direct more dollars and resources to classrooms, even if it means upending the status quo. Diaz and Simmons both this week suggested revisions to the school-year calendar could be on the table in 2017, such as potentially extending the school-day for students in failing schools and adjusting when standardized tests are administered during the year.
STORM REPAIR TAB LOOMS AS FLORIDA TACKLES 2017 BEACH BUDGET via Eric Staats and Ryan Mills of the Naples Daily News – State lawmakers will need to carve out an estimated $77 million next year to repair damage to Florida's beaches from hurricanes Hermine and Matthew and to protect development and infrastructure along the shore from future storms, according to a draft hurricane recovery plan from the state's Department of Environmental Protection. That $77 million is in addition to the more than $85 million in state aid beach communities asked for to restore their eroded shores even before Hermine struck Florida's Big Bend region in September and Matthew buzz-sawed the East Coast in October. In total, the two hurricanes caused an estimated $217 million in damage statewide, affecting more than 500 miles of Florida's coast, according to the recovery plan. The state would split much of that expense with local communities, and the federal government would help with the remainder. Northeast Florida was hit hardest. Of the $77 million state tab, $66 million represents sand replacement costs from Indian River County north to Jacksonville. Hurricane Matthew was the most severe storm to impact St. Johns and Flagler counties since Hurricane Dora made landfall in 1964, according to DEP. How lawmakers respond to damage caused by those storms will ultimately determine how the state's beaches fare in 2017 and beyond, Florida's beach advocates say.
SCOTT PLAKON TRIES AGAIN WITH BILL TO COMPENSATE DISABLED RAPE VICTIM FOR STATE NEGLIGENCE via Larry Griffin of Orlando Rising – The new bill, HB 6501, comes on the heels of an identical one attempted in 2014 by Plakon and Sen. Darren Soto … In 2002, the woman identified in the relief bill as J.D.S., who lived at an Orlando state-supervised facility called the Strong Group Home, was raped and impregnated by Philip Strong, one of the operators of the home. The case was deemed to be the result of negligence on the part of the State of Florida Agency for Persons with Disabilities. J.D.S. gave birth in 2003, but was unable to care for the child, and so the infant was taken for adoption. In 2012, a case between Patti R. Jarrell, as plenary guardian of J.D.S., and the State of Florida Agency for Persons with Disabilities, was settled for $1.15 million, with $200,000 paid to J.D.S. and the remaining $950,000 needing a "claim bill," or a relief act, from legislature to go through … The difficulty in passing claims bills like this one comes from the fact that sovereignty-immune laws protect government agencies from huge liability payouts. Some legislators are also reluctant to hand over taxpayer money. Plakon is optimistic this time, though. If the state hears any claim bills, he thinks his will be one of the more important ones. "The last year I filed it, there were no state claim bills that passed," he said.
SABAL TRAIL PIPELINE CUTS THROUGH HEART OF SPRINGS COUNTRY via Jeff Schweers of the Tallahassee Democrat – People are suddenly becoming aware of the $3.2-billion, 515-mile pipeline being built in their own backyard, which has been overshadowed by months of demonstrations over Dakota Access pipeline at Standing Rock. And they are seeing similarities between the two causes. Lorinne Myatt, who organized a demonstration at the Capitol Dec. 4 to show solidarity with Standing Rock and draw attention to Sabal Trail, said, "It's the same issue." Days after that event, which drew 400 people, about 70 folks gathered at Dr. B.L. Perry Jr. Library on the south side of Tallahassee to learn more about Sabal Trail, which will deliver 1 billion cubic feet of fracked natural gas a day from the Marcellus Shale to Florida energy companies. Many were surprised to learn that the project had been winding its way through the regulatory process for three years before they knew about it. "This is similar to the Dakota Access pipeline in that most people had no idea that this was in the public interest to look at until it was already approved," said Susan Cerulean, a Tallahasseean who recently returned from Standing Rock … Local residents are concerned about the pipeline's potential impact on Florida's drinking water, the fate of gopher tortoises and other endangered and threatened species, and the neighborhoods the pipeline is going to run through. "You don't just care about Tallahassee," Meta Calder said. "You care about the whole environment."
WHAT MICHAEL CORCORAN IS READING – HILLSBOROUGH LEGISLATORS SUPPORT LOCAL BILL TO ABOLISH COUNTY PUBLIC TRANSPORTATION COMMISSION via Richard Danielson of the Tampa Bay Times – "The public has lost complete faith in the ability of this agency to regulate credibly, equitably and efficiently," said state Rep. James Grant … who is sponsoring the bill. With not a single objection, the delegation moved the bill toward next spring's legislative session. Various legislators have talked about killing the PTC for years — one senator once compared it to Jabba the Hut, with "tentacles everywhere" — but this appears to be the closest anyone has come so far to that goal. "What a difference a year makes, huh?" said delegation chairman Sen. Tom Lee … Last year, the delegation held a lengthy hearing before supporting a bill to regulate Uber and Lyft, which died in during the session. Created by the Legislature in 1976, the PTC has its own staff and is governed by an appointed board of elected officials from the county and its cities. It is unique in Florida, but it increasingly it has stirred controversy, especially as it has wrestled with how to regulate new ride-sharing services like Uber and Lyft and faced accusations that it has tried to crack down on those companies to the benefit of the older, more established taxicab companies that it regulates. Grant said regulation of taxicabs, limousines, tow trucks and ambulances would be turned over to Hillsborough County effective Dec. 31, 2017. The local government would have flexibility to craft the new regulations, he said. The PTC also would be banned from taking on any new debt that the county would have to repay after the hand-over.
PERSONNEL NOTE: ALEXA CHAPPELL HIRED AS HOUSE MINORITY STAFF DIRECTOR – Top House Democrat Janet Cruz has hired a former Justice Department lawyer to serve as staff director for the Minority Office. Alexa Chappell, most recently an attorney with the Department of Justice, will replace Joe McCann, who exited the position last month. Before her time at the Justice Department, Chappell served in a number of roles for Obama for America in 2008, ending the campaign as Director of Compliance. "Alexa is an incredibly accomplished professional and I know she will do a great job directing our caucus," said Cruz in an email to her members. During her time at DOJ, Chappell served as the Justice Department's liaison for state caucuses and governors, both Republican and Democrat, where she dealt with the intricacies of the federal budget.
APPOINTED: Joseph Triolo and Michael Guju to the Pinellas County Housing Authority; Janet Rabin, Fran Oreto and Christy Conolly to the Florida Real Estate Appraisal Board; Jim McCarthy and Frank Gummey to the Environmental Regulation Commission; Bev Capasso to the North Broward Hospital District Board of Commissioners, District 1; David Skup, Jesus Socorro and Mindy Rankin to the Florida Board of Accountancy; Chris Jernigan to the Campbellton-Graceville Hospital Corporation; Johnny Thornton and Willie Richardson Jr. to the Indian River County Housing Authority.
NEW LOBBYING REGISTRATIONS
Sebastian Aleksander: Element Lab Partners
Patrick Bell: Okeechobee County School District
David Bishop, Solaris Consulting: EMTeLINK
Angela Bonds: Department of State
Jennifer Bonfanti, Larry Williams, Gunster: Treadwell Nursery
Kevin Doyle: Sarasota Classic Car Museum
Charlie Dudley, Teye Reeves, Floridian Partners: Consortium; Ricky Carmichael Racing
Jacob Elpern: The Campaign to Keep Guns off Campus
Lani Ferro: Miami Children's Healthy System
Ronald Jackson: American Insurance Association
Jason King: AIDS HealthCare Foundation
Jessica Love, GrayRobinson: Florida Brownfields Association, Inc.
Cindy Meredith: Prestige Health Choice
Lisa Miller: Everbridge, Inc.; Verde of Florida
Wes Underwood, Department of State
SPOTTED at the wedding of Ailyn Avila Portal and Cesar Fernandez: Sens. Jeff Clemens and Gary Farmer, Juan Cuba, Marcus Dixon, John Fox, Brian Goldneier, Matt Harbinger, Beth Kennedy, Omar Khan, Brian May, Virginia Poe, Stephanie Smith, Christian Ulvert.
THE WORST STORY YOU'LL READ TODAY – WITHIN REACH OF ADOPTION, TODDLER DIES WHILE IN FOSTER CARE via Christopher O'Donnell of the Tampa Bay Times – After about five months in foster care, and just weeks away from a new home with adoptive parents in North Carolina, little Aedyn Agminalis was rushed to the emergency room. The 17-month-old boy arrived at St. Joseph's Hospital for Children unresponsive and with signs of head injuries, according to information given to his adoption agency by a social worker. He suffered cardiac arrest, bleeding on the brain and acute respiratory failure. The small boy was hooked up to a life-support system but doctors could find no brain activity, according to Artha Healton, Aedyn's biological mother. The youngster died Dec. 11 after doctors turned off the machine. His death is now the subject of a criminal investigation by the Hillsborough County Sheriff's Office. The Florida Department of Children and Families has assigned a critical incident team to look into the death because the boy died on the state's watch. "The loss of this child is absolutely devastating and we're grieving with all those who loved him," DCF Secretary Mike Carroll told the Tampa Bay Times in an email … Aedyn was living in a foster home licensed by the service, A Door of Hope. His case was handled by Gulf Coast Jewish Family and Community Services. Both organizations are subcontractors of Eckerd Kids, a nonprofit contracted to run the county's child welfare system. "We will be doing everything we can to support the Hillsborough Sheriff's Office investigation," said Adrienne Drew, a spokeswoman for Eckerd. Aedyn's death has raised questions about whether the child could have been moved out of foster care and adopted sooner.
REST IN PEACE – FORMER LT. GOV. JIM WILLIAMS DIES AT 90 via Carlos Medina of the Ocala StarBanner – Known simply as Jim, he also served during the Carter administration as deputy secretary of agriculture. During his time in office, Williams was a champion of agriculture and the environment. "He was against the barge canal at a time when it wasn't a popular stance," said Jim Williams III, his son. The project, which would have built a canal across Florida and through Marion County for commercial ship traffic, was eventually shelved in 1971 by President Richard Nixon. The land slated for the project became the Marjorie Harris Carr Cross Florida Greenway, which is used for hiking, biking, fishing and other recreational activities. The elder Williams also helped establish the water management districts, which are still largely the same as when they were designated. The districts were drawn up to prevent regional disagreements between areas due to water issues. His life of public service, however, continued long after he officially left political life as he worked on several major charitable initiatives in Marion County.
RESIDENT CHASES CHRISTMAS THIEVES WITH METAL PIPE via The Associated Press – The Polk County Sheriff's department announced that a Lakeland resident heard a loud noise Wednesday morning and called another neighbor, who looked outside and saw the men taking gifts from a nearby home. The neighbor yelled and they fled in a car. Lakeland police and sheriff's deputies tracked them down. They bailed from the car and ran into a home, but the homeowner chased them out with a metal pipe. Authorities arrested 18-year-old James Davis and 21-year-old Antonio Thomas. Both face multiple charges and remained in the Polk County Jail Friday.
CHRISTMAS CARD FUN via The Stonebridge Group: 
BEST NEWS EVER – DISNEY WORLD ADDING BEER, WINE TO 4 RESTAURANTS via The Associated Press – Starting Friday … four more Magic Kingdom restaurants will start serving beer and wine. Until now, only the Be Our Guest Restaurant sold alcohol in the Magic Kingdom. It began selling alcohol in 2012. Alcoholic beverages have been sold at the Epcot, Hollywood Studios and Animal Kingdom parks at Disney World. Disney officials said the change was made because of requests from customers.
HAPPY BIRTHDAY from the weekend to the best person in the Florida political process, Stephanie Smith. Belated birthday wishes to the great Carol Dover, Holly McPhail, and Andrew Wiggins. Celebrating today is Sean Jacobus, Brianna Jordan, and David Singer.