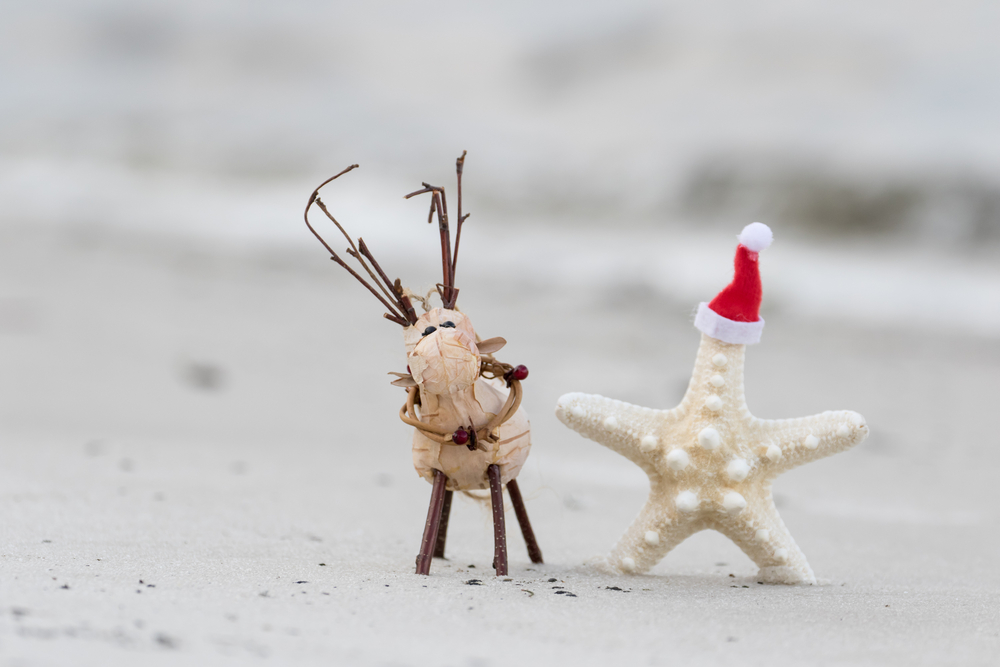 The holidays are here.
That means carols and cookies, brightly lit Christmas trees and twinkling menorahs, and nip of eggnog (or whatever seasonal cocktail tickles your fancy) to keep you warm at night.
But the festive holiday season is also a chance for people to spend time with their family and friends, make resolutions for the coming year, and give back in big ways and small to their communities.
The number of people who volunteered their time between September 2014 and September 2015 was down slightly, according to a February report from the Bureau of Labor Statistics. The federal agency reported about 62.6 million volunteered through or for an organization at least once during the time period.
In 2015, the agency found 33 percent of people volunteered their time for religious organizations, while nearly 15 percent volunteered with social and community service organizations.
If you're to boost your volunteer hours and help your community this holiday season, why not spend the weekend helping out at a food pantry or hunger organization? According to Feeding American, 42.2 million Americans — including more than 13.1 million children — lived in food insecure households in 2015.
In Florida, organizations like Feeding Florida is doing what it can to help families in need. Formerly known as the Florida Association of Food Banks, the statewide network brings together 14 member food banks to try to reduce hunger. And when the organization needs a hand advancing its cause in the Florida Legislature, it turns to the team of Travis Blanton, Jon Johnson and Darrick McGhee at Johnson & Blanton, and Larry Williams at Larry Williams Consulting.
At Farm Share, volunteers and inmate labor sort and package surplus food and distribute it to soup kitchens, shelters, churches and other organizations feeding Florida's hungry. The Homestead-based organization distributes more than 6 million household food packages — or about 40 million pounds of food — to Florida families in need each year.
While Farm Share is helping others, it turns to Matt Bryan, Jeff Hartley and Jim Naff at James A. Naff & Associates, and the team at Robert M. Levy & Associates to advocate for it in the Florida Legislature.
Once you've fed your soul this holiday season, it's time to feed your body. And nothing says the holidays like a spectacular feast. If prime rib is on your holiday table, you might want to say a quick thank-you to the Florida Cattlemen's Association.
Since 1934, the organization has been been devoted to promoting and protecting the ability of cattlemen to produce and market their products. The state's cattle industry is one the 15 largest in the country, so it's no surprise they've invested in top lobbyists to protect their interests in the Florida Legislature, enlisting the help of Samuel Ard at Ard Shirley & Rudolph.
If side dishes are more your thing, then tip your hat to the growers across the state that keep us — and the United States — in vegetables. The state's agriculture industry is one of the largest in the country, and ranks 18th among all states in number of farms.
Don't quite know what to serve as a side dish yet? According to the Department of Agriculture and Consumer Services, cauliflower, eggplants, mushrooms, and tomatoes are just a few of the fruits and vegetables in season in July. And if you're looking to send your family a taste of Florida, just know that oranges, tangerines and grapefruits are also in season.
Speaking of gifts, it might not be too late to find that perfect present. According to the National Retail Federation, 66 percent of Americans — or nearly 156 million people — were expected to take part in "Super Saturday," the Saturday before Christmas.
The retail organization estimated only one in 10 Americans finished their shopping ahead of the busy shopping day.
Need some ideas for a last minute present? Target and Wal-Mart have extended holiday shopping hours, so there might still be time to get there under the wire. And while the big box retailers are making sure all the boxes are checked on your holiday list, they've enlisted their own elves to make sure the Legislature double checks their wish lists.
When Target needs some help, it turns to the team of David Griffin, John Harris, Marlene Quintana, Joseph Salzverg, Todd Steibly, Robert Stuart, Jason Unger and others at GrayRobinson. The good folks at Wal-Mart look to teams at The Mayernick Group, The Rubin Group, Pitman Law Group, and Corcoran & Johnston when they need an assist.
If you still need to ship a present to your favorite aunt, then let your fingers do the shopping. According to Amazon.com, shoppers can still send presents with one-day shipping in select cities as long as they purchased their gifts by Dec. 23. Same day delivery is offered in select cities on Dec. 24, according to the online retail giant.
The online shopping behemoth is expanding its footprint in Florida, recently submitting plans for a second Jacksonville fulfillment center. And when the digital marketplace needs some help navigating through the Legislature, it turns to Brian Ballard, Carol Bracy and Mathew Forrest at Ballard Partners.
And while Santa Claus will circle the earth delivering toys to good girls and boys on Dec. 24, the folks at UPS and FedEx have been playing elves for weeks already. The folks at UPS will be delivering packages through Christmas Eve, while FedEx will only offer a few select services on Dec. 24.
When UPS needs some help delivering a message to the Florida Legislature, it turns to the team of Toni Large and Steven Uhfelder at Uhfelder & Associates; while FedEx looks to Duple Jantelle Travillion, it's in-house lobbyist.
The holiday season wouldn't be as special without the glow of twinkle lights, Christmas trees and menorahs. But those holiday decorations can prove dangerous. Earlier this month, CFO Jeff Atwater warned of the dangers of everyone's favorite holiday decoration: The Christmas tree.
"Christmas tree fires do not happen often, but they have the potential to be serious fires when they do," said Atwater in his Dec. 7 newsletter. "More often than not, these fires occur because the tree has not been properly watered and has become dried out and repeatedly exposed to multiple heat sources. The mix of dry tree branches and hot holiday lights can quickly become a tragic combination."
According to the National Fire Protection Association, fire departments across the country responded to about 210 home structure fires started by Christmas trees each year from 2010 to 2014. The fires caused resulted in six civilian deaths, 16 civilian injuries, and $16.2 million in property damage on average each year.
Keep that in mind when you plug in your tree this year. And make sure to keep the state's first responders — who will be working the holidays to make sure you're safe — in your thoughts as well.
While men and women of the Florida Professional Firefighters are watching our backs, they have teams of top-notch government affairs experts looking out for them in the Florida Legislature. When they need a hand, the organization turns to Allison Carvajal at Ramba Consulting Group, Screven Watson at Screven Watson & Associates, and advocates George Marsh, Rocco Salvatori, Richard Sicking, and James Tolley.
As we wrap up, let's not forget the reason for the season. For many, the next few days have little to do with presents and Jolly Old Saint Nick. They'll be using the next few days to reflect on their blessings in the past year and ponder what the next year has in-store.
The religious community likely has little time to think about lobbying their lawmakers this holiday season, especially as their places of worship fill up with congregants (some of whom haven't visited in a year). So it's no surprise religious organizations across the state turn to the professionals when they need an intervention in the capital city.
The Florida Catholic Conference, the public policy voice behind the Catholic Bishops of Florida, looks to Ingrid Delgado, Stephen Craig Emmanuel, James Herzog, Michael James McQuone, and Michael Sheedy when it needs help in Tallahassee. The Florida Association of Jewish Federations, meanwhile, has the team of Mario Bailey, Bernie Friedman, Yolanda Cash Jackson, and Jeremy Shir at Becker & Poliakoff helping them out.
While Christians across the state will be singing "Silent Night" on Christmas Eve, the Jewish community will also be celebrating. The first night of Hanukkah coincides with Christmas Eve, and the first day lands on Christmas.
The eight-day Festival of Lights ends on the evening of Jan. 1.