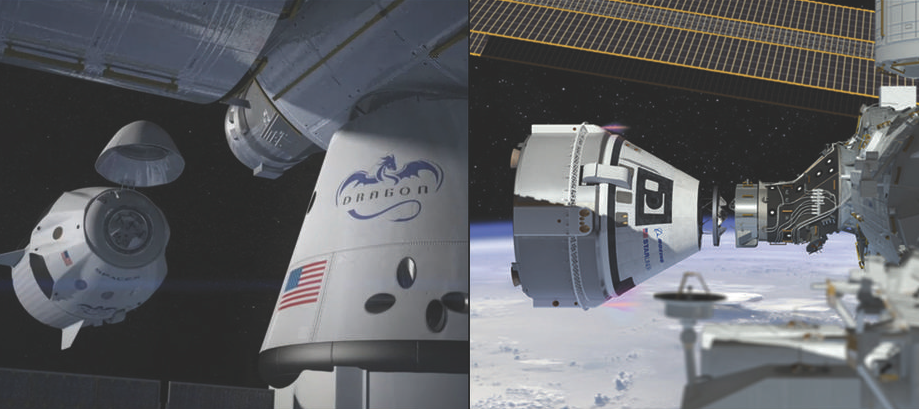 NASA has extended additional flight contracts to the two private companies hired to ferry astronauts to and from the International Space Station and reported that the first such flight now is expected no earlier than May, 2018.
In an announcement made Tuesday, NASA reported that Boeing and SpaceX now each will be hired to run up to six missions each. Previously, when the two companies were first selected to take over America's dormant human space flight program in 2014, each was offered only two missions.
But NASA and SpaceX, the first expected to be ready, had long offered a timetable that would have the first such commercial crew transportation mission happen late this year, 2017. In the news release issued Tuesday, NASA noted that SpaceX's first flight with people on board a Dragon capsule now is set for May of 2018, a delayed start that was first noted by the agency in December. SpaceX will do its first demonstration flight of the Dragon crew capsule in November of this year, NASA reported.
No specific anticipated date was reported for Boeing's first manned mission. NASA reported Boeing's first unmanned test of its astronaut capsule, the CST-100 Starliner, is expected in June, 2018.
The contracts now will provide astronaut taxi service through 2024, which is currently how long the space shuttle is supposed to stay in service.
Currently, astronauts go to and from the space station on Russian Soyuz spacecraft. That's been the case since NASA flew it's last space shuttle, Atlantis, in July, 2011.
The original, 2014 contracts, Boeing's contract was worth $4.2 billion and SpaceX's $2.6 billion, and the additional flights will be part of those contract amounts.
"Awarding these missions now will provide greater stability for the future space station crew rotation schedule, as well as reduce schedule and financial uncertainty for our providers," Phil McAlister, director, NASA's Commercial Spaceflight Development Division, stated in the news release. "The ability to turn on missions as needed to meet the needs of the space station program is an important aspect of the Commercial Crew Program."
SpaceX, of course, has had recent reliability problems with its Falcon 9 rockets, which will be used to carry the Dragon crew capsules into orbit. One blew up on the launchpad in September, and another blew up shortly after blastoff in June 2015. SpaceX resolved the 2015 issue and got back to launching unmanned rockets late that year. Earlier today it announced it has resolved the September issue and a will resume launching satellites and other equipment this weekend.
Boeing plans to launch its Starliner capsule atop a United Launch Alliance Atlas V rocket.
SpaceX has leased and has been rebuilding and modifying the old Apollo and space shuttle launchpad at NASA's Launch Complex 39A at Kennedy Space Center, and is expected to have it ready for the astronaut program.
Boeing has been modifying ULA's leased Launch Complex 41 at Cape Canaveral Air Force Station, a few miles south of Launch Complex 39A, for its astronaut program.