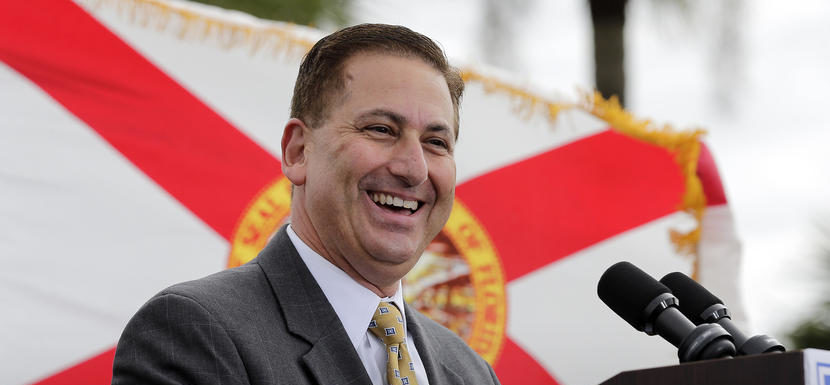 St. Petersburg Mayor Rick Kriseman filed for re-election Thursday.
"I'm asking the citizens of St. Petersburg to continue the progress of the past three years," the mayor said in a statement. "Working together, we've taken on the serious issues and made a positive impact in all corners of our city."
The announcement comes nearly three years to the day that Kriseman was sworn into office. It had been mostly smooth sailing for the former city councilman and state representative until issues with the town's sewage system occurred last summer.
That's led to some of the toughest criticism of his time in office for how his office has handled the situation.
St. Pete was already on the rise when Kriseman defeated Bill Foster by 12 percentage points in November 2013 and has continued to see unprecedented growth over the following three years.
As the Tampa Bay Times wrote in an editorial over the weekend, "No question St. Petersburg is on a roll. Is that because of City Hall or in spite of it?"
The Times also noted the rising cost of the new Pier, the lack of creating jobs in Midtown's poorer neighborhoods and the redevelopment of the Tropicana Field as issues that voters will need to consider this fall. In his statement issued out by campaign manager Tom Alte, the Kriseman administration is taking credit for moving forward on the issues of the Rays and the Pier.
"Under the leadership of Mayor Kriseman, St. Petersburg has resolved numerous high-profile issues, including resolving the stalemate with the Tampa Bay Rays, moving forward with a community-based plan to build a new pier, hiring a new police chief, and finding the funding needed for construction of a new police station," it reads.
Since his election, Kriseman has signed legislation allowing for paid parental leave for employees, a higher minimum wage, and second chances for minors.
He's also elevated the city's profile through the pursuit of a Cuban consulate, picking up the void left by his friend across the bay, Tampa Mayor Bob Buckhorn, after he declined to get involved in that campaign.
"We've become the beacon of progress I spoke about on the steps of City Hall more than three years ago — but there is still work to do," Kriseman said. "We must continue our efforts to combat gun violence and intervene in the lives of our troubled youth. We must do our part to make the sun shine bright on every student in every single public school.
"And we must upgrade our wastewater and stormwater systems as soon as possible if we're serious about being a true 21st-century City.
"Our residents, business owners, and community groups are interested in action and progress, not politics. They want a mayor who faces challenges head-on and gets things done. I've been that mayor," Kriseman said. "I know that we can solve any issue as long as we work together. I remain optimistic and excited about where the Sunshine City is heading."
Throughout most of his tenure, the mayor's poll numbers have been good, with his handling of the sewage system being his only real Achilles' heel.
While the issues surrounding the Pier and the Rays have yet to be completely solved, they haven't dented his popularity, which is unlike the case with Foster.
As of today, seemingly the only man in the way of another four years is former Mayor Rick Baker, who led St. Petersburg from 2001-2009. A St. Pete Polls survey conducted last month of 1,100 votes showed Baker with a surprisingly solid lead over Kriseman, 44 percent to 35 percent.
No other person in the poll mentioned — Jeff Brandes, Amy Foster, Steve Kornell or Karl Nurse — came close to defeating Kriseman (None of those lawmakers, it should be noted, have expressed any interest in running for mayor).
Baker has also been circumspect about another run for office. Since leaving City Hall in 2009, Baker declined opportunities to run for Florida's 13th Congressional District on two separate occasions. Since 2012, he has served as president of The Edwards Group, the umbrella company that oversees all the enterprises of entrepreneur Bill Edwards.
Included in Kriseman's re-election statement were endorsements from Sen. Bill Nelson and CD 13 Rep. Charlie Crist.
"Our residents, business owners, and community groups are interested in action and progress, not politics," Kriseman said. "They want a mayor who faces challenges head-on and gets things done. I've been that mayor."
"I know that we can solve any issue as long as we work together," he added. "I remain optimistic and excited about where the Sunshine City is heading."
."