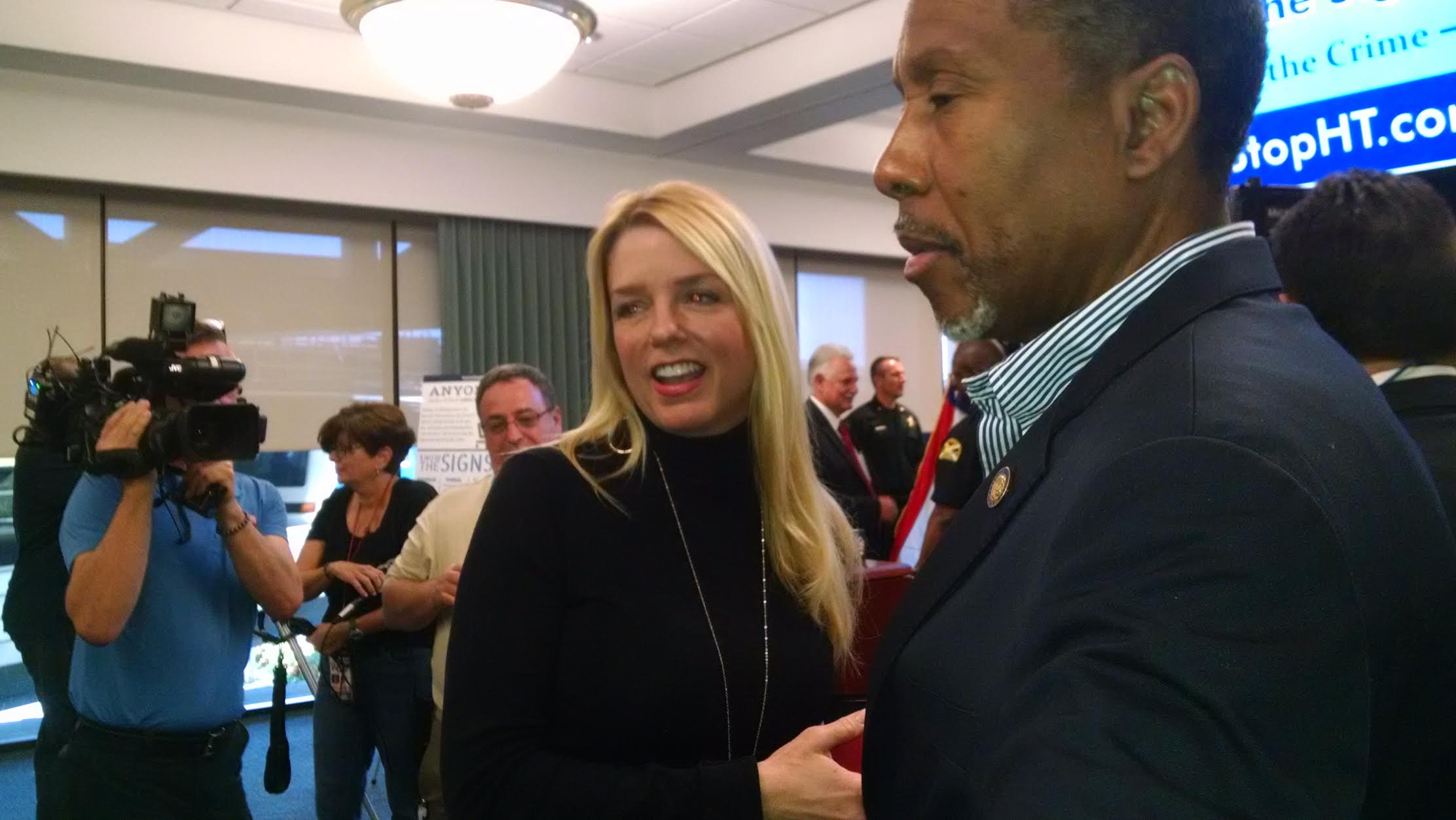 Florida Attorney General Pam Bondi attempted to deflect questions about the possibility she may soon leave her job to join the administration of incoming U.S. President Donald Trump on Friday in Tampa.
Speaking at a news conference highlighting a new human trafficking awareness with Tampa International Airport, the Tampa native said, "I'm very happy being Attorney General of the state of Florida right now. I get to work with these great people behind me every day."
"And," she added, "I'm also committed to the President of the United States — elect — to make our country a better country, and get back on track."
On Thursday, Bloomberg's Jennifer Jacobs reported that Bondi would take a job with the Trump White House, though no particular position was mentioned in the story. It wouldn't surprise anyone if that were the case, as Bondi was seen visiting the President-elect in Trump Tower last month. She endorsed him at the Tampa Convention Center on the day before Florida's presidential Republican primary election, an election that Trump won decisively, taking 66 of the state's 67 counties. With Bondi frequently at his side at campaign events, Trump ultimately won Florida in November over Hillary Clinton by just 1.2 percentage points.
The issue of working under President-elect Trump first surfaced at the news conference at the Hillsborough County Aviation Authority's board room at Tampa International Airport when Bondi was asked if she would be able to continue her efforts in the White House.
"That's a good trick question. I can tell you that I talked to the President-elect for half-an-hour. We talk frequently, as well as members of his family and his transition team on many issues that don't involve me. But he is committed to fighting human trafficking in our country. He is committed to backing up the great men and women standing behind me, and we talk about that very frequently. So whether I'm there or here as Attorney General, where I'm very happy being, by the way, I plan on staying involved in that."
When asked if she had been invited directly by Trump to join his team, Bondi said: "I'm not going to say anything confidential, nor should anyone, including in the Obama administration."
When a reporter asked if she had a replacement in mind if she were to leave Tallahassee for Washington, Bondi joked, " You already have me replaced?"
"I try to be grounded," she added. "We're doing a lot of great things."
If and when Bondi is selected for a position in the White House, both she and Trump will undoubtedly be asked again about the $25,000 campaign contribution that her political committee received in 2013 from Trump's charitable foundation. Shortly afterward, Bondi's office opted not to pursue an investigation into charges by some Florida citizens that they had been defrauded by Trump University.
After an ethics group had filed a complaint with the IRS regarding the contribution, Trump's foundation paid a $2,500 fine to the IRS.
Bondi's office has been vehement that they never were pursuing a case in Florida against Trump U. Although her office said she had only received one complaint, the AP reported that complaints against Trump University actually numbered in the dozens and that Bondi had personally solicited the donation from Trump weeks before she learned of the charges.
Her office decided not to pursue a case after the donation was received.