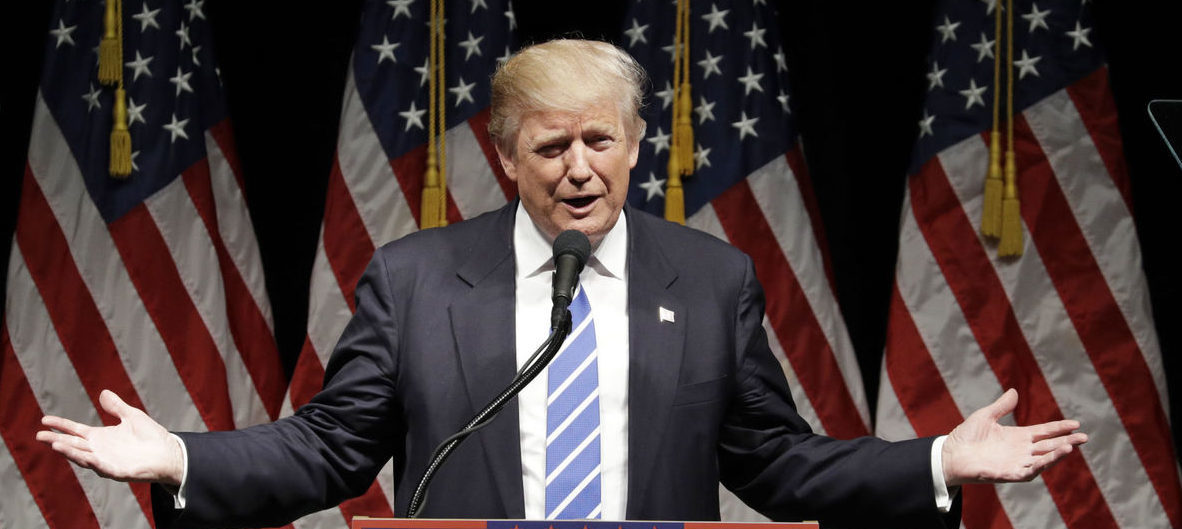 When a family member or another loved one dies of natural causes, we understand that death is the price we pay for life. We must accept it and count on memories to console us.
But how do you grieve for your nation? How do you move beyond the death of everything you held sacred about the land of your birth? Whose uniform you wore proudly? Whose virtues you have tried to teach to your children and to anyone else who would listen? When you know that the tragedy owes not to an act of God but to the malice of a man and so many of his supporters? How can you accept this? How can you rationalize it?
For me, Jan. 20 will be the saddest day ever. I don't think I'm alone in that regard.
Donald Trump is the most undeserving, unqualified, and untrustworthy person ever to seek the presidency, let alone obtain it. He is a clear and present danger to our principles, our economy, our self-respect and our national security.
No one has put that better than J. M. "Mac" Stipanovich, a trusted adviser to two Florida Republican governors, expressed it in a Facebook post earlier this month.
"Ignorant, unprincipled and amoral," he wrote. That was in reply to a friend who had wearied of "my constant carping" against Trump and had challenged him to state his three "foremost objections" to Trump's presidency.
There's no need to try to summarize here the vast evidence of Trump's unprincipled amorality. Everyone is aware of it, although only some care. In a world bristling with economic rivalries and nuclear-armed powers, Trump's ignorance is the greater danger than what he might steal.
"I am concerned," Stipanovich explained, "about what Donald Trump does not know, the fact that he does not know what he does not know and will not listen to those who do know."
Some Republicans, perhaps most, may relish what Trump will let the Congress do to the Affordable Care Act and to Medicare and Social Security despite his transparently worthless promises to protect them. Some will rejoice in the destruction of the Consumer Financial Protection Bureau and the Environmental Protection Agency, and in the neutering of the Securities and Exchange Commission.
But my hope is that there are still members of both parties who understand that character — defined as integrity, trustworthiness, fidelity to principle and fundamental decency — is what America has assumed in its presidents since the Constitution was written with George Washington in mind. It was to prevent the ascension of someone like Trump that the founders opted against direct election. Ever since, Americans and the world have looked to the presidency of the United States as an avatar of America itself. But what do we see now? What does the world see? A braggart, a bully, a libertine, a cocky ignoramus, an infantile personality in the body of a 70-year-old man who has never cared, even once, about anyone or anything other than himself, who breathes contempt for the four freedoms of the First Amendment, who craved the presidency for self-aggrandizement and whose election was sought and applauded by the most vicious people among us as a license to make America hate again. For the first time, Nazis and Ku Kluxers have helped elect an American president. Think about that.
And if that weren't enough, he is an apologist and sycophant for a murderous foreign tyrant who means to eliminate the United States as an obstacle to reviving the Soviet empire and dominating Europe. John LeCarré, whose novels envisioned a mole secretly subverting British intelligence, never imagined a scenario as wild as that of the cousins, as he called us, being taken over so openly at the very top. The most unenviable job in the United States today becomes that of an intelligence officer who remains faithful to duty and principles.
I don't know which is more discouraging — that such a person is actually president or that so many people voted for him knowing what he is. That he lost the popular vote to Hillary Clinton by nearly 3 million votes is some consolation but the awful truth is that he is in the White House and the radical Republicans in Congress no longer have anyone there to check their worst ambitions.
The awful truth is that even with Russia's assistance Trump would not have won but for the racists who haven't forgiven the rest of us for twice electing a black man, the misogynists who couldn't abide the thought of a woman president, the cynical opportunists who saw in Trump a reactionary Supreme Court, and the idiots who swallowed Trump's absurd lies along with the false equivalency the media assigned to Clinton's mostly decent record and Trump's utterly deplorable one. These people are not going away, although more of a few may come to regret their votes when their Medicare is sacrificed to the insurance industry, Social Security is sold out to Wall Street, and they're forced to wait until they're 70 to begin collecting what's left.
Is American democracy dead? Can it be resurrected? The answers depend on those of us who do not celebrate Inauguration Day. What we must do, for love of country and self-respect, is to make ourselves heard every day in Congress, and especially in the Senate, where there are still some grown-ups on the majority side, and which can't be gerrymandered like the House.
We must never, never give up. The United States of America is too precious to waste.
___
Martin Dyckman is a retired associate editor of the Tampa Bay Times. He lives in Asheville, North Carolina.