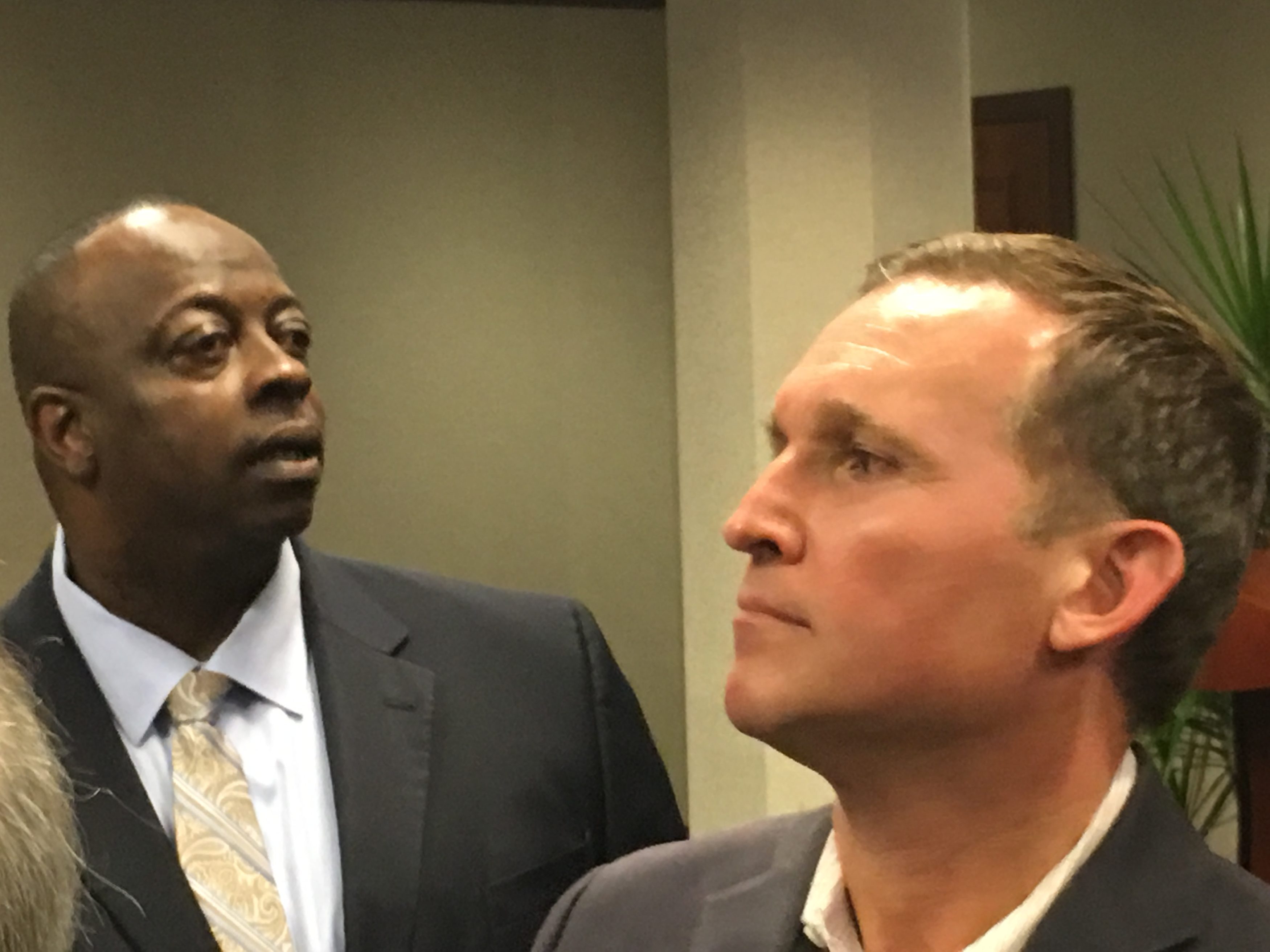 Jacksonville Mayor Lenny Curry called a press conference Tuesday to announce "Project Green," the latest in a series of job creation pressers.
"Project Green": code for an agreement with Formativ Health, which offers management services for doctors' offices.
Formativ expects to bring 500 jobs to Jacksonville in 18 months.
Dennis Dowling, the company's CEO, said that it's hard to "beat [Jacksonville's] personality … enthusiasm and excitement," noting that the Jacksonville Chamber of Commerce "put this place over the top," as Jacksonville beat out Tallahassee for this new patient access service center.
Mayor Curry likewise lauded the Chamber, a source of support for the mayor in the 2015 campaign.
"When the Chamber gets together … goes after a company," Curry said, "we're hard to beat."
The Chamber brings things to Jacksonville — but also imposes expectations. As do other community stakeholders.
****
At the presser: Jacksonville Chamber of Commerce Chair Darnell Smith, a big backer of the expansion of Jacksonville's Human Rights Ordinance to include the LGBT community. Also in attendance: Councilman Aaron Bowman, a key part of the local Chamber and a co-sponsor of the latest attempt to expand Jacksonville's Human Rights Ordinance.
Meanwhile, hours before the presser, Ed Burr — a prominent Curry backer from the 2015 campaign — and the Jacksonville Civic Council reiterated their position in strong support of HRO expansion.
Thus, a functional paradox again resurfaced, with the mayor (according to some critics) lagging behind the business community when it comes to HRO expansion.
After the presser, we asked the mayor about the latest effort to expand the HRO. As has been the case, he has avoided publicly committing to a position on the current legislation.
We noted that Smith was also prominent at Jacksonville's Martin Luther King Jr. birthday breakfast last week, and in context of that and the latest push from local stakeholders to expand the HRO, we wondered if the mayor's position had evolved.
Specifically, we wanted to know what the mayor would do if the legislation cleared council with less than a supermajority of 13 votes, making it eligible for veto.
Curry noted that, last year, he had "issued an order extending protections to all employees of the city of Jacksonville, and the independent agencies followed suit."
"City Council's job and role is to legislate," Curry said, "and I've been consistent in saying I respect that. Any issue that they choose to legislate on, I'll evaluate when it lands on my desk. That includes this issue."
We noted that Curry had yet to veto a bill during his 18 months in office. Would he veto HRO expansion?
"Look," Curry said, "there's been a number of issues that have been discussed [during] the year and a half I've been in office. And I've not weighed in. When they legislate, that is their job, that is their role, they need to have their debate and do what they think is the right thing as a legislative body. And I need to evaluate that when it lands on my desk at that time … and make a decision from there."
"They're doing their job right now," Curry said, adding that he has yet to see the legislation.
The next public hearing for the HRO in Jacksonville's city council is January 24. Expectations are that a vote will be held at the February 14 meeting of the council.