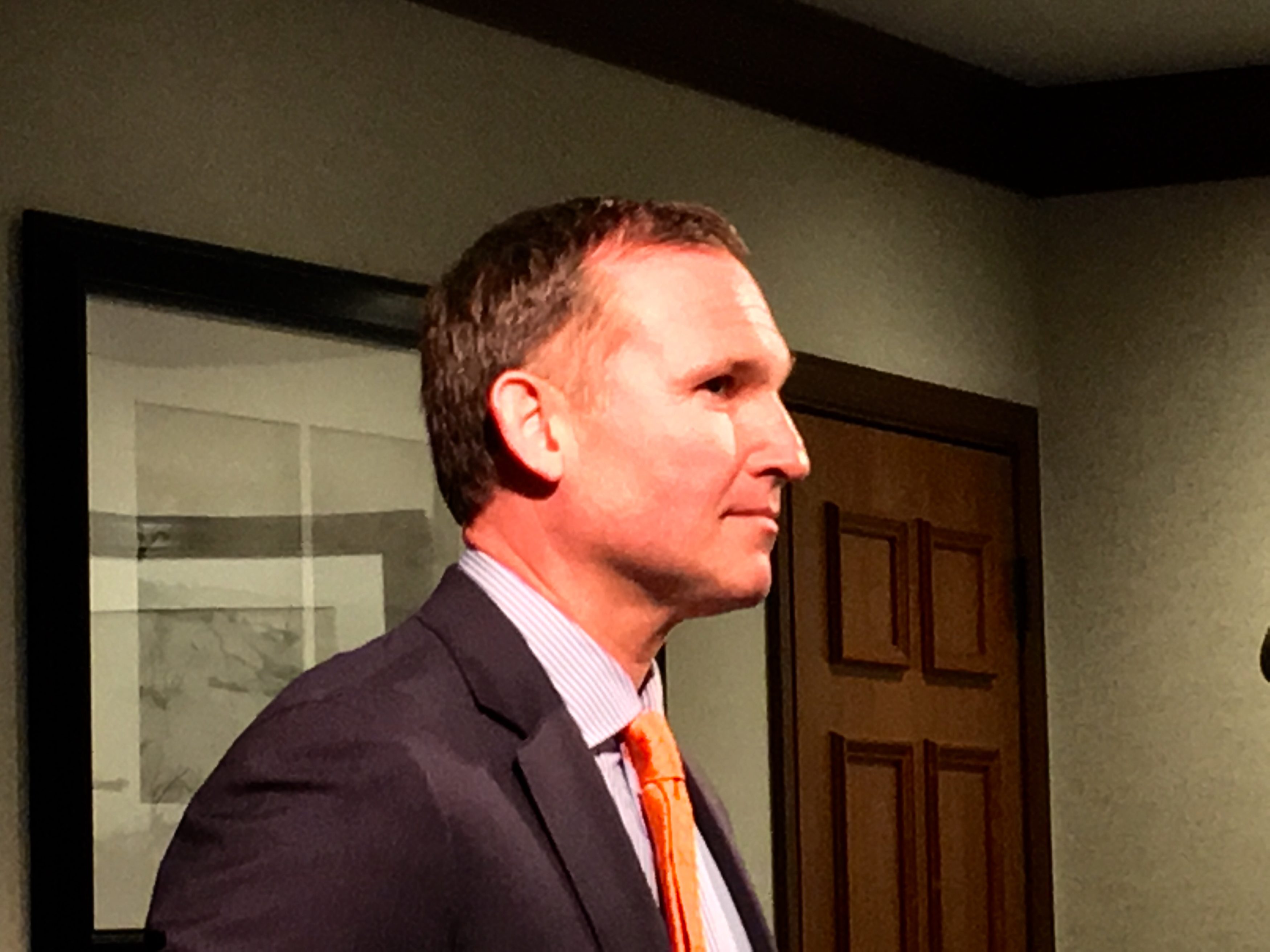 On Tuesday, Jacksonville Mayor Lenny Curry addressed the latest downtown shooting at the Jacksonville Landing, which has already seen one gunshot victim declared dead.
Curry, who ran on a public safety platform in 2015, has seen his rhetoric undermined by not only an uptick in gunplay and homicides, but an uptick at high-profile events downtown this month, such as Jacksonville's ArtWalk and the Martin Luther King Jr. birthday celebration.
Curry told assembled media that he had planned a meeting with Nelson well in advance of the latest wave of violence; however, the meeting is well-timed in context of the latest shootings on a high-profile downtown street as Monday afternoon commuters prepared to head home.
"Look," said Curry, "this violence has been happening all over our city since even before I took office."
Indeed, the final debate between Curry and Alvin Brown happened hours after a shooting on a school bus, a cataclysmic event which led Curry to say Brown is "never in the game. I will be in the game."
Curry noted on Tuesday his commitment of resources to the Jacksonville Sheriff's Office — "80 cops, 80 additional community service officers."
"I've begun restoring the cuts that were made," Curry said, "investing in equipment, investing in the resources that the experts — that's law enforcement — tell me that they need."
"Anytime this happens in any part of our city, I'm not going away on this issue. I'm going to remain vigilant on the issue. Giving law enforcement what they need and ask for," Curry said.
"In fact," Curry added, "I have a meeting tomorrow with the new state attorney, Melissa Nelson, that was set long before yesterday."
"That meeting is to discuss," Curry said, "creative and innovative ways we can work together to put an end to this madness."
"Whatever resources are needed to stop this," the mayor added, "it's my priority."
"I'm concerned about our entire city," Curry continued. "I'm concerned about every neighborhood. Northside, Southside, Eastside, Westside, the Beaches. Crime has touched every part of this city. The entire city matters. Every zip code matters."
When asked if he was worried about crime being used as an issue in his potential re-election campaign, Curry said no.
"I'm not worried about a 2019 campaign. I get up every day — I wake up in the middle of the night thinking about families that are impacted by crime and I get up every morning thinking about what I can do, executing on the power that I have to have an impact on this and put a stop to it."
"It's why I've invested resources in law enforcement, and will continue to, which is why I'm meeting with our new state attorney tomorrow to talk about creative and innovative ways to put an end to this," Curry added.
Curry backed Nelson's opponent during the 2016 state attorney campaign, even as his political team ended the political career of Nelson's opponent.
With all the electioneering over for a while from both the mayor and the state attorney, expect people to watch and see how Curry and Nelson collaborate to stem the blood tide on Jacksonville's streets.