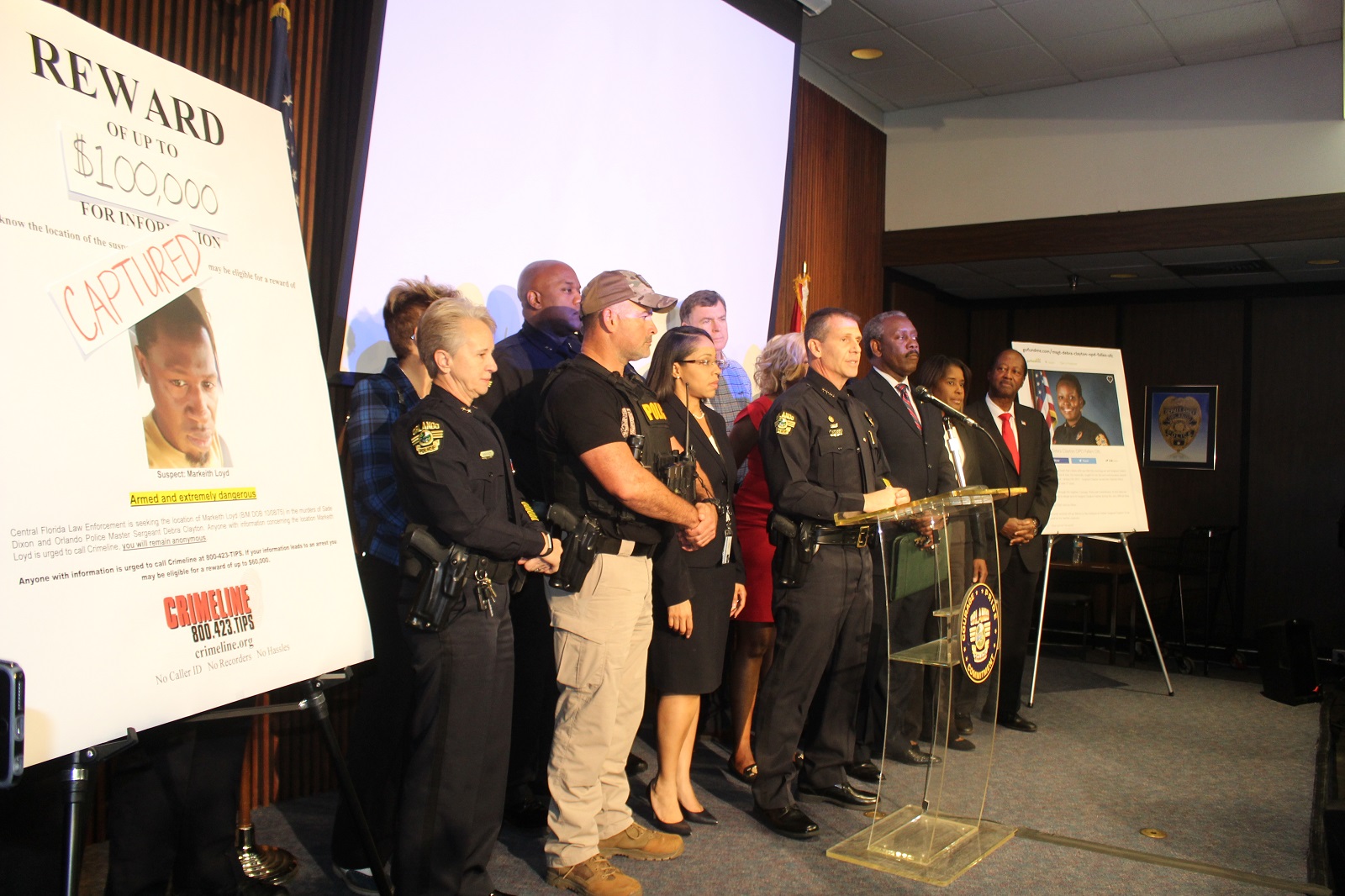 Markeith Loyd, suspected in the killing of Master Sergeant Debra Clayton in a shootout last week, was caught after over a week of hunting by the Orlando Police Department Tuesday night. He'll face multiple charges of first-degree murder and aggravated assault.
Loyd has been the subject of a nine-day-long manhunt by the OPD as well as the Orange County Sheriff's Office, the FBI and a slew of other agencies. He is suspected to have killed Clayton in a shootout at a Walmart on Princeton Street and John Young Parkway the morning of Jan. 9.
Clayton was pursuing Loyd because he was wanted for the December 2016 murder of his pregnant girlfriend, Sade Dixon.
Before a crowd of reporters at the OPD Headquarters, Police Chief John Mina relayed what had happened.
Around 7 p.m., Orlando Police tracked Loyd to an abandoned house on Lescot Lane in Carver Shores and a SWAT team was notified. Before they could arrive, Loyd allegedly tried to escape, but he ran back inside after being confronted by OPD officers.
Then he allegedly came out the front door clad in body armor, wielding two handguns, one of which had 100 rounds in it. But from there, he was apprehended and taken into custody. He threw the guns on the ground as he went, Mina said.
He did resist arrest as handcuffs were put on him and sustained some minor head injuries.
Mina said the arrest did not come from a tip, but from good old fashioned police work.
"This was great police work," he said. "It was nine days of officers working nonstop. They were living in their vehicles, going to the bathroom in their vehicles. They talked to every associate who had come in contact with him since December. They tracked every single lead down."
He said there would be more arrests coming, too, for those who may have aided and abetted Loyd since the killing of Sade Dixon.
Mina said they had notified Clayton's husband as soon as they'd arrested him – but that the feeling was bittersweet.
"Where we caught Loyd was right around the corner from [Debra's] mother's house," Mina said – and at that there was an audible gasp of surprise in the audience.
He also said they had used Clayton's handcuffs on Loyd when they took him into custody – a long-held tradition to honor a fallen officer.
Sheriff Jerry Demings said they were relieved to have caught Loyd and that there were going to be multiple charges against him even aside from two counts of first degree murder for Clayton and Dixon.
Demings said the charges included two counts of aggravated assault for allegedly shooting one of Dixon's brothers last December and pointing a gun at another brother.
Above all, though, they were relieved that the ordeal was over.
"The whole community has been impacted by these events," Demings said. "All of America was watching these events unfold."
"We're very excited to go back to normal business of keeping this community safe," Mina added. "We're extremely happy that he is off the street and we can bring closure to Debra Clayton's family, and Norm Lewis's family, and Sade Dixon's family. It's been a roller coaster of emotions. Some officers broke down in tears once they heard he was in custody – it was like they were finally able to cry."
Loyd was escorted, with his face heavily bandaged, from the OPD HQ at around 9:30 p.m. Tuesday night.