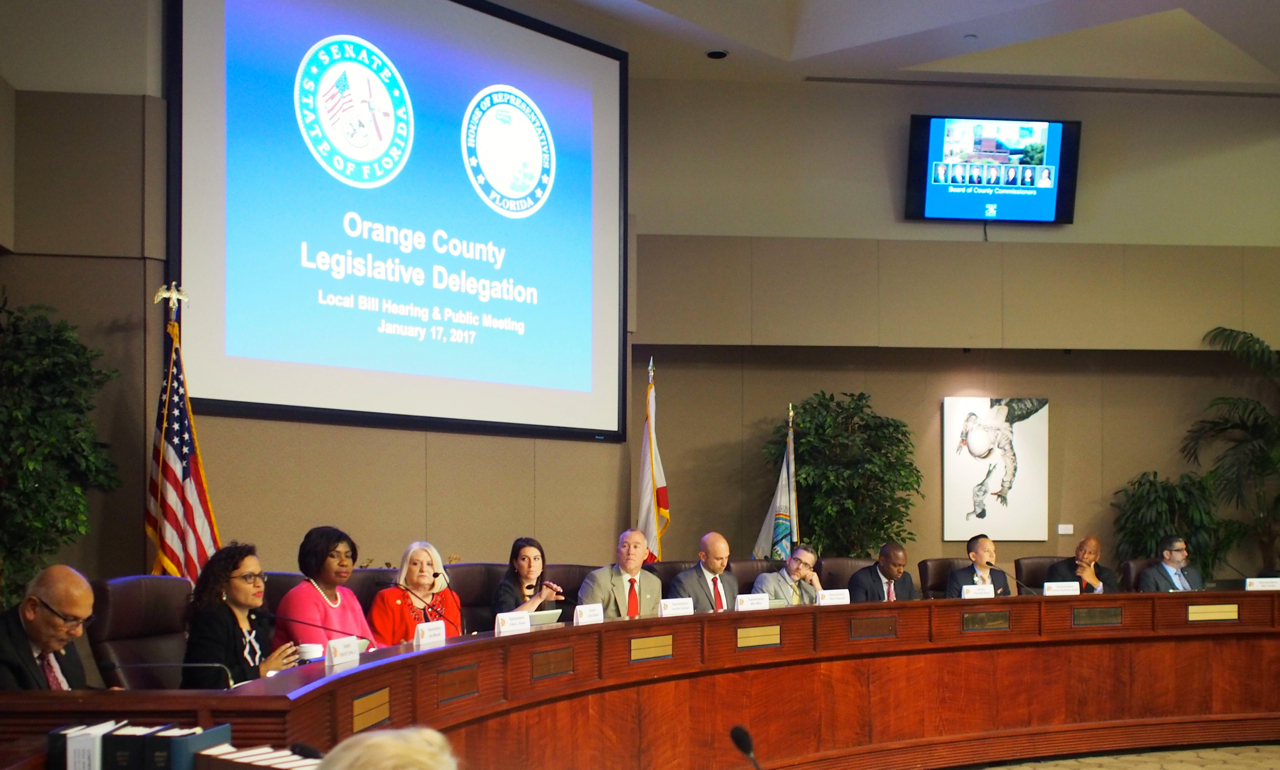 It was like meeting with Santa Claus in January as Central Florida political officials, lobbyists, activists and a few ordinary citizens lined up in downtown Orlando Tuesday afternoon to tell Orange County's state lawmakers what they want in the upcoming Florida Legislative Session.
Eighteen million dollars for Osceola County's high tech advanced research manufacturing center. Fifty-five million to take a newly-developed approach to treating septic tank sewage that's polluting rivers, estuaries and groundwater. Three and a half million to support pre-K programs. Local abilities to ban medical marijuana dispensaries in cities and towns. A ban on duck hunting in the Lake Conway chain of lakes. HIV funding. No guns on campuses.
There may have been only a few surprises for the 12 members of Orange County's Legislative Delegation as they sat through at least three hours Tuesday of citizen input, delivered in two-minute presentations, as many of the big ticket items were matters already widely discussed and lobbied.
One of the more discussed requests came from Dr. Kevin Sharin, county health department director for the Florida Department of Health, whose two-minute presentation turned into almost 10 minutes as the delegates pushed for more information on his requests. Speaking for the state department he pushed for money to hire 23 epidemiologists and other upgrades from $4.9 million to upgrade computer bandwidth, to statewide funding to address HIV. Florida, he said, has the fifth-highest HIV transmission rate in the United States, and Orange County has the third-highest rate in Florida.
Under further questioning, particularly from state Reps. Kamia Brown, Carlos Guillermo Smith, and Amy Mercado, Sharin delved deeper into the local need.
"Can you tell me how does the funding for Orange County specifically compare to other counties our size?" Mercado asked.
"We're dead last," Sharin responded.
But duck hunting?
According to Lydia Pisano, mayor of the tiny suburb of Belle Isle, it has become a big problem for many residents crowding the lake shores, and the Florida Fish & Wildlife Conservation Commission has declined to address it.
"We have a huge safety issue," she told the delegation, imploring them to declare the lakes a bird sanitary. "We are not trying to hinder anybody's hunting rights or gun rights. We want safety. Our residents are out on their docks early in the morning, with their kids fishing.
"We need to put a stop to it," she said of the duck hunting.
The meeting reflected the recent flip in control of the delegation.
State Reps. Mike Miller and Jennifer Sullivan, both Republicans, ran the meeting as chair and co-chair. Democrats state Sen. Victor Torres, Brown and state Sen. Linda Stewart were elected chair, vice chair and secretary for the next year.