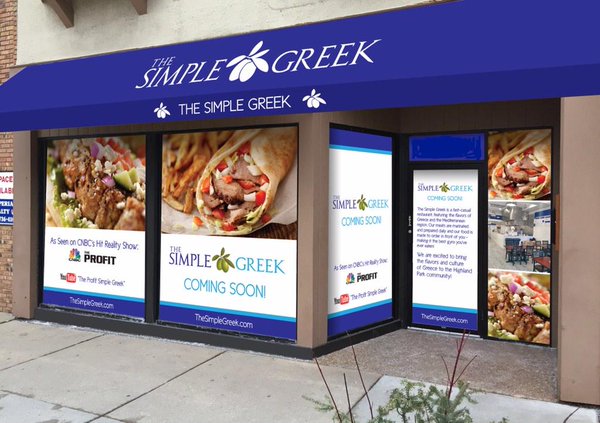 Tony DeSisto, the Tampa-based civic activist, is rising to accept a new challenge — restaurateur.
The co-founder of Citizinvestor, an online crowdfunding platform for public and community infrastructure projects, will open the first Florida franchise of The Simple Greek, an innovative fast-casual concept that seeks to transform the idea of a traditional Greek restaurant.
Starting in mid-February, The Simple Greek – with a Chipotle-goes-to-Athens vibe – will be serving customers an interactive experience, using simple ordering (described as a "build-your-own assembly line-style"), open kitchens and only fresh, high-quality ingredients.
As the company website says: "We want our guests to experience The Simple Greek as if they were traveling to Greece the very first time."
The idea for Simple Greek began in 2004, when Mike Ference and Kathleen Kamouyerou-Ference opened a small Greek pita stand out of a garage in McMurray, a small town near Pittsburgh, Pennsylvania. After attempts to franchise a few locations with sons Andreas and Michael, the family reached out to Marcus Lemonis, host of the CNBC show The Profit.
Lemonis – who is of Greek descent and always expressed an interest in sharing his culture and love of the food from his ancestral home – made a deal with the family, which they accepted.
"Marcus came in, invested in the company and took a majority," DeSisto says, "rebranding it and turning it into the concept it is now … an open kitchen feel, fresh, healthy build-your-own meal-style."
A critical element for the success of any small business is having the right staff in the right roles. Knowing this, Lemonis brought on a management team to work alongside the Ference family, giving each distinct functions and responsibilities within the organization.
DeSisto first learned about The Simple Greek through The Profit, where Lemonis preaches simple advice for future franchisees: "Know your numbers, trust the process, and remember we are working together to build something special."
DeSisto was hooked.
"I've always been interested in the restaurant business," DeSisto says, "particularly in franchises." Although he admits he has no restaurant experience, DeSisto says he had been looking at new opportunities for quite some time, and Simple Greek offered just the right business model, with an excellent fit and a "great company behind it."
And coupling that open, interactive concept with Greek food was a "really good spin," he adds.
"I looked at [franchises] over a number of years," DeSisto says, "But, for one reason or another, never went through with it – the content didn't work or the numbers didn't make sense."
"With [Simple Greek], I thought it was a great concept. I think it's the way we're moving … people love eating healthy, fresh food that they can see prepared as they go through the line."
After investing to secure the territory of South Tampa, Channelside and Ybor City through Hillsborough County, DeSisto selected the Carrollwood location — at 12908 N. Dale Mabry Highway near W. Fletcher Avenue — for the first Simply Greek in Florida. DeSisto is also beginning construction on another on in Rhode Island, his family home.
Currently, Simply Greek has three locations in Pennsylvania; one in Wichita Falls, Texas; and about 20 more expected to open soon on the East Coast, in Texas, Chicago and Arizona. The North Tampa location, which can be reached at 5, also has an active presence on Facebook, asking friends and followers to #shareyourinnergreek.
As for why he chose that particular plaza – which includes Side Splitters Comedy Club – there's nothing that matched the healthy Simple Greek approach.
"I think the great thing about that [Carrolwood] location is its high traffic area," DeSisto says about the neighborhood, "with people going up-and-down Dale Mabry all day. There's a number of fast casual restaurants there, and demand for that kind of food."
Now about two weeks from grand opening, DeSisto anticipates his new venture will become a solid starting point for future Simple Greek locations throughout the Tampa area.
"If we deliver a good product," DeSisto says, "we will be successful."