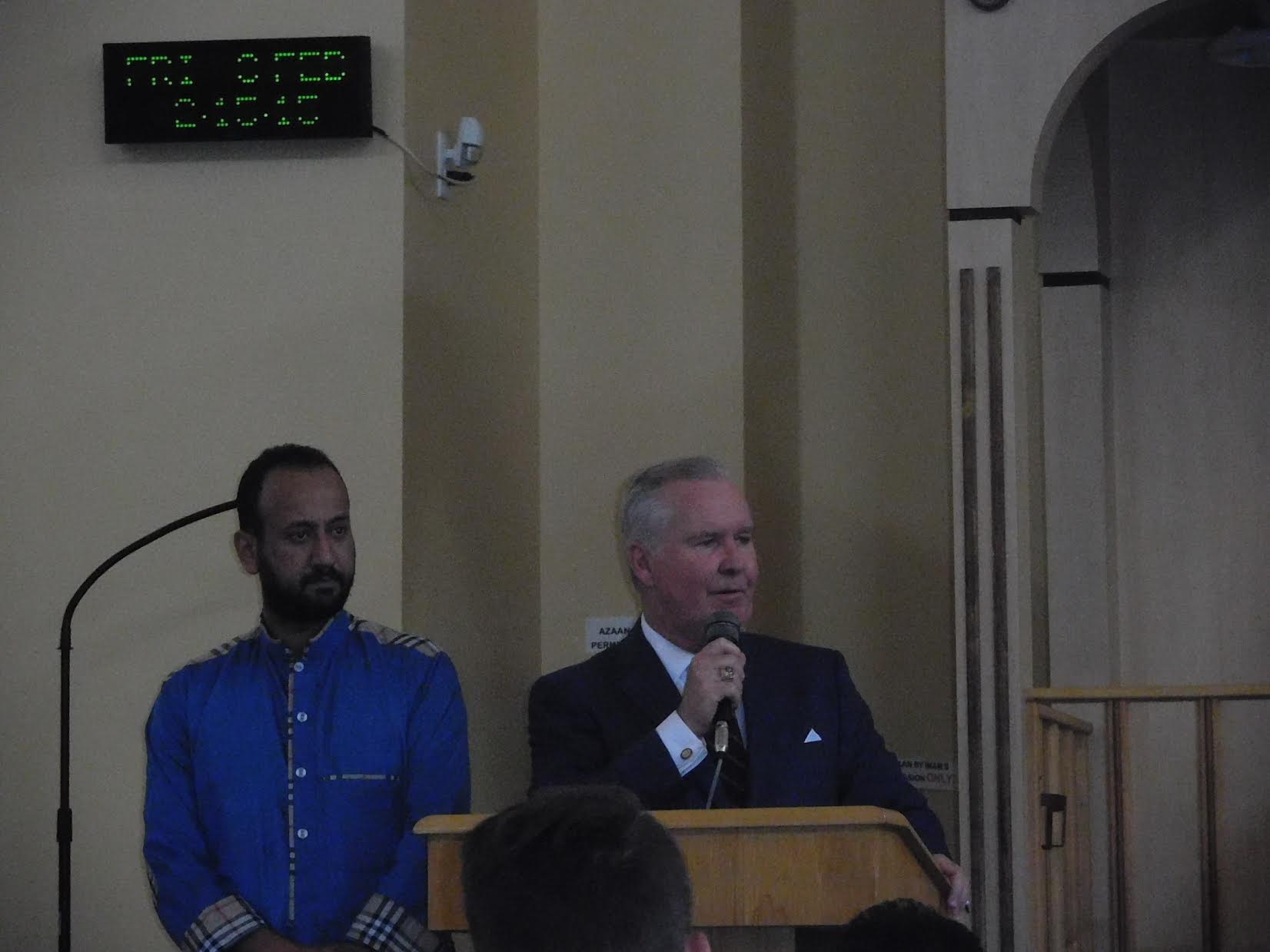 Showing support for the Muslim community, Bob Buckhorn attended prayer services Friday at an east Tampa mosque.
Afterward, Tampa's mayor ripped into President Donald Trump's executive order banning travel into the U.S. by citizens of seven majority-Muslim countries.
"This city has your back," Buckhorn told congregants packed into the Islamic Society of Tampa Bay mosque.
"I don't care what this President did – that is not who America is. That is not what we represent. That is not what we are all about!" he shouted toward the end of his seven-minute address.
Trump's controversial executive action that he announced last Friday afternoon – which also indefinitely suspends the Syrian refugee resettlement program – led to large protests in airports across the nation last weekend, and has been denounced by most congressional Democrats.
However, like opinions of Trump himself, Americans are divided on the move.
A majority of Americans — 51 percent — disapprove of the ban, while 45 percent approve, according to a CBS News poll released Friday.
The Trump administration criticized the media's reporting on the executive order, denying it's a travel ban at all.
But Buckhorn wasn't buying that.
"For anyone, including the President of the United States, to demonize any religion, and make no mistake, they can call it what it is, but it's a ban, it's an attack on Islam as a religion," Buckhorn said, voice rising in intensity. "It is not vetting. It is singling out a single religion. And specific countries."
"We don't have a litmus test based on religion in America," the mayor added. "We never have, and we never will."
A coalition of progressive groups, working under the title #WeAreAllAmerica, called for a national day of action with community rights leaders, activists and leaders to protest Trump's actions Friday.
Buckhorn said he was contacted earlier this week by officials from the Islamic Society of Tampa Bay, and he leaped at the invitation.
Speaking to reporters after he shook hands and took selfies with dozens of men who observed Friday prayers, the mayor said he had participated in a conference call earlier this week with a handful of other mayors like Los Angeles' Eric Garcetti, New Orleans' Mitch Landrieu, Austin's Steve Adler and four other mayors representing the leadership of the U.S. Conference of Mayors.
"We're looking at legal action," he said about the group's response to the executive order. "We're looking at internal action, in terms of lobbying. We're looking at every avenue we possibly can."
Massachusetts, New York, Virginia and Washington state all filed lawsuits in the past week, contending the order violated the U.S. Constitution's guarantee of religious freedom.
The city of San Francisco is challenging another Trump directive – the tone that would deny federal funds to so-called "sanctuary cities," a term defined as cities having adopted sanctuary policies toward undocumented immigrants, which local officials argue help local police by making those immigrants more willing to report crimes.
Buckhorn said Friday again that Tampa is not such a city, but added he wouldn't be directing his police to act as officials with the Immigration and Customs Enforcement agency anytime soon.
Meanwhile, the White House confirmed an earlier story first reported in FloridaPolitics.com Friday that Trump will be making a stop at MacDill Air Force Base Monday morning.
When asked if he would be accompanying the president, Buckhorn quipped: "He hasn't invited me."
"He probably won't after today," he joked.
Buckhorn then took a serious note, saying that if Trump did ask him for a visit, he certainly would honor his request.
"He's the President of the U.S.," he noted. "We want him to succeed, because if he succeeds, the country succeeds. This is the wrong way to go about doing that."