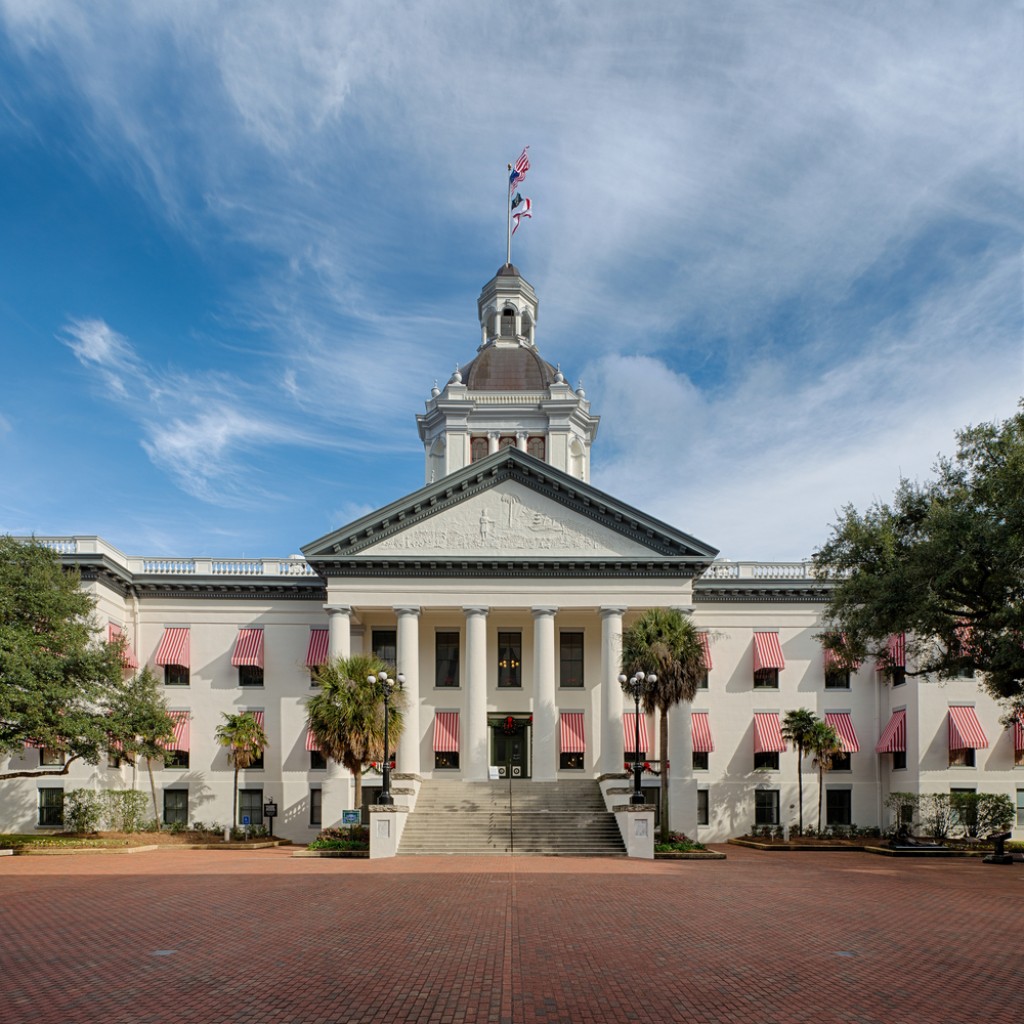 Sunburn — The morning read of what's hot in Florida politics.
By Peter Schorsch, Phil Ammann, Jenna Buzzacco-Foerster, Mitch Perry and Jim Rosica.
THE BATTLE LINES WERE DRAWN LONG AGO…
… now the fight begins in earnest.
The House Careers & Competition Subcommittee will discuss a proposed bill today to get rid of Enterprise Florida and Visit Florida. The discussion comes just one week after House leadership unveiled the proposal, and marks the latest in a quickly escalating fight between Gov. Rick Scott and House Speaker Richard Corcoran over incentives.
Here's a refresher, in case you've been living under a rock: Scott wants $85 million for economic incentives, even including it in his 2017-18 budget. Corcoran has compared incentives to corporate welfare, and has said they won't be in the House budget.
And if the Florida House has its way, Enterprise Florida might not be around much longer. The proposed committee bill would eliminate, among other things, Enterprise Florida, Visit Florida, the Office of Film & Entertainment and entertainment tax incentive programs, quick response training programs, and the quick action closing fund.
The Florida House has Americans for Prosperity-Florida in its corner. The organization led the charge during the 2016 Legislative Session to quash Scott's proposal for $250 million for Enterprise Florida.
The group is poised to do the same this year, encouraging supporters to sign a petition asking their representatives to support the proposed committee bill so "we can finally stop corporate welfare in Florida."
"The Florida House has the opportunity to put an end to this corporate welfare by eliminating special tax carve outs and handouts for big businesses," reads the petition. "Our government should not be using our hard-earned tax dollars to fund big corporations who don't need or deserve handouts."
And Americans for Prosperity isn't just asking for supporters to sign a petition. On Monday, Brian Burgess with The Capitolist reported the organization was urging members to show up at the committee meeting, even "offering free food, lodging, transportation and t-shirts, all paid for by AFP."
"The time has come to eliminate corporate welfare in Florida," said Chris Hudson, the state director of AFP-Florida in a statement last week. "Floridians don't deserve for their tax dollars to be used to recruit businesses to compete against them. They don't deserve the millions of dollars in waste that produced an abysmal return on investment which is contrary to what politicians of the past promised would come."
But don't expect "Team Incentive" to go down without a fight. Scott has spent weeks talking up the need for money for incentives. Heck, he even held a jobs summit, where business leaders spent two days talking about what would happen if incentives weren't part of the economic development toolbox.
"This all comes to down to … whether you care about people's jobs or not," said Scott to reporters during his 2017 Jobs Summit in Orlando last week. "It's a choice between whether you believe in helping the poorest family in our state get to work or you don't."
Committee members will also likely expect to hear from supporters of Enterprise Florida and Visit Florida — including local chambers of commerce, business leaders, and local visitor and convention bureaus — to talk about what eliminating the programs could mean.
Want to weigh in? The House Careers & Competition Subcommittee meets at 1 p.m. in 212 Knott. But you better get there early, it's sure to be a packed house.
HEARING that top lobbyists are being contacted by the Governor's Office and urged to bring their clients to the House committee to speak against the House bill.
***Today's SUNBURN is brought to you by Spectrum Business. Bright House Networks Business Solutions is now Spectrum Business, and we are committed to delivering your business with superior business Internet, Phone, and TV services to help power your success. We offer the best value in business with the fastest Internet for the price, advanced phone with unlimited long distance, cloud-based Hosted Voice and reliable TV — all delivered over our reliable, state-of-the-art, fiber-rich network.  Find out why so many businesses in your area trust their communications needs to Spectrum Business. Learn more.***
RICK SCOTT LASHES OUT AT RICHARD CORCORAN OVER JOBS MONEY via Gary Fineout of the Associated Press – Scott … suggested that Corcoran … and other House Republicans are turning their backs on residents who need jobs. He said that House Republicans should stop "lecturing" him since they didn't know what it was like to struggle for a paycheck or run a business. Scott also suggested Corcoran's opposition was based more on politics. "We're seeing people that just want to run for higher office; they're not concerned about what happens to other people," Scott said. "They just think it's a nice soundbite. I'm extremely disappointed in the House's action. They are not thinking about the future of this state." (Click on the image below to watch video of Scott's comments.) Corcoran wasted little time in responding forcefully to the governor's comments – and raised questions as to whether the state's support of business incentives has produced substantive results as Scott contends. "We were elected to do what is right and clean up government, put an end to the waste of taxpayer money, and end the culture of corruption," Corcoran said in a statement. "The governor cannot be surprised that we will do the right thing regardless of the consequences."
A CORDIAL HOUSE RECEPTION FOR SCOTT'S BUDGET, DESPITE OFF-STAGE RANCOR via Florida Politics – The House Appropriations Committee gave a respectful reception Tuesday to Gov. Rick Scott's $83.5 billion state budget, with chairman Carlos Trujillo praising the spending plan as "conservative." … Of proposed legislation that would spike Enterprise Florida and Visit Florida … Trujillo said a hearing Wednesday before the Careers and Competition Subcommittee would be telling. "If the bill goes down in flames tomorrow in committee, we know there's probably not an appetite for the membership. But if that's not the case, the appropriations will follow the policy," Trujillo said. "I'm assuming it will be reported favorably."
HOUSE TARGETS 23 'FLAWED' INCENTIVES FOR PERMANENT ELIMINATION via Steve Bousquet of the Tampa Bay Times – (A) House analysis says the incentives Scott supports are "impediments to normal market forces, operating in a manner where government selects winners and losers." One incentive on the House chopping block is the Urban High-Crime Area Job Credit, with tax breaks to businesses that create jobs in areas of high crime and poverty. Corporate giants Publix, Wal-Mart and Universal have benefited from it, and Miami-Dade has three job credit pockets, the most of any county. Through 2012, the state awarded $21.9 million in such tax credits to businesses in 13 areas, including Tampa, St. Petersburg, Fort Lauderdale and Miami. The bulk of the credits, about $10.6 million, went to Orlando, where Universal Studios got a tax break for a Harry Potter attraction, the Orlando Sentinel reported, and Publix and Wal-Mart got tax breaks for distribution centers.
— "The case against spending tax money on job incentives, tourism promotion" via Paul Renner for the Tampa Bay Times
HOUSE MEMBERS' PROJECT BILLS ADD UP TO $708 MILLION via Florida Politics – House members had filed 319 bills seeking money for local projects as the deadline for such legislation fell Monday. They would cost more than $708 million if enacted. Under rules approved when Richard Corcoran assumed the speakership, members must file a specific bill describing each project they hope to insert into the state budget. … According to a Lobby Tools tally, the most expensive item is HB 2503 by Cary Pigman, a Sebring Republican. He would spend nearly $62 million to tear down and replace the aging Okeechobee High School. The least expensive is HB 2003, by Deltona Republican David Santiago, to install a virtual reality lab for STEM students at Edgewater Public Elementary School in Volusia County. The price tag is $25,000.
MEANWHILE … VISIT TAMPA BAY WILL RESPOND TO SPEAKER'S DEMAND FOR FINANCIAL DETAILS BY DEADLINE via Steve Contorno of the Tampa Bay Times – Patrick Harrison, chief marketing officer for Visit Tampa Bay, said the agency is planning to comply with a Wednesday [today] deadline to turn over more details, but he wouldn't say what that will entail. "We will respond to the letters we have received by Wednesday," Harrison said. Last month, 13 local tourism marketing agencies were asked to provide Corcoran … with detailed financial statements, including a list of employee names and salaries and itemized spending on travel and food.
***Liberty Partners of Tallahassee, LLC, is a full-service consulting firm located just steps from the Capitol. The firm specializes in the development and implementation of successful advocacy strategies highly personalized for each client. Team Liberty is comprised of professionals with a track record of successful coalition-building, grassroots efforts and team coordination. The combination of a strong commitment to clients and practical government and private sector experience is why Fortune 500 companies and not-for-profits alike choose Liberty Partners of Tallahassee.***
DAYS UNTIL: The Batman Lego Movie opens – 2; Pitchers & catchers report for Spring Training – 4; Valentine's Day – 6; Start of 2017 Legislative Session – 27; Florida Capitol Press Corps Press Skits – 34; 2017 Legislative Session Sine Die – 86; FSU vs. Alabama – 206; Election Day 2017 – 271; Star Wars: Episode VIII/The Last Jedi opens – 309.
WILL THERE EVER BE ENOUGH $ TO KEEP FLORIDIANS COMPLETELY SAFE, ASKS GOP STATE SENATOR via Florida Politics – For the coming year, the state of Florida is asking Washington D.C. to give more than $41 million for domestic security. "Is this the attitude of the American people and Floridians, that we're willing to spend whatever it takes to be safe in a free society? And can we really do that to make us completely safe?" asked freshman state Sen. Doug Broxson. "Is there any amount of money that will make us completely safe?" Broxson aimed his question to Bryan Koon, director of the Florida Division of Emergency Management and Mark Glass, an intelligence officer with the FDLE … They said that the more than $41 million requested is more than the state actually needs going into next year, and ensures not having to hit the state Legislature up for additional funds.
BILL TO KILL RED-LIGHT CAMERAS DOESN'T GET THE VOTES IN SENATE via Florida Politics – Lawmakers are once again debating this year whether the state should stop using red light cameras — but the conversation may not be long. The House Appropriations Committee voted favorably on HB 6007 by Rep. Bryan Avila which would scrap red-light cameras in Florida. Meanwhile, the Senate Transportation Committee failed to pass a similar red-light repeal bill by Sen. Frank Artiles on a 2-2 vote. Saying he agreed with both sides, committee Chairman George Gainer said he believes it should be up to individual counties to decide on whether to keep or jettison the red-light cameras … Artiles blasted the leading vendor of the cameras in Florida, American Traffic Solutions, for having 24 lobbyists working in Tallahassee to kill his bill. The House bill has one of three committees of reference left. The Senate bill failed in its first committee, and would have had four to pass through.
JEFF BRANDES, DARRYL ROUSON DRIVER'S LICENSE SUSPENSION BILL ADVANCES IN SENATE via Florida Politics – The Senate Transportation Committee unanimously passed legislation to reduce the number of driver's licenses suspended annually in Florida. The bipartisan bill (SB 302), sponsored by Brandes and Rouson, would end the suspension of licenses for non-driving-related offenses. If passed, it could dramatically reduce a large number of suspensions taking place statewide each year. Right now, one can lose driving privileges in Florida over a number of nondriving offenses: truancy, writing graffiti, theft, vandalism, writing worthless checks and a minor's possession of tobacco.
PUBLIC RECORDS BILL SQUEAKS THROUGH SENATE PANEL via Gray Rohrer of the Orlando Sentinel – A bill that open government advocates say will  place a "chilling effect" on citizens and media outlets attempting to get public records narrowly moved through a Senate panel Tuesday. The bill, SB 80, would require public records requests to be submitted in writing five days before filing a lawsuit and leave it up to the judge to decide whether to award attorneys' fees. It passed the Senate Government Oversight and Accountability Committee on a 4-3 party line vote, with Republicans in favor and Democrats opposed. Sen. Greg Steube is sponsoring the bill and said he only wants to target the cottage industry of lawyers and law firms taking advantage of public records laws. He cited cases of lawyers filing records requests against small local governments and non-profits with government contracts, then "shaking down" the groups for payments to avoid a lawsuit.
REDISTRICTING OVERHAUL CLEARS FIRST SENATE PANEL via Florida Politics – A bill aimed at speeding up the handling of political redistricting court cases breezed through its first Senate committee … The legislation (SB 352) was OK'd by the Senate Judiciary Committee with only state Sen. Bobby Powell … voting against it. "I do believe it's initially incumbent on us to be transparent so we don't wind up in these situations," Powell said. "This is something that basically we brought on ourselves." Representatives for both the League and Common Cause, plaintiffs in the redistricting actions, opposed the bill. It next heads to the Senate's Ethics and Elections Committee.
SENATE PANEL OKS BILL TO CREATE CHIEF DATA OFFICER via Florida Politics – The Senate Governmental Oversight and Accountability Committee OK'd the legislation (SB 362) unanimously … It also establishes a "Geographic Information Office" within the agency. "GIS activities are fragmented across the state with duplication of data collection and storage," a staff analysis said. "Standards are followed inconsistently, and information is not immediately accessible when needed by law enforcement, emergency management and the State Fire Marshal." The bill also comes after an audit of the agency laid out a laundry list of security and other problems at the relatively new agency, created in 2014.
DIRECT PRIMARY CARE BILL EASILY PASSES FIRST HURDLE via Kate Payne of WFSU – An effort to expand direct primary care sailed through its first committee meeting Tuesday in the Florida statehouse. The healthcare model allows patients to pay doctors monthly fees in exchange for basic services. Proponents say the system cuts out insurers, and lowers costs and wait times. … Similar measures failed in the past two legislative sessions, but the bill filed this year by Senator Tom Lee of Brandon does carry the support of various physician associations. The measure specifies that direct primary care is not insurance, and does not meet statutory requirements for insurance. But at a time when the future of Obamacare is uncertain, supporters say direct primary care could be a safety net for the poor and underinsured.
PLAN WOULD SCRAP LIMITS ON TRAUMA CENTERS IN FLORIDA via Legislative IQ powered by Lobby Tools – SB 746, by Sen. Travis Hutson, came two weeks after Gov. Scott called for getting rid of a limit of 44 trauma centers statewide … In addition to eliminating the overall cap, Hutson's bill also would end limits on the numbers of trauma centers in each of 19 regions — limits that have prompted much of the legal wrangling in recent years among hospitals. Most recently, an administrative law judge ruled last week that the Department of Health had improperly allowed Orange Park Medical Center in Clay County to open a trauma center in 2016. That ruling stemmed, at least in part, from a regulation allocating one trauma center to a five-county region of Northeast Florida.
JACK LATVALA, JASON BRODEUR AIM TO PROTECT FRANCHISEES via Florida Politics – Legislation that would protect small business owners who enter into franchise agreements was filed Tuesday in the Florida Legislature. (Latvala, a state senator, and Brodeur, who is in the House,) announced their support of the "Protect Florida Small Business Act" … The bill's intent "is to promote fair business relations between franchisees and franchisors and to protect franchisees against unfair treatment by franchisors," it says. "Therefore, it is necessary to regulate the conduct of franchisors and their representatives in order to prevent fraud, unfair business practices, unfair methods of competition … and other abuses upon franchisees in this state."
TWEET, TWEET: @Fineout: State Sen. @ClemensFL has proposed an amendment to Senate higher ed package that makes Fla private college stipends needs based
CINDY GRUDEN AT CAPITOL TO SUPPORT MORE MONEY FOR MOFFITT via Florida Politics – With former Tampa Bay Buccaneers head coach Jon Gruden sick at home, wife Cindy stepped in to stump for Moffitt Cancer Center's request for increased funding at the Capitol Tuesday. The center, located in Tampa, is asking lawmakers this year for an additional $8 million from the state's tobacco tax to build a new research facility. "If he were here, (Jon) would tell you Moffitt is all about teamwork," she said.
TWEET, TWEET:
REGGIE FULLWOOD AVOIDS PRISON AFTER WIRE FRAUD PLEA via Florida Politics –Fullwood pleaded guilty to two counts last year, and it turned out that, rather than facing two centuries in prison, his sentence was no prison time At  all. Fullwood got time served, plus three years of house arrest for the wire fraud count, and one year for failure to file: those house arrest sentences will be served concurrently. Fullwood also is responsible for $60,500 in forfeiture, and an additional $42,500 in IRS penalties.
JUDGES QUESTION PARENT POSITIONS IN CHALLENGE TO FLORIDA'S THIRD-GRADE RETENTION LAW via Jeffrey Solochek of the Tampa Bay Times – The judges from the 1st District Court of Appeal have yet to make a ruling, but through questioning they suggested that the parents' lawsuit might have been more appropriately handled in local courts or through an administrative procedures complaint. One of the panel said the parents seemed intent on subverting Florida law when they told their children last spring to sign their names to the reading exam but answer no questions. "This is self-inflicted harm," Judge T. Kent Wetherell II said during the hourlong proceeding. Parents from seven counties filed suit in Leon County — where the Department of Education is based — in August. They sought emergency action to prevent their children from repeating third grade after refusing to complete a state reading test, and argued state law didn't require a passing score. Leon County Judge Karen Gievers agreed. The department and districts appealed.
STATE OFFICIALS GET AN EARFUL FROM BROWARD MEDICAL MARIJUANA ACTIVISTS via Dan Sweeney of the Sun-Sentinel – At the Broward County Health Department on Tuesday, 200 people packed a room set up for about 70, crowding down the aisles, pouring out the door. … Doctors were especially adamant about ending the 90-day rule and the Florida Board of Medicine's role. The board is a 15-member administrative body whose members are appointed by the Governor. … But mostly, advocates, doctors and would-be patients want the system to work faster. … Christian Bax, Director of the Office of Compassionate Use, said little throughout the proceedings and took no questions afterward.
FLORIDA TRANSPORTATION SECRETARY APPLICATION DEADLINE – March 20 is the application deadline for individuals looking to be secretary of Florida's Department of Transportation. The deadline appeared in an online job description for the position. Former Secretary Jim Boxold exited the $141,001-a-year state job to join Tallahassee-based Capital City Consulting. Rachel Cone, the department's assistant secretary for finance and administration, is serving as acting secretary. The Florida Transportation Commission will interview applicants and send the top three names to Gov. Scott, who will make the final appointment. The agency has an annual budget of $10.8 billion, with nearly 6,000 employees.
INSURANCE OFFICE GOING AFTER ONE-WAY ATTORNEY FEES IN AOB FIGHT via Florida Politics – Insurance Commissioner David Altmaier laid out his office's solution to the insurance assignment-of-benefits problem to Gov. Rick Scott and the Cabinet Tuesday, and it includes limiting contractors' ability to recover attorney fees in litigation against insurance companies. … Florida's one-way attorney fee statute is intended to shield policyholders against legal bills if they want to sue their insurers for failure to pay or low-balling claims. … Draft legislation circulating within the Office of Insurance Regulation would specify that only policyholders can take advantage of the law — not third parties, such as contractors, Altmaier said.
MIKE CARROLL: "WE AREN'T ALWAYS ABLE" TO SAVE "BROKEN" CHILDREN via Florida Politics – Carroll, secretary of the Department of Children and Families (DCF), spoke to the Senate Children, Families and Elder Affairs Committee this week. Naika Venant, a 14-year-old Miami-Dade County girl who was in and out of foster care starting in 2009, killed herself during a Facebook Live video she titled, "I Don't Wanna Live No More" … "I can tell you what happened to Naika was horrific on many levels," Carroll said, including that her death was live-streamed "to a largely unsympathetic audience … This case is kind of symptomatic of what we deal with," he said. In Naika's case, "where issues were in place for most, if not all, of this young lady's life. These issues predated her birth; they were generational." Carroll said his department's job is to protect such children "from the inside out" … "But many of these kids have cracks … they're broken, they're in pieces," he told senators. "It doesn't always show."
MULTIMILLION-DOLLAR FLORIDA TAX BATTLE HEADS TO COURT via Florida Politics – The current owners of two Kraft Foods companies are going to court over a disputed $25 million in Florida corporate income tax. Intercontinental Brands LLC, which now owns Kraft Foods Global Brands, and Intercontinental Great Brands LLC, which owns Kraft Foods Holdings … sued the state Department of Revenue in Leon County Circuit Civil court. The state claims the companies respectively owe $16.3 million for 2008-12 and $8.8 million for 2006-11 in back corporate tax, penalties and interest … The revenue department says the companies owe because they had "intellectual property … licensees" who did business in Florida and paid them royalties. But the firms themselves say they "had no offices, employees or operations located in Florida," had no property, contracts or other agreements here, and generally "did not conduct any business" in the state.
STORM COSTS LEAD TO A HIKE ON FP&L BILL via The Associated Press – The Florida Public Service Commission on Tuesday approved a $318.5 million request by the state's largest power company. The money will used to cover storm-related damage from Hurricane Matthew and to replenish the company's storm reserve fund. The PSC maintained that there was substantial damage caused by the storm in FPL's service territory.
ASSIGNMENT EDITORS: Gov. Scott will highlight transportation investments during a press conference at 8:30 a.m. in front of the PortMiami administration building 1015 N. America Way in Miami. The event will be held in a restricted of the port terminal. Transportation to the event will be provided, but will not be available after 9:15 a.m. For questions, please contact Andria Muniz-Amador at 786-299-2410.
HAPPENING TODAY – COMMITTEE MEETINGS TO WATCH — Telehealth and health care workforce is on the agenda when the House Health Quality Subcommittee meets at 9 a.m. in 306 House Office Building; while the House Energy & Utilities Subcommittee is expected to settle in for a discussion about the "Future of Telecommunication Technologies" during its 9 a.m. meeting in 212 Knott. The House Transportation & Infrastructure Subcommittee is set to take up Rep. Chris Sprowls' ridesharing bill during its 1 p.m. meeting in 102 House Office Building. The Senate Transportation, Tourism & Economic Appropriations Subcommittee will get a presentation on economic development incentive programs during its meeting at 10 a.m. in 110 Senate Office Building. The "Excellence in Higher Education Act" will get a hearing during the 2 p.m. meeting of the Senate Higher Education Appropriations Subcommittee meeting. The Senate Regulated Industries Committee will discuss a bill that would loosen craft distillery laws when it meets at 2 p.m. in 301 Senate Office Building.
ASSIGNMENT EDITORS: Sen. Brandes will hold a press conference at 1:30 p.m. in front of the Senate Chamber on the 4th floor Rotunda to discuss new legislation focused on innovations in healthcare data accessibility. He'll be joined by several members of the Florida Legislature and the Florida Medical Association.
ASSIGNMENT EDITORS: The Florida Health Care Association will give a presentation on the managed long term care component of Statewide Medicaid Managed Care during the Senate Health & Human Service Appropriations Subcommittee meeting at 2 p.m. in 401 Knott.
GOING PURPLE FOR ALZHEIMER'S RALLY IN TALLY via Michelle Branham of the Tallahassee Democrat – The Old Capitol [turned] purple … at sundown (around 6 p.m.) to celebrate the Annual "Rally in Tally" Alzheimer's Association State Advocacy Day – with over 140 delegates joining forces from across the state. The Rally in Tally begins at 9 a.m. … Advocates from all over the state of Florida – including caregivers and those in the early stages of Alzheimer's — will be visiting their legislators throughout the day to advocate for increased state research funding, support services, education programs, cultural outreach and increased respite care services.
— BEYOND THE CAPITOL — 
POLL FINDS FLORIDIANS DISAPPROVE OF DONALD TRUMP'S PERFORMANCE via Anthony Man of the South Florida Sun Sentinel – A poll by Florida Atlantic University found 66 percent disapproving of Trump's job performance. He has approval of 34 percent. Trump's national approval rating is 45 percent, according to a Real Clear Politics compilation. The FAU survey showed the partisan differences that marked the election season continue as strong as ever. Among Republicans, an overwhelming 73 percent approve of the president's job performance and 27 percent disapprove. Among Democrats, just 8 percent approve of the job he's doing so far, with 92 percent disapproving. Among no party affiliation/independent voters, 32 percent approved and 68 percent disapproved.
PAM BONDI: DONALD TRUMP'S TRAVEL BAN 'ABSOLUTELY' LEGAL via Matt Dixon of POLITICO Florida – "I absolutely think it's constitutional," Bondi said echoing the Trump administration. "It's not about religion, it's about the safety of our country." Bondi said she does not agree with the temporary restraining order, but will "respect the ruling." She did say it could have been rolled out "smoother."
SCHOOL CHOICE SUPPORTERS REJOICE AS SENATE CONFIRMS BETSY DEVOS via Allison Nielsen of Sunshine State News – School choice advocates in Florida had high hopes for DeVos as the nation's next education secretary, blaming opposition to her confirmation on teachers unions mobilizing against her. Jeb Bush, a longtime advocate of education issues in Florida, praised Tuesday's result. "Millions of families share Secretary DeVos's vision for disrupting a failed status quo that has denied too many children access to a quality education," he said. "It's time to upend the entrenched special interests that put adults above genuine reforms that will raise student achievement." Senators received millions of calls opposing DeVos' nomination, jamming up phone lines on Capitol Hill as the vote drew closer. The NEA vowed to keep a close eye on DeVos as she navigates through her new position.
RONNIE SIMMONS, LONGTIME AIDE TO FORMER U.S. REP. CORRINE BROWN, CHANGING PLEA IN FRAUD CASE via Steve Patterson of the Florida Times-Union – Simmons, is apparently changing his not-guilty plea in the fraud case that helped end Brown's long political career. Simmons is scheduled to face U.S. Magistrate James R. Klindt … about the new plea, according to an entry posted on Simmons' court docket. Simmons, whose given first name is Elias, faced the possibility of a prison sentence exceeding 350 years if he were convicted of all 18 charges brought against him in a July indictment.
MULTIMILLIONAIRE GLADESMAN 'ALLIGATOR RON' BERGERON MULLING GOVERNOR CAMPAIGN via Adam Smith of the Tampa Bay Times – "I've had an awful lot of people approach me," said Bergeron, 73, a rodeo champ, alligator wrestler, and eighth generation Floridian who grew up swimming in the Everglades and made a fortune in the development, road construction and cattle business. "I think I have to first of all look at my family and how it would effect my family and make the decision after that." A Republican who describes himself as a "moderate conservative," Bergeron says private sector experience is critical in government, as is building consensus, listening and bringing people together. He is a big fan of Gov. Rick Scott, but also is complimentary of Democratic U.S. Sen. Bill Nelson, and likely Republican gubernatorial candidate Adam Putnam. "We'd have to have a hitchin' post at the governor's mansion for my horse," mused Bergeron, who expects to make a decision within four months or so.
GWEN GRAHAM: WOMEN'S RIGHTS MUST BE UNDERSTOOD TO BE NONNEGOTIABLE for the Palm Beach Post — More than 10,000 marchers descended on Tallahassee for a political fight. They chanted slogans, sang songs and waved signs in support of women's rights. My father, former Gov. Bob Graham, and mother, Adele, marched with them for more than a mile to the steps of Florida's State Capitol. The green sashes they wore were reminiscent of earlier trailblazers, women marching for the right to vote. Once they reached the rally point, Dad called for equal rights now, and the crowd responded with thunderous applause. This scene didn't occur at last month's Women's March — it was in 1982, when women organized marches across the country to pass the Equal Rights Amendment. … I did not imagine I would still have to fight for those same rights three decades later as a member of Congress. I never imagined in 2017, we'd have a president threatening to undo all the progress we've made.
Today, we stand at a crossroads on women's rights. One path takes us backward. A new Supreme Court rules against women. The next generation of women doesn't have access to family planning. Their options in school are limited. Their fellow students, teachers and bosses again find it acceptable to harass them. They have fewer opportunities to become lawyers or doctors — and if they do make it, they're still paid less than their male counterparts.
The other takes us forward. We elect more women to public office. We break barriers. We shatter glass ceilings. …The next generation of leaders in all fields – from engineering to business, public service to medicine – will be women. I believe there are always opportunities to work together — but we cannot negotiate on women's rights.
***Today's SUNBURN is brought to you by The Personal Insurance Federation of Florida (PIFF). PIFF was formed in late 2010 with three charter members: Allstate and Castle Key Insurance Companies, The Progressive Group of Insurance Companies, and State Farm Insurance Companies, to create a dynamic, efficient, and competitive marketplace for personal insurance products for the benefit of all Floridians.  PIFF charter members serve forty-five percent (45%) of the automobile insurance market and more than twenty percent (20%) of the homeowners' property insurance market. The association is the leading voice for personal lines property and casualty insurers in Florida. Learn more.***
RAMON ALEXANDER RESIGNS FROM MINORITY CHAMBER OF COMMERCE via TaMaryn Waters of the Tallahassee Democrat – Alexander resigned as the president and CEO for the Big Bend Minority Chamber of Commerce after only a month on the job. The freshman state legislator was selected out of seven applicants for the position with a base salary of $50,000 plus benefits. "After very thoughtful consideration via fully evaluating my leadership roles and responsibilities throughout the region, it is absolutely necessary that I am not limited or restricted in any way to effectively carry out the critical role of serving as a duly elected member of the Florida House of Representatives," Alexander said in his resignation letter. "I firmly believe that the intentions and core mission of BBMC is a much needed and a noble cause. I look forward to supporting the growth of the BBMC and its myriad community impact initiatives in my capacity as State Representative." Tallahassee attorney and Minority Chamber founder Sean Pittman said he was disappointed to lose Alexander. The chamber had been without a president for 14 months before Alexander's hire.
NEW AND RENEWED LOBBY REGISTRATIONS
Taylor Patrick Biehl, Capitol Alliance Group: City of St. Petersburg
Marsha Bowen, Robert M. Levy & Associates: Miami-Dade County Clerk of Courts
Ed Briggs, RSA Consulting: H. Lee Moffitt Cancer Center & Research Institute
Kimberly Case, Holland & Knight: Osceola County
Mark Delegal, Holland & Knight: Florida Academic Cancer Center Alliance
John Forehand, Kurkin Brandes: Florida Automobile Dealers Association
Eddie Gonzalez, Sun City Strategies, The Everglades Foundation
Armando Ibarra, Ai Advisory: Greater Miami & The Beaches Hotel Association
Dean Izzo, Capital City Consulting: GDKN Corporation; SHI International Corp.
Timothy Meenan, Meenan: Brookdale Senior Living, Inc.
Michelle McKay, T.B. Consultants: Stratum Health System Inc.
Foyt Ralston, Bryant Miller Olive PA: City of Gretna
Laura Reynolds, Conservation Concepts LLC: Friends of the Everglades
Sydney Ridley, Southern Strategy Group: Altria Client Services LLC and its Affiliates
Steven Schale, Schale Communications: State Farm Florida Insurance Company
Robert Schenck, The Legis Group: Duke Energy
Clark Smith, Southern Strategy Group: Nopetro Management
Robert Wilson, Wilson & Associates: Florida Energy Pipeline Association; Florida Gas Transmission Company; Sunoco LP
PERSONNEL NOTE: JAVIER FERNÁNDEZ JOINS HOLLAND & KNIGHT IN MIAMI via Florida Politics – Fernández, who served as chief of staff to former Miami Mayor Manuel A. Diaz, has joined Holland & Knight as a partner in the firm's South Florida Government Advocacy & Development Group. "His political background and understanding of the nuances of politics and policy will assist him in crafting effective solutions to achieve our clients' goals," said Miguel De Grandy, leader of the group. Fernández represents clients in all aspects of the land use and zoning entitlement process.
PERSONNEL NOTE: KEVIN MARINO CABRERA JOINS SSG'S MIAMI LOBBYING TEAM via Florida Politics – Marino Cabrera joins Southern Strategy Group after managing campaigns on both the state and federal levels. He also was a Council member on Miami-Dade County Community Council 11. He began his political career as the Field Director for Congressman Carlos Curbelo's campaign, later serving as Director of Constituent Services. Marino Cabrera then was recruited to join Jeb Bush's Presidential campaign as the South Florida Director. He was recently appointed by Commissioner Juan Zapata as a Councilman for West Kendall's Community Council in Miami Dade County, a local land use and zoning board. He was subsequently elected to a full-term in 2016.
WEDNESDAY GOVERNORS CLUB LUNCH MENU – It's Pacific Northwest buffet day with smoked tomato soup; apple pear salad; seasonal green salad; smoked salmon & penne pasta salad; rosemary peppered beef; chicken thigh yakitori; BBQ grilled salmon; white & wild rice with apples & raisin; roasted root vegetables; beans with lardon & sage and chef's choice dessert.
***The 2017 Florida Blue Foundation Community Health Symposium and Sapphire Awards are coming to Kissimmee April 19-20 at the Gaylord Palms Resort and Convention Center. The two-day event — with the theme "Creating a Culture of Health" — will feature several Florida-based, regional and national health professionals. The symposium will give attendees an opportunity to learn more about health care culture, purpose built communities and communities of health. Discussions will center on health issues, policy, reform and engagement. Network with 400+ executives from a range of private sector, government, universities, nonprofit organizations and more. To view agenda and register, click here***
PANDORA: THE WORLD OF AVATAR OPENS MAY 27 via Terry Roen of Orlando Rising – The CEO of the Walt Disney World Company … hinted that ticket prices would be going up. Pandora – The World of Avatar will be in the southwest portion of Animal Kingdom. It is expected to increase attendance and make Animal Kingdom a full day adventure. "We really believe in the coming years that the interest in Avatar will only increase," said Disney CEO Robert Iger. "We think it has big potential." When asked if the new attraction would bring higher admission prices, Iger said that Disney increases its ticket prices annually, but he was not ready to comment on the amount.
PUBLIX NO LONGER OFFERS YOU THAT FREE SLICE OF MEAT AT THE DELI COUNTER via Laura Reiley of the Tampa Bay Times – What gives? "We are piloting a change in a few dozen delis in Central and southwest Florida to create a more natural exchange between our deli clerks and our customers," says Brian West, media relations manager at Publix, which has more than 1,000 stores in the Southeast. Translation: "Natural exchange" means no free deli samples. Publix says this is not a cost-cutting measure, and it doesn't give out sales figures. But my mesquite turkey was $5.40 for a half-pound, 14 slices in the bag, plus meat crumbs. That means each slice is about 38 cents. Now, times that slice by all the free slices we have chomped at Publix deli counters and that's $38 trillion zillion. Thereabouts.
TWITTER ROLLS OUT THREE NEW WAYS TO FIGHT ABUSE via Joseph Lichterman of NiemanLab.com – Twitter said it will prevent previously suspended users from creating new abusive accounts; it's developing a "safe search" that lets users avoid searching for hateful or abusive tweets, and it's tweaking the timeline with a new feature that will collapse "potentially abusive or low-quality tweets. Twitter said the collapsible tweets will ensure the "most relevant conversations are brought forward." The "safe search," meanwhile, will remove tweets "that contain potentially sensitive content and Tweets from blocked and muted accounts from search results."
GET WELL to Florida Restaurant & Lodging Association chief and INFLUENCE 100 alum Carol Dover, who fractured her leg over the weekend.