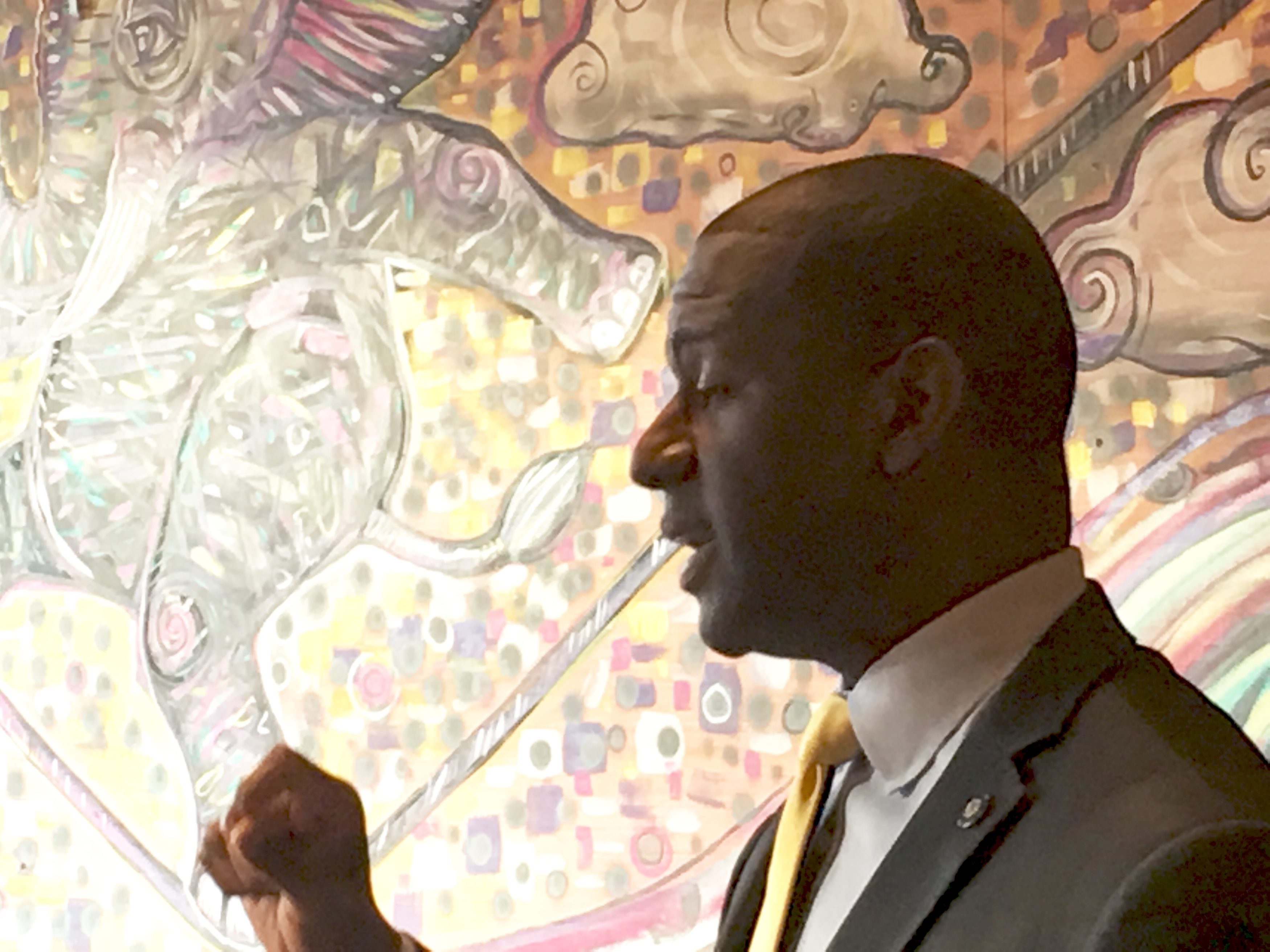 Tallahassee Mayor Andrew Gillum drove east on I-10 for a hastily arranged a Jacksonville roundtable event on Wednesday.
But, as an organizer said, it's "not that he's running for anything."
Of course not.
And Gillum echoed that point.
"I ain't here to make news today," Gillum said, about "what comes next."
Of course not.
Why would anything come next?
****
In all seriousness though, Gillum is traveling like a candidate. Walking like a candidate. And talking like a candidate.
But he's not a candidate.
And when we asked the 38-year-old Democrat, one who was first elected to office soon after her graduated from FAMU (Go Rattlers!), if he had a timetable for deciding whether or not to throw his hat into a ring that could include Miami Beach Mayor Philip Levine, Tampa Mayor Bob Buckhorn, and former Tallahassee Rep. Gwen Graham, he said he had "no clue" about when or if he would decide to run.
Gillum has been linked to other bigger-stage candidacies before: there was talk of him getting into the 2016 primary race against Corrine Brown in Florida's 5th Congressional District, but nothing came of it.
If Gillum is to get into the race for Florida Governor, though, he hinted during his remarks Wednesday to a few dozen Jacksonville Young Democrats what his timetable might be.
Gillum discussed an "18 month view of engagement," one that would be central to his strategy of going beyond supervoters to reach those voters who may have participated in one out of the last eight election.
We've seen this before on the national level.
Former President Barack Obama brought Hope and Change to a set of those voters in 2008.
Current President Donald Trump ran up margins with "silent majority" blue-collar white voters with his own change persona, expanding the voter universe even as Trump's Democratic, Green, and Libertarian opponents were unable to make their own cases as change agents.
On the state level, however, it's tougher.
****
For one thing, midterm elections see an enthusiasm gap for Democrats.
Gillum noted that "black and brown" voters – key to any viable Democratic campaign – are especially prone to turnout attrition.
For another thing, Democrats have lately fielded underwhelming statewide candidates.
If you asked most people in Northeast Florida about Alex Sink, for example, they'd wonder why someone named a plumbing fixture.
Charlie Crist, when he ran for governor in 2014, had no campaign at all in Northeast Florida … except for some fans given out at churches that showed his picture next to that of President Obama.
Gillum, should he become a candidate, has a model to change that – but whether he has the time or the resources to do so is a completely open question.
Visiting young Democrats at this point in the cycle is essentially de facto recruitment of energized volunteers.
As the youngest candidate in the field, Gillum would – if he wants to run and win – have to engage the kinds of grassroots canvassers that helped him get elected to city commission in his 20s, then mayor.
He was able to pull that off in Tallahassee: he won his first race for city commission with little more than a budget for t-shirts.
However, on the state level, the effort would have to look more like Obama for America – disciplined, well-budgeted, and unrelenting.
****
Can Gillum do that?
It remains to be seen.
The Tallahassee mayor's remarks in Jacksonville pivoted between taking Rick Scott to task for his positions, and making an appeal to young voters – a tough demographic to turn out en masse.
Gillum described Democratic values being "under attack" in Florida for a long time, framing the 2018 election as a "real pivotal moment not only in the country but in the state."
"My hope," Gillum said, "is that after 20 years of turning the state over to the Republican Party," that Democrats have a "fighting chance."
Gillum also took the lobbyist culture to task, saying they were "buzzing all over the place" in Tallahassee, with legislators doing their bidding.
****
The parallels between Gillum and a young Barack Obama are hard to miss.
In fact, they seem consciously cultivated, with Gillum telling those assembled in Jacksonville not to "fall for the okey doke" – a line that President Obama used to project authenticity to crowds over the years.
Does Gillum have what Obama had, though?
Key to Obama's rise: his willingness to go to out-of-the-way places and make his pitch to rural populations, which helped keep John McCain's margins down in those areas.
Can Gillum do that? That remains to be seen.
The appeal to "our generation of folks," on issues ranging from LGBT rights to the Syrian refugee order, may not play as well in Jasper as it did to Democratic activists in Jacksonville.
While Gillum noted that appealing to "working class" voters does not mean "exclusion" of the white working class, he also seems willing to not bother attempting to appeal to a certain swath of the electorate.
"It may be too much to wrestle away the Fox News person who believes Obama is from Pakistan," Gillum said, noting that a better use of activists' time would be to cultivate voters who, were they "activated," would vote Democrat.
Gillum, during a conversation after his remarks, noted his belief that the race for governor won't come down to who has the biggest regional base of voters, but "what the candidate is saying" and "energy."
That may be the case.
But, as is the case with many of the would-be candidates in the field, a delayed rollout may mean a lost political opportunity – if not for the party, then at least for the candidate.