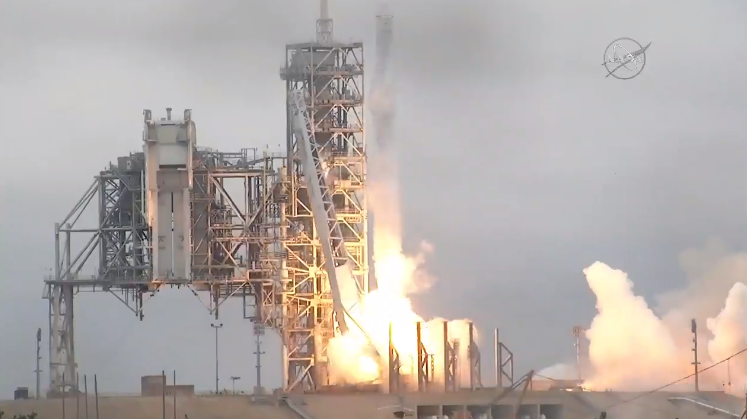 Kennedy Space Center is back in the rocket-launching business – and this time it's really a business.
A SpaceX Falcon 9 rocket blasted off into space from historic Launch Complex 39A Sunday morning, the first launch from Kennedy since the space shuttle program ended in 2011.
This was a business launch in almost every sense, except in purpose. The Dragon capsule sent into orbit by the rocket is full of 5,500 pounds of equipment and goods for the International Space Station.
SpaceX is trucking the goods into space on a NASA contract, and it began the mission from a NASA-owned launch pad, but this is a private business that has leased the launch pad and which is hauling the goods entirely for business.
The rocket launch appeared perfect, blasting upward and into cloudy sky, disappearing 10 seconds after liftoff.
"And liftoff of the Falcon 9 to the space station, on the first commercial launch from Kennedy Space Center's historic pad 39!" announcer George Diller declared.
Until now NASA's launchpads were used only for government rockets, and the last one that went up was the one boosting the Space Shuttle Atlantis into space on its final mission in July 2011.
NASA and Kennedy officials decided the best – really only – use for its billions of dollars in launch infrastructure for most of the future might be to support all the emerging private space companies such as SpaceX. The California company won a bidding competition in 2013 and signed a 20-year lease for exclusive use of 39A, and a year later began rebuilding it to accommodate the company's Falcon 9 and Falcon Heavy rockets.
NASA still has 39A's twin, Launch Complex 39B, which the space agency is rebuilding to accommodate its next generation big rocket, the Space Launch System.
SpaceX President Gwynne Shotwell said the cost of the 39A rebuild is approaching $100 million and likely will top $100 million before it is fully outfitted to accommodate astronauts. Starting in probably 2019 SpaceX will be launching astronauts from there to the International Space Station.
So Sunday's launch is the beginning of a new era.