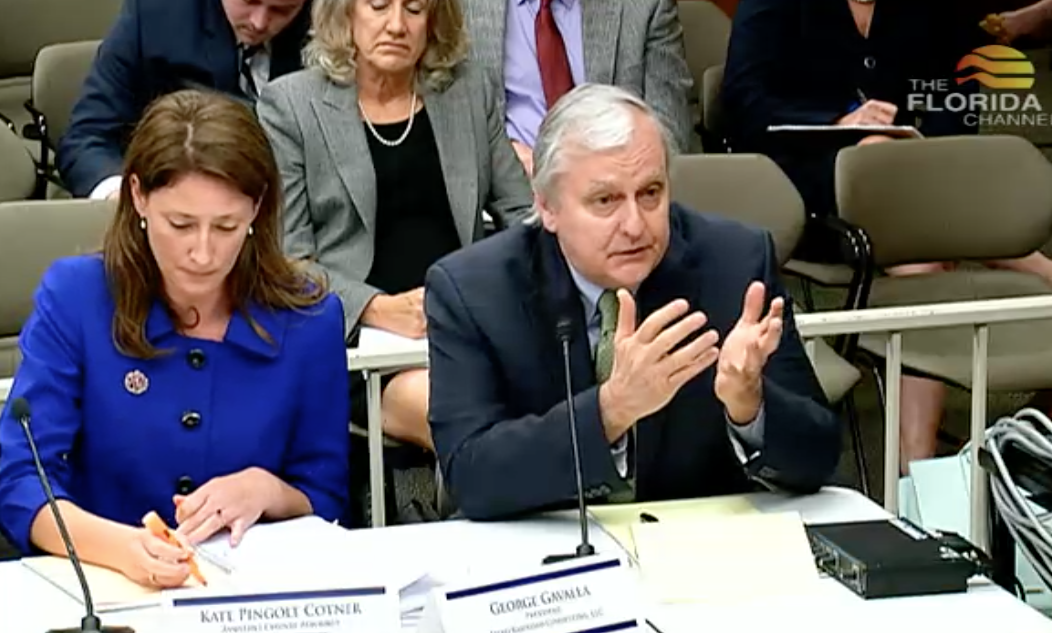 Brightline railroad supporters and Treasure Coast counties opposing the higher-speed train planned from Orlando to Miami debated their cases Wednesday before a Florida House committee, showing the high stakes of their fight.
Officials from the train company, and two other train companies, were joined by officials of one of the counties, Indian River for a panel discussion before the House Transportation and Infrastructure Subcommittee, pitting the local's concerns for safety versus the companies assurances that safety already is addressed.
"This is going to be a tremendous benefit to the entire state of Florida," Brightline General Counsel Myles Tobin declared.
"It is a railroad, and the cost of doing business is to make it safe," declared Kate Cotner, assistant county attorney for Indian River County.
At stake is Brightline's ability to upgrade a rail line and operate privately-run passenger trains from West Palm Beach to Orlando, which will traverse four counties at speeds up to 110 mph without actually stopping in any of them. Two of those counties, Indian River and Martin, are suing, and pushing the Florida Legislature for safety measures beyond what Brightline has deemed necessary.
That fight is a large reason why Brightline has thrown out its timetable for completing the construction and beginning the service. At one time the company anticipated being able to do so late this year. None of the construction has started, and now the service indefinitely delayed.
Also complicating matters are bills pushed by Treasure Coast lawmakers that would require some additional safety measures – universal four-arm crossing gates at all road crossings, strategic fencing, and other items.
The committee was not explicitly hearing House Bill 269, introduced by Republican state Reps. Erin Grall of Vero Beach and MaryLynn Magar of Tequesta. But that bill and its Senate counterpart, Senate Bill 386 from Republican state Sen. Debbie Mayfield of Melbourne were often cited by railroad officials as a concern, and by the opponents as important, and both Grall and Magar took part in the discussions.
Cotner said the bill would require four-gate crossings, and fencing where the Florida Department of Transportation deemed it necessary, and that the department was on board with the bill.
Tobin pointed out that all crossing guard devices would adhere to federal railroad standards, and that Brightline was going way beyond by including such technologies as positive train control, a high-tech, computerized-sensor system not yet in use on any other American railroad. As for the fencing, he said studies show it's a waste of money, that it does not stop trespassers from entering rails or getting hit by trains.
He also predicted the bills, if approved, would be preempted by federal law.
Brightline intends to open up the southern phase of its service, linking West Palm Beach, Fort Lauderdale and Miami on 27 miles or track later this year. But those trains would run no faster than 79 mph. The 129-mile phase between West Palm and Cocoa would allow for 110 mph trains, and the 38 miles Cocoa to Orlando International Airport the trains would allow trains to run as fast as 125 mph.
"We are going to provide a unique service in the United States, in the sense that it is a privately-funded, privately-operated passenger service," Tobin said.
There are no stops planned for the counties of Martin, St. Lucie, Indian River and Brevard. The Indian River contingent participating in the discussion noted that their counties will be facing unique, new risks affecting traffic and emergency first responders, without getting any service.
"Because you're going to be running trains at 110 mph, this is a risk that doesn't exist now, and this is something everyone needs to be concerned about," said George Gavalla, a railroad safety consultant hired by Indian River.