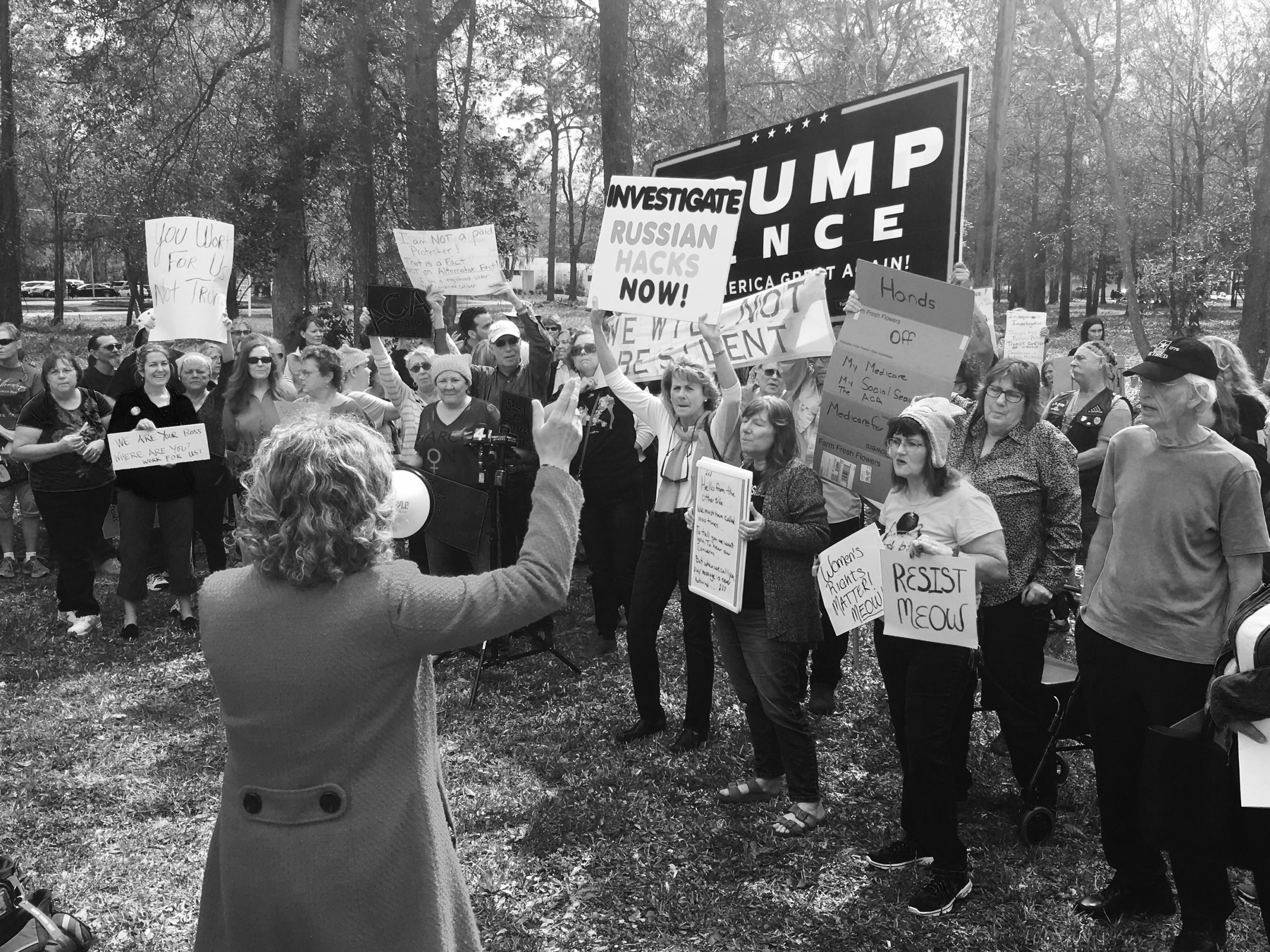 Thursday afternoon saw a "constituent town hall" outside the Jacksonville district office of Rep. John Rutherford.
The event, which drew roughly 200 people at its peak, was organized days ago: a reaction to the congressman choosing to forego the kinds of town hall events seen in other GOP districts during this congressional recess, events where dissidence has been the watchword.
Rutherford was not there: he spent a big part of the day at NAS Jax, including attending the Change of Command Ceremony of Rear Admiral Mary Jackson and Rear Admiral Bette Bolivar at NAS Jax.
That said, staff did talk to some from the group, and Rutherford will read the written comments left behind by those who showed up Thursday.
Thursday's event saw participants in various groups – Move On, Organizing for America, Indivisible, and the Women's March – on hand, under the umbrella of Rebuild the Hope, to make their concerns known … although the congressman was not going to be there.
By the time the noon hour arrived, roughly 150 had assembled – counterpointed, as is the case as these events, by Gary Snow, a gentleman in his thirties who carries and uses props such as an oversized Donald Trump sign and a pre-amp to offer his responses to left-liberal events.
Snow made his presence felt throughout much of the event, getting his share of attention from the broadcast media, but his provocations didn't result in any confrontations that were reportable.
Chants of "Where Is John" and "Do Your Job" were audible throughout the office-park parking lot, with attendees taking turns asking questions to an empty chair – a stand-in for the congressman, who was of course not there.
"If I had the authority, I'd fire him … and in two years, I will" – a rough paraphrase of the sentiments of one speaker.
A former employee of the Jacksonville Sheriff's Office, Letitia Smith Hodo, worked in corrections for 21 years (until 2012) and spoke to those assembled.
Her take: Rutherford was an adherent to the "good ol' boy" system and wasn't accessible to employees, especially corrections workers, as sheriff.
A young mother named Lindsay – she didn't want to give her whole name – was one of the silent people on the periphery of the crowd.
She had a stroller at her feet and a toddler in her arms, but felt it was important to expose her children to a simple principle.
"If there are outcomes in this world we don't agree with," Lindsay said, "there are things we can change."
On Facebook Thursday afternoon, Camille Leigh Tinnin – organizer of the event – noted that her group is "in this for the long haul."
"Even though Congressman Rutherford did not show up," Tinnin wrote, "our voices will be heard."
Many people aired grievances and concerns over the hour the group was assembled, on issues ranging from health care to Russian influence on the President.
Whether they will impact Rutherford's thinking is hard to say at this point; that said, the former sheriff enthusiastically stumped for President Trump as the general election approached, and locals are desirous of a better relationship with Trump than was the case with President Obama.