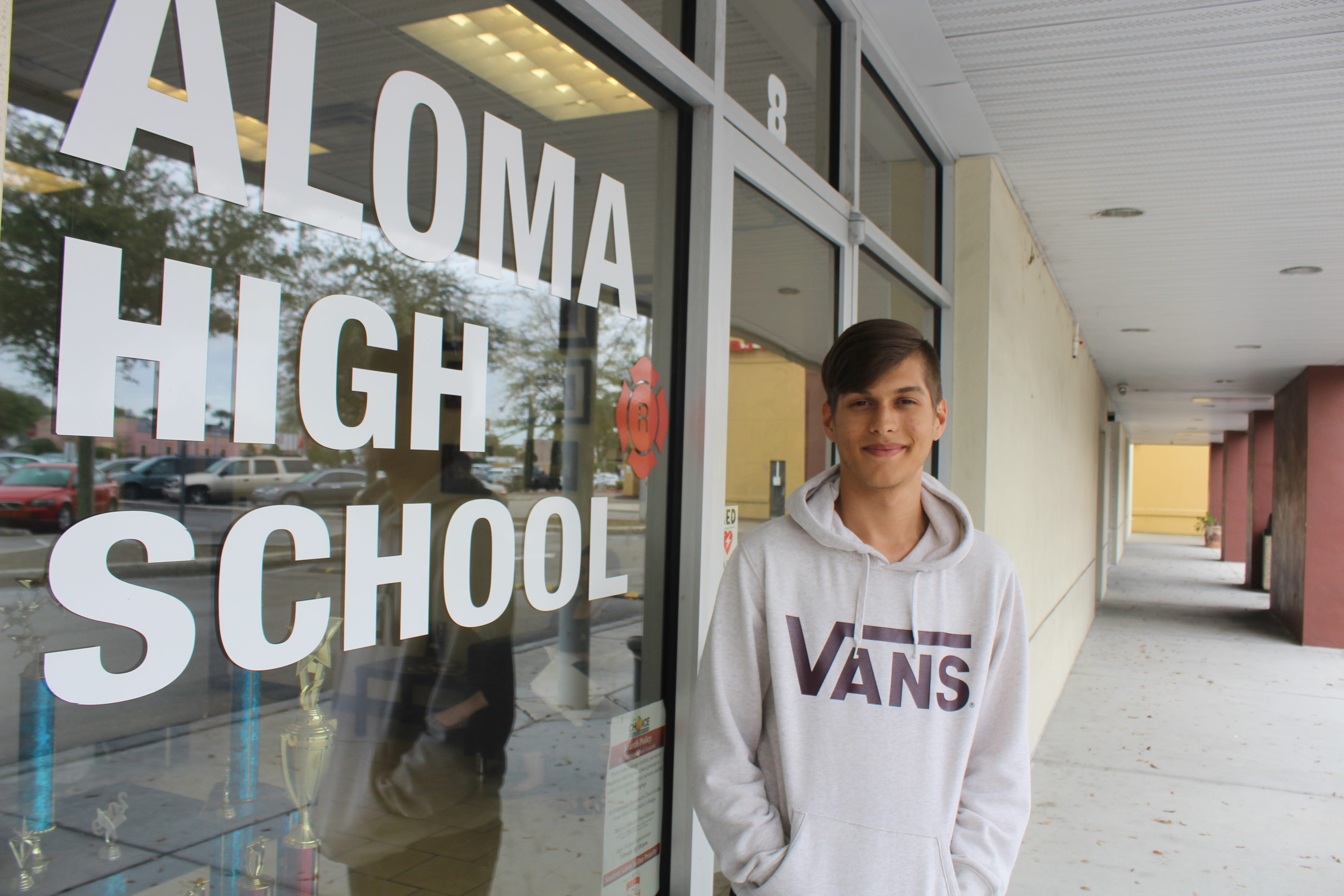 Six months ago, 18-year-old Joseph Tello was homeless and living without much thought or hope for his future.
But after finally finding a friend willing to provide him a stable residence and being referred to  Aloma Charter High School, his hope is being restored and he is getting back on track to earning a high school diploma and accomplishing aspirations of going on to college.
While his future is bright, his origins are fraught with trouble, and he's eager to move on. Tello's household offered no real peace — his father struggling with substance abuse issues; his mother was "callous" and "unresponsive" in ways a parent shouldn't be.
That environment became toxic.
Tello fell behind in the high school he was attending. He became lethargic and depressed, turning to substance abuse, justifying it by saying it runs "in the blood" of his family.
Eventually, he broke ties with his parents, taking to the streets. For a time his only reprieve was sleeping on couches of various friends.
Other things he experienced, he said, were too horrible to recount.
"It's too personal," Tello added. "It's painful to remember."
Eventually, through a friend who he's now living with, he found his way out of that life.
"I would talk to people about my life, and they'd try to provide help," Tello said. "Someone took me in and gave me shelter, they care about my education and goals."

No longer abusing drugs, Tello is glad to be getting back on track at Aloma High. At 18 years old with less than half of his high school credits earned, the teacher directed technology enhanced classrooms at Aloma High are providing him an opportunity to catch up where he had fallen so far behind. The individualized attention and intensive personal supports are helping him overcome the many challenges he faces while building the resiliency he will need to continue a path toward success.
 Now that Tello has graduation in his sights, he is looking even further ahead. He intends to enroll in college with the ultimate goal of being a doctor. "I'm immensely interested in human biology," he said. "I want to be a cardiovascular surgeon because of my interests as well as my past."
He said Aloma High is helping him out in ways his previous schools just couldn't— a more personal style which suits him. Traditional high school, by contrast (and design), could not accommodate the pressure and stress of Tello's home life the way Aloma High does.
"At Aloma, everyone helps you plan to get somewhere with your education. It's changed my view on charter schools."
Aloma High is one of a network of five dropout prevention and recovery high schools in Orange County. The schools are designed to serve students between the ages of 16-21 who have dropped out of high school or are at high risk of dropping out. With a significant focus on building basic skills, providing intensive social service support, and post-secondary planning, the schools' mission is to help at-risk students graduate and prepare for post-secondary success.