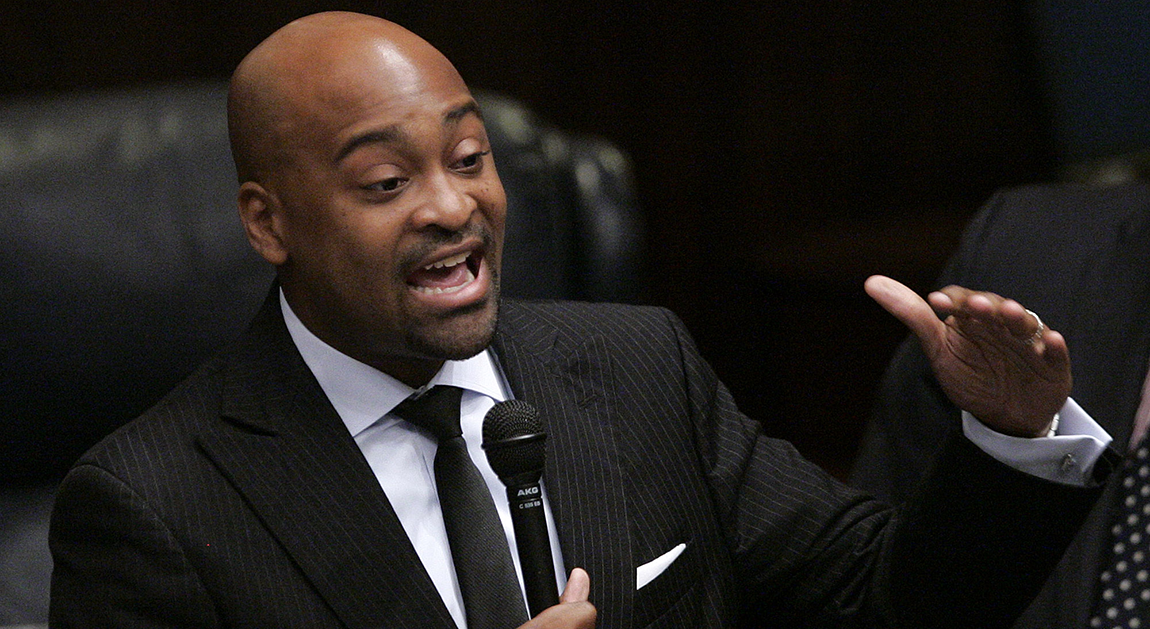 This is the first legislative session that South Florida's Oscar Braynon II will be the Senate's Democratic Leader.
The 40-year-old, who succeeded term-limited former Leader Arthenia Joyner, was first elected in 2011 after serving in the House and on the Miami Gardens City Council before that.
Though he's in the minority, Braynon has high hopes for legislative breakthroughs with the GOP majority under President Joe Negron. "We have a good personal relationship and we've helped each other before we were in leadership," Braynon says.
That said, one issue he's already behind on is "decoupling," in which the state would no longer require dog and horse tracks to run live races if they wish to offer other gambling, such as slots or cards. The House supports it this year; the Senate does not.
Braynon's in favor because it would allow his district's Calder Race Track, which he said he lives "around the corner from," to sell its racetrack land to developers for much-needed retail, restaurants and a movie theater.
The city of 112,000 has no movie theater, one sit-down restaurant and little retail shopping, Miami Gardens Mayor Oliver Gilbert III recently told lawmakers.
But Braynon may have better luck on initiatives like juvenile civil citations, which gives "first-time misdemeanor offenders the opportunity to participate in intervention services at the earliest stage of delinquency," according to the Department of Juvenile Justice. A bill now being carried by Anitere Flores, Negron's right hand as President Pro Tempore, would expand their use.
Braynon gave a pre-session interview with FloridaPolitics.com last week. Questions and answers have been edited for length and clarity.  
Q: What are you hoping to get accomplished this year?
A: I'm looking to some serious reform in our civil and criminal justice system. I think both sides of the aisle have come to the conclusion that minimum mandatory (sentences), putting juveniles in jail for minor crimes, keeping people locked up for drug offenses, those things put a strain on our budget. Also it puts a strain on our communities. We should look more into treatment for drug issues, economic development for communities like mine, where people think that dealing illegal drugs is the only way out (of poverty). If they can get a real job, they can have hope. I'll be looking at that not just this year, but my two years as leader. And I think I have a willing partner in the Senate President.
Q: On the other hand, what are you hoping the Legislature avoids acting on?
A: I hope we avoid some of the repeats of what we did or tried to do in terms of tax cuts and cutting services … I think the fewer services you provide is not investing in the biggest and best resource of the state, its people. When you don't invest in education, health care, mental health, the aged, DCF, the weakest among us, then you starve the infrastructure that is our way to get our state considered a premier state. Our mistake was we cut government and then on the other end we cut taxes for corporations, saying this is how we're going to 'save' Florida. Look at us now. We're looking at projections where we may be in another (budget) deficit. I call it crazy, because if it doesn't work, why do it again?
Q: Which initiative gives you the most confidence to get done this year?
A: The civil citations bill, now pushed by Sen. Flores, is something our caucus has pushed for a long time. For the president pro tem to have it, that shows us being together on that issue of creating more juvenile civil citations statewide. I believe the concern on the other side has been being seen as 'weak on crime.' They think you're not allowing children to be accountable for whatever (bad) things they did. But I don't want to give them a mark for the rest of their lives.
Q: How do you think the current conflict between Gov. Rick Scott and House Speaker Richard Corcoran—who are warring over Enterprise Florida (EFI), VISIT FLORIDA and business incentives—will affect this session?
A: (Laughs.) It's not any different from previous years. It's the same thing. Whether you take the money from (business in the form of taxes) or you give them so money back, it's semantics. Whether you call them tax cuts or incentives, it's a ridiculous argument. Look, businesses are doing well in Florida. We have a business-friendly environment. But we're ranked low in mental health, education. I'm more than happy to watch them fight it out … And they all are going to fight, not just about this, but a whole number of things. Wait till we get to the budget, and who controls the process. It should not be up to the House. Then there's land buying, and judicial term limits. The list is long. You could solve the EFI thing tomorrow and they'll have seven other things they'll disagree on. I do believe VISIT FLORIDA plays a role, but they could be more lean and transparent. As to incentives, I'm still waiting for someone to fully explain to me why they are really so necessary.
Q: Have you heard from Chance the Rapper yet? (Braynon supported a bill for Florida's smaller craft brewers because it would help start-ups, likening them to the Chicago-based artist who rose to fame after distributing his own songs without a music label.)
A: No! I did not get a follow yet (from the rapper on Twitter).