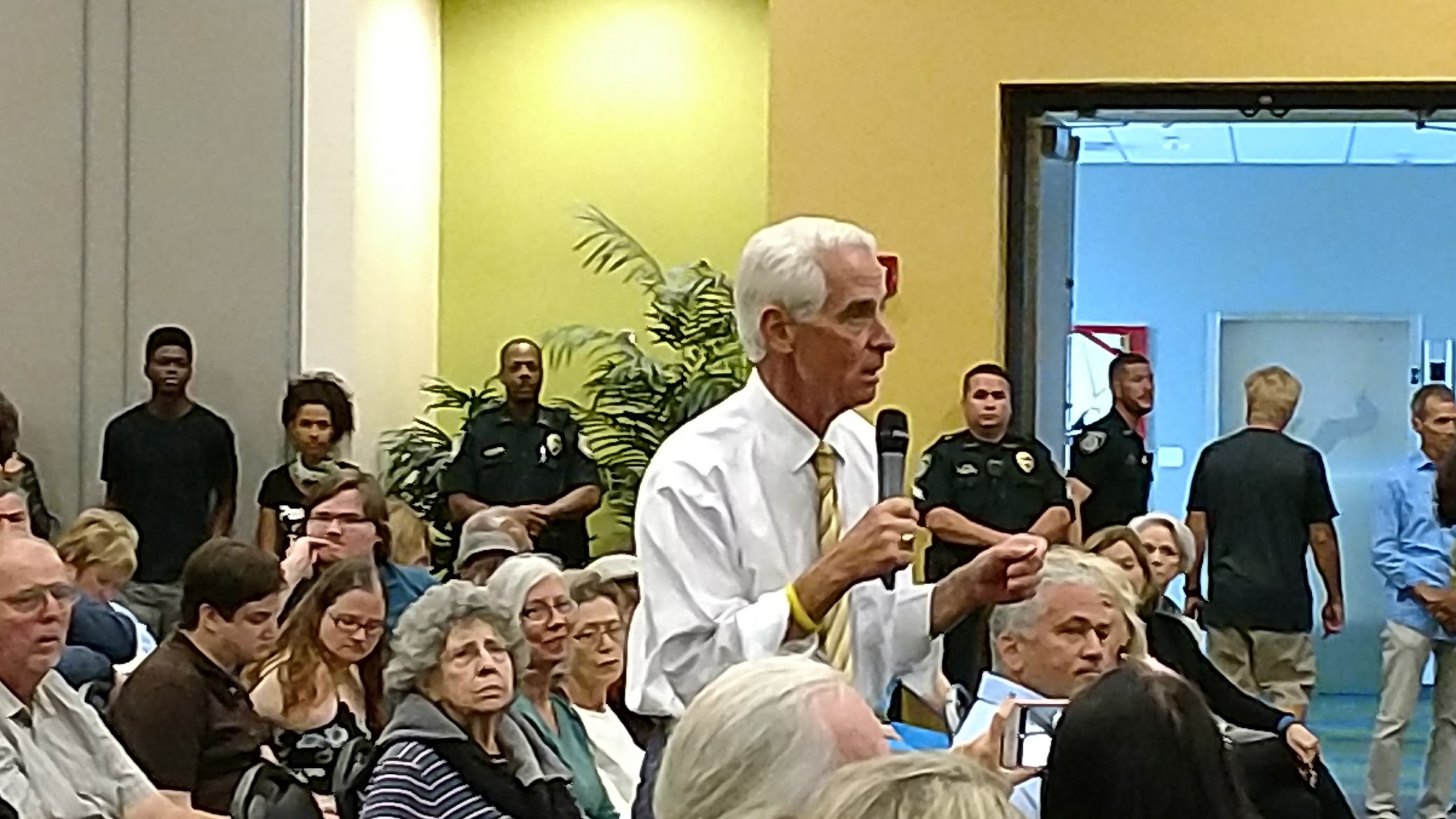 Some men, after filing for divorce, immediately attempt to catch up for all of the time they think lost while being married.
They buy a sports car, maybe one with a convertible top.
Other men return to a hobby they placed on a shelf after they slipped on their wedding ring. They cast fishing rods and climbs rocks and sail boats and shoot rifles.
Some men, not soon after the divorce papers are filed — or in some cases long before that — feel a need to sow the wild oats that laid dormant during their marriage.
A once-married man will do any number of things once he's returned to bachelorhood.
For Charlie Crist, a week removed from filing a divorce petition that said his marriage is "irretrievably broken," he hosted a town hall in downtown St. Petersburg.
Because Crist's true love could never be a woman. It's public office.
For the past nine  years, Crist has been married to New York City socialite Carole Rome. For six of these years, Crist – who has served in four different elected positions and ran in twice as many campaign — has been out of office and in the wilderness.
But not more than two months after returning to government, Crist dumped the woman who had been at his side during this period of exile. It's almost as if Crist wants to forget everything about his lost decade.
So there he was on Saturday, Single Charlie, giving a 'Springsteenian performance' as our reporter, Mitch Perry, described it. Hundreds of people came for the show at the University of South Florida's campus in St. Petersburg. Early on in the town hall, Crist said it would be okay if the event went past noon. He ended up staying four hours, embracing constituents with a brand — his brand — of optimism that is endangered in the current political environment.
"It's not Democrats, Republicans or independents," Crist said when asked who could bring the greatest pressure on Donald Trump and the GOP agenda. "It's Americans on Americans, encouraging these people in Washington to get to the truth. The more you do it, the more it's going to happen."
Out of any other politician's mouth, those words would elicit an immediate eye roll. And for some people, Crist saying them will prompt that reaction. But the difference between Crist and most pols, is he really does believe this stuff. He genuinely is angry that there was Russian interference in the presidential election, not because it helped Trump or hurt Hillary Clinton, but because he is such a believer in small-d democracy.
By the end of Saturday's town hall, Crist had given his personal cellphone number to a local gadfly who says she constantly writes lawmakers, but rarely hears back from them. He brushed off Tea Party activist David McKalip, he previewed his first piece of major legislation he's sponsoring, and he explained why he thinks Attorney General Jeff Sessions should resign.
He received round after round of applause, which is exactly what he needs as he tries to catch up for lost time.
On Saturday, Crist was the Charlie from the Big Catch, the downtown bar he frequented so often during the late 1980s and 1990s. Before a wave of renaissances reshaped downtown St. Petersburg, the Big Catch was pretty much the only decent place on Beach Drive to get a drink. Single Charlie would campaign there like it was a League of Women Voters forum. People loved him for it.
The Big Catch has long since disappeared from the downtown scene, just like the Charlie Crist who once held court there has too.
Yet, ever the optimist and unencumbered by the past and future, Charlie is back.
Boy, did we miss him.