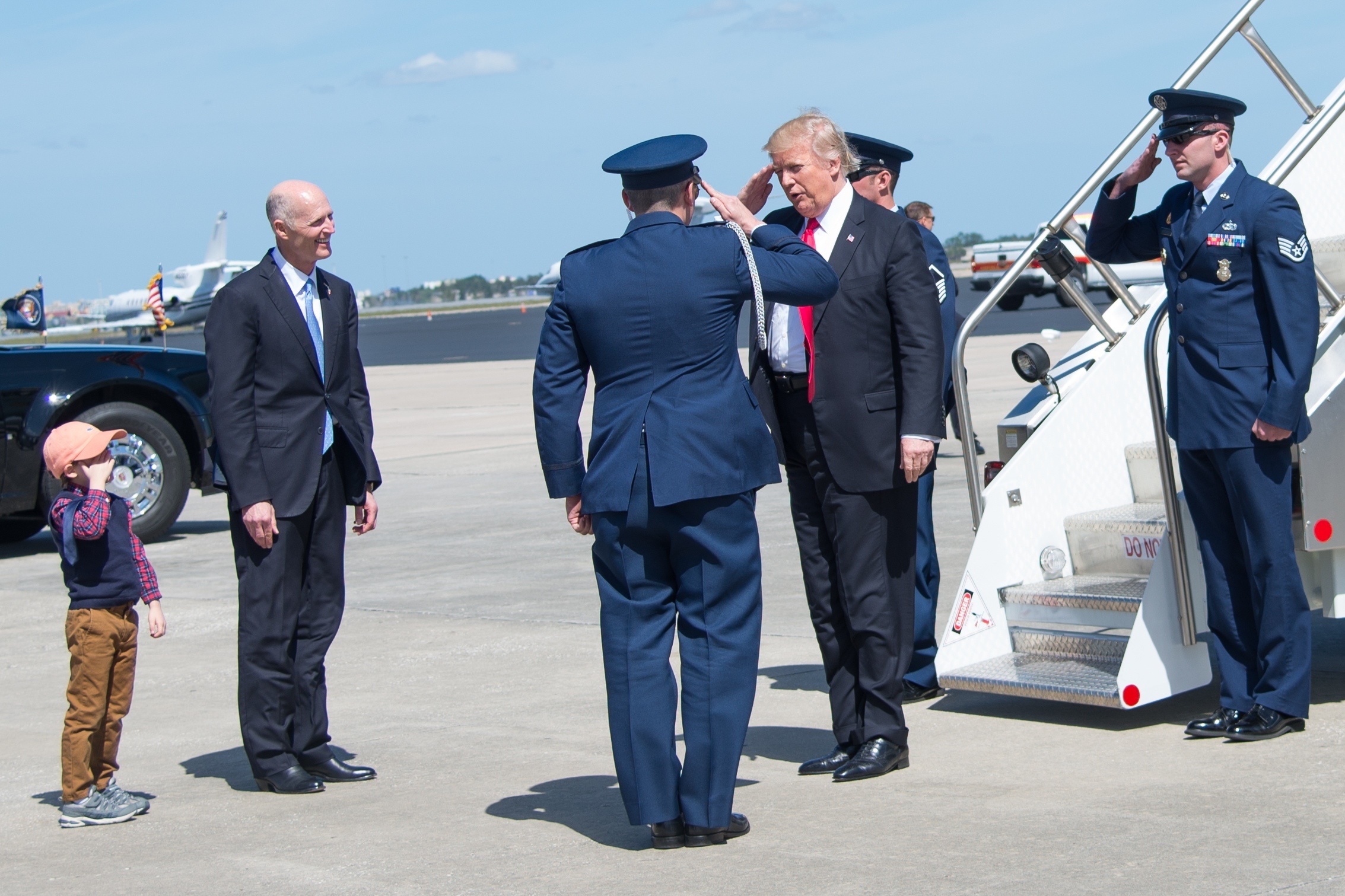 [The following is drawn from pool reports provided by Ted Mann, reporter for The Wall Street Journal.]
Accompanied by U.S. Education Secretary Betsy DeVos, Florida Gov. Rick Scott, U.S. Sen. Marco Rubio and others, President Donald Trump dropped in on a Catholic school 4th-grade class the met with Orlando Diocese leaders Friday to talk about school choice.
With the 4th grade class of Jane Jones at St. Andrew Catholic School, Trump, who also was accompanied by his daughter Ivanka and son-in-law Jared Kushner, heard the students declare they were "scholars" and would be going to college and heaven.
St. Andrew is located in the largely-African American and low-income Pine Hills neighborhood of west Orange County, and some though not all of the students there are African-American.
Trump complimented them as "beautiful" and asked a few questions and advised them to "make a lot of money, right? But don't go into politics after," before moving on, after about 15 minutes, to a 2 p.m. meeting with Bishop John Noonan, from the Orlando Catholic Diocese, Henry Fortier, the superintendent of Catholic schools in Orlando, and others involved in private, parochial and charter schools.
Fortier told him he saw school choice creating "a partnership. It's not a situation of us versus them," he said. Of private schools, he said, "It shouldn't be just for the wealthy who can afford it."
John Kirtley, founder of Step Up for Students, which administers school choice aid, said the program provides tuition assistance for 100,000 kids, and that the average household income is $24,000 per year.
Trump said the school was doing a "fantastic job" and that it's a school that "enriches both the mind and the soul. That's a good education."
He quoted Martin Luther King, saying that he "hoped that inferior education would become a thing of the past."
Trump noted that he had said during his speech to Congress that education in the "civil rights issue of our time," and added, "Betsy's going to lead the charge, right?"
"You bet," DeVos answered.
They left after about 30 minutes.