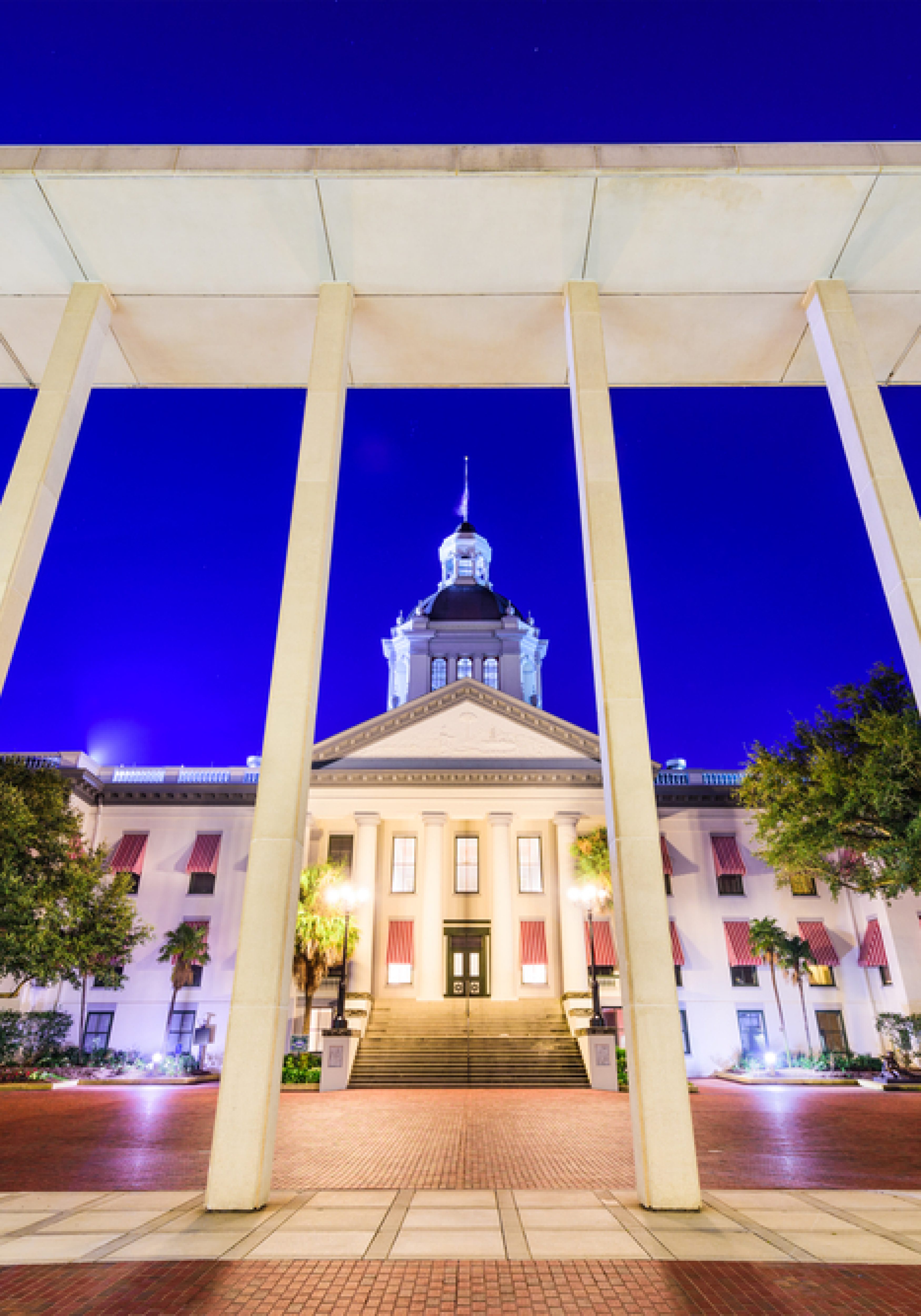 Sunburn – The morning read of what's hot in Florida politics.
By Peter Schorsch, Phil Ammann, Jenna Buzzacco-Foerster, Mitch Perry and Jim Rosica.
THE NUMBERS DON'T LIE
Session is coming, and Floridians are sounding off on some of the issues lawmakers could be taking up in the days and weeks ahead.
Think Floridians are clamoring for open carry? Think again. Reducing the tax on business rents might be a killer campaign promise, but few Floridians seem to support it. A tax they would like to see disappear? The tampon tax. And most Floridians are giving a thumbs up to proposals prohibiting discrimination based on gender identity.

With just one week before the start of the 2017 Legislative Session, the Public Opinion Research Laboratory at the Universty of North Florida surveyed Floridians on several policy and tax issues likely facing the Legislature this session.
The statewide poll of 972 registered voters was conducted by phone from Feb. 13 through Feb. 26. It has a margin of error of 3.14 percent.
So what did the survey find? Well let's start with this: Floridians are pretty much split in what they think of the Florida Legislature. The poll found 40 percent disapproved, while 39 percent approved of the work the legislative branch it was doing. Another 21 percent of respondents said they just didn't know.
So when it comes to the work at hand this coming session, what exactly do Floridians want? Here's five takeaways from the recent University of North Florida poll:
Divert business rent tax to public universities
Reducing the business rent tax is an oft-mentioned priority for Gov. Rick Scott and many in the Florida Legislature. Florida is the only state in the country that has the tax, and officials say getting rid of the tax would be an economic driver.
It seems like the average Floridian, though, is giving that idea a big, old thumbs down. When asked by UNF pollsters whether they would rather have Florida "reduce the corporate lease tax" or "not reduce the tax and dedicate that money to public universities," 44 percent of respondents said they would like the money be dedicated to public universities. Another 33 percent of said they would rather the Legislature "not reduce the tax and dedicate that money to improving infrastructure."
Just 13 percent said they would like to see the corporate lease tax reduced.
End the tampon tax
A majority of Floridians say they support making feminine hygiene products tax exempt, according to the University of Florida poll.
A bill moving through the Florida Senate would make end eliminate the so-called tampon tax, making the Sunshine State one of just a few states in the country to make feminine products tax exempt. The quickly cleared its first two committee stops, and could be heard in the coming weeks in the full Appropriations Committee.
The UNF poll found 60 percent of Floridians supported ending the tax, while 28 percent opposed it. Another 13 percent of respondents said they didn't know.
Little support for campus carry
When it comes to allowing concealed weapons on college and university campuses, Floridians appear to want lawmakers to just say no.
The UNF poll found 62 percent of Floridians said they opposed allowing licensed individuals from carrying concealed handguns into a college or university facility. Perhaps even more startling: 48 percent of respondents said they strongly opposed the idea. The poll found 35 percent of respondents said they supported campus carry.
Floridians also appear to be opposed to allowing the open carry, except under certain circumstances. When asked how they felt about "allowing licensed individuals to openly carry a handgun in Florida except in police stations, prisons, courthouses, schools, athletic events and establishments that dispense alcohol," 53 percent said they opposed that idea.
The survey did, however, show that Floridians don't want to see assault weapon ban put in place, with 50 percent saying they were opposed to that idea. Forty-six percent of respondents supported a ban.
More money for the environment
Show us the money!
That seems to be what Floridians think needs to happen when it comes to spending on protecting Florida's environment. When asked, 55 percent of registered voters said "Florida should be spending more resources on protecting the environment," while 27 percent said the state was spending just the right amount of money.
"Despite the fact that Floridians don't consider environmental issues to be among the most important problems facing the state, a clear majority want the government to allocate more resources to protecting our natural environment," said Josh Gellers, UNF assistant professor of political science, in a statement.
Four percent of respondents said they thought the Sunshine State should be spending less when it comes to the protecting the environment.
Floridians oppose discrimination based on gender identity
The UNF poll found 50 percent of Floridians said they support efforts to prohibit "employment discrimination on the basis of gender identity."
That could be good news for backers of the Florida Competative Workforce Act. Filed in February by Sen. Jeff Clemens, and Reps. Ben Diamond and Rene Plasencia, the proposals look to protect people from discrimination because of sexual orientation and gender identity in employment, housing and accommodations. These protections currently exist only on the basis of race, color, religion, sex, pregnancy, national origin, age, marital or disability status.
"By modernizing our civil rights laws, we can protect our LGBT community from discrimination, and make Florida a more competitive state in the global economy," said Diamond in a statement at the time. "That is good for our businesses, our workers, and for all Floridians."
According to the UNF poll, 45 percent of Floridians said they opposed prohibiting employment discrimination on the basis of gender identity.
***Today's SUNBURN is brought to you by Spectrum Reach, the marketing platform of choice, connecting you to your target audience on TV, digital and mobile. With access to our powerful data and insights, solutions for every screen, and the best programming content on the top 50+ networks, we'll help you reach the right customers for your business. SpectrumReach.com #NeverStopReaching***
FLORIDA SUPREME COURT UPHOLDS BAN ON OPENLY CARRYING GUNS via The Associated Press – The Florida Supreme Court says there's nothing wrong with a state law that bans openly carrying handguns. In a 4-2 decision Thursday, the court rejected a claim that the law is unconstitutional because it restricts the federally protected right to bear arms… Florida hasn't allowed guns to be openly carried in public for decades, although the Legislature is considering bills this year that would grant that right. Similar bills failed last year.
DONALD TRUMP, RICK SCOTT, MARCO RUBIO EXPECTED AT GOP DONOR WEEKEND IN PALM BEACH via George Bennett of the Palm Beach Post – A few hundred people are expected at the Republican National Committee event at the Four Seasons. Trump, who will be spending the weekend at his Mar-a-Lago Club, is slated to speak at a dinner tonight. Scott will speak to a Saturday lunch and Rubio to a dinner Saturday.
SCOTT TO INVOKE TRUMP IN FLORIDA HOUSE LEADERHIP FIGHT via Matt Dixon of POLITICO Florida – During a Republican National Committee fundraiser in Palm Beach on Friday, Gov. Scott is set to insert President Donald Trump into his messaging and legislative war with the Florida House over taxpayer-funded incentives given to businesses to relocate to Florida. "I'm sure the biggest surprise President Trump will have in his transition from business life to political life is the same surprise I had — the number of people who treat politics as a game," Scott will say, according to excerpts provided to POLITICO Florida. "We have some in Florida's Republican House right now that are trying to get rid of our jobs agency and our tourism agency."
HOUSE BILL TO KILL ENTERPRISE FLORIDA INCLUDES LESSER KNOWN PROVISION CUTTING NEARLY $300M IN ECONOMIC DEVELOPMENT FUNDS via Matt Dixon of POLITICO Florida – The House bill, HB 7005, includes language that would send $289 million in economic development cash to the state's general revenue fund, meaning the money could be used for anything — not solely traditional economic development activities. The measure faces a huge hurdle in Scott, a vocal advocate of economic development spending to lure businesses to the state, but underscores the multiple avenues with which House speaker Corcoran can use to try and take a baseball bat to the swath of budget real estate Scott most covets. The biggest shift to general revenue funding comes with the elimination of three trust funds, the most significant of which is the State Economic Enhancement and Development, or SEED, trust fund. The current budget uses roughly $160 million from the trust fund, which at the end of the 2016 fiscal year had a $90 million balance.
COURT SUSPENDS JUDGE CONSIDERED BY HOUSE IMPEACHMENT PANEL via Florida Politics – A North Florida judge used as an example by a House panel looking into impeachment of public officials has been suspended for six months by the Florida Supreme Court. The court's 46-page decision, released Thursday, also orders 3rd Circuit Judge Andrew Decker to get a public reprimand and pay investigative costs. A judicial misconduct hearing panel had recommended the same, but only a 90-day suspension. Decker had been under investigation for three years for alleged attorney-ethical lapses before he was elected a judge in 2012. State Rep. Larry Metz, chair of the House Public Integrity and Ethics Committee, has been critical of the court for sitting on the case for over a year without taking final action.
***The State of the Taxpayer Dinner — March 8 (6-9 p.m.) — The one event in 2017 you can't afford to miss. While the annual State of the State address and opening statements of each legislative chamber cover the accomplishments and future of our elected leadership, none specifically highlight the issues affecting taxpayers. This unique event puts the spotlight back on the taxpayers. Florida TaxWatch and Host Committee Chairman Gov. Bob Martinez present the 2017 State of the Taxpayer, the premier event for Florida's elected leaders to discuss the issues that will impact taxpayers over the next year. The 2017 event welcomes speakers Lt. Gov. Carlos López-Cantera, Attorney General Pam Bondi, Commissioner Adam Putnam, Speaker Richard Corcoran, Sen. Jack Latvala, and Rep. Jim Boyd. Last year's event sold out and just a few tickets remain for next week's event – visit floridataxwatch.org/sotd for more info or to purchase tickets.***
JOE NEGRON SAYS FEDS WON'T BACK PLAN TO RAISE WATER LEVELS IN LAKE OKEECHOBEE via Mary Ellen Klas of the Times/Herald Tallahassee Bureau — Senate President Joe Negron on Thursday sent a gentle push back against agriculture and other interests who are calling for alternatives to building a reservoir south of Lake Okeechobee to reduce the algae-causing discharges…he said he was in Washington, D.C. on Monday and Tuesday and met with Florida Sens. Marco Rubio and Bill Nelson… Here's Negron's synopsis: "Once the Herbert Hoover Dike rehabilitation is complete in 2024, the Army Corps of Engineers is not committed to storing one more gallon of water in Lake Okeechobee.  The LORS must go through a multi-year review process, with the Corps predicting only negligible modifications to the release schedule."
ASSIGNMENT EDITORS: Sen. Jack Latvala and Rep. Kathleen Peters will unveil landmark legislation to protect and restore Florida's beaches during a press conference at 4 p.m. at Lowdermilk Beach Park, 1301 Gulfshore Boulevard North in Naples.
AIF ANNOUNCES 2017 LEGISLATIVE SESSION PRIORITIES via Florida Politics – Associated Industries of Florida (AIF) on Thursday released its "2017 Session Priorities" publication, outlining its legislative agenda on behalf of its members for the 2017 Legislative Session. "As the collective voice of businesses from the Panhandle to the Keys, …we are proud to continue the fight to protect Florida's job creators," AIF President and CEO Tom Feeney said. "Each year, Florida's business community faces a variety of tough issues and this year will be no exception." … The business lobby expects to see numerous legislative proposals that revolve around Gov. Rick Scott's $83.5 billion budget proposal for FY 2017-18, including $618 million in tax cuts and $85 million for economic incentives to businesses.
SADOWSKI COALITION SEEKS FULL FUNDING FOR AFFORDABLE HOUSING IN STATE BUDGET via Florida Politics – Affordable housing advocates urged the Legislature Thursday to spend all of the state's dedicated housing money for its intended purpose, saying that more than 910,000 Floridians pay more than half their income for shelter. Representatives of the Sadowski Housing Coalition … appeared during a news conference to make their case. One doesn't even need to be poor to have trouble arranging shelter. In Collier County, for example, the rent is too high for some people in well-paying professions including nursing. "If a person is making what you consider to be a good income here in Tallahassee, where they might be able to find housing fairly easily, they're not able to with that same profession in Collier County," said Jaimie Ross, president and CEO of the Florida Housing Coalition, a member of the Sadowski Coalition.
DEFY ME AND I'LL JAIL YOU, JUDGE IN FACEBOOK LIVE HANGING CASE TELLS LAWYER via Carol Marbin Miller of the Miami Herald – A Miami child welfare judge is threatening to jail a lawyer for the Florida Department of Children & Families, suggesting in a strongly worded order that agency attorneys lied to her about the welfare of foster children who may have witnessed a teenager hanging herself at their Miami Garden's foster home. The suicide was live-streamed on Facebook. Miami-Dade Circuit Judge Maria Sampedro-Iglesia ordered Clarissa Cabreja, the state's regional child welfare legal director, to appear before her March 8. More generally, the order requires "CLS," a reference to DCF's Children's Legal Services, to appear in court "to show cause why they should not be held in indirect civil contempt of court." In her order, Sampedro-Iglesia, who heads the court's child welfare division, wrote that the failure of Cabreja "to appear at the hearing may result in the court issuing a writ of bodily attachment for your arrest. If you are arrested," Sampedro-Iglesia added, "you may be held in jail up to 48 hours before a hearing is held." The warning was written entirely in uppercase lettering.
REVIEW OF 250 REPORTS BY DCF INVESTIGATORS ACCUSED OF LYING SHOWS 40 PERCENT FALSIFIED via Les Neuhaus of Florida Politics – Caseworkers at the Florida Department of Children and Families are being forced to shoulder nearly unbelievable workloads, leading some to falsify records … A single child protection investigator in the (DCF) had at one point 32 cases with 77 accompanying children. the average caseload for DCF investigators is currently between 18 to 21. The state agency tasked with overseeing child welfare in the Sunshine State gave the ABC News Channel 9 Investigates team – which carried out an examination of DCF employee record falsifications … records indicating 59 employees had been terminated since sometime in 2014. One former DCF investigator … had 34 cases at one time during a particularly busy point before he was arrested for falsifying reports in portions of some of his investigations. At the time of the arrest, he told Jones, there were 24 open cases involving 36 children.
NEW AND RENEWED LOBBY REGISTRATIONS
Jim Boxold, Dean Izzo, Capital City Consulting: VE Group
Matt Brockelman, Southern Strategy Group: GCM Contracting Solutions
Donovan Brown, GDB Group, Associated Industries of Florida
Larry Cretul, Kirk Pepper, Joseph Salzverg, GrayRobinson: Gannett Fleming
Brian Ballard, Chris Dorworth, Ballard Partners: Wendover Housing Partners
Paul Hawkes, Buchanan Ingersol & Rooney: Universal City Development Partners, LTD dba Universal Orlando
Lisa Hurley, Smith Bryan & Myers: Okeechobee Utility Authority
Corrine Mixon, Mixon & Associates: Florida Chapter of the American Society of Landscape Architects
Manny Reyes, Gomez Barker Associates: Miami Dade Citizens for Property Rights
HAPPENING TONIGHT – Quorum, the not-too-political happy hour, returns to St. Petersburg. As one of Tampa Bay's premier casual networking events, Quorum features candidates, operatives, media and political enthusiasts of all stripes. The get-together will start with 5 p.m. hors d'oeuvres at its customary location: Cassis American Brasserie on Beach Drive. More information is on this Facebook event page.