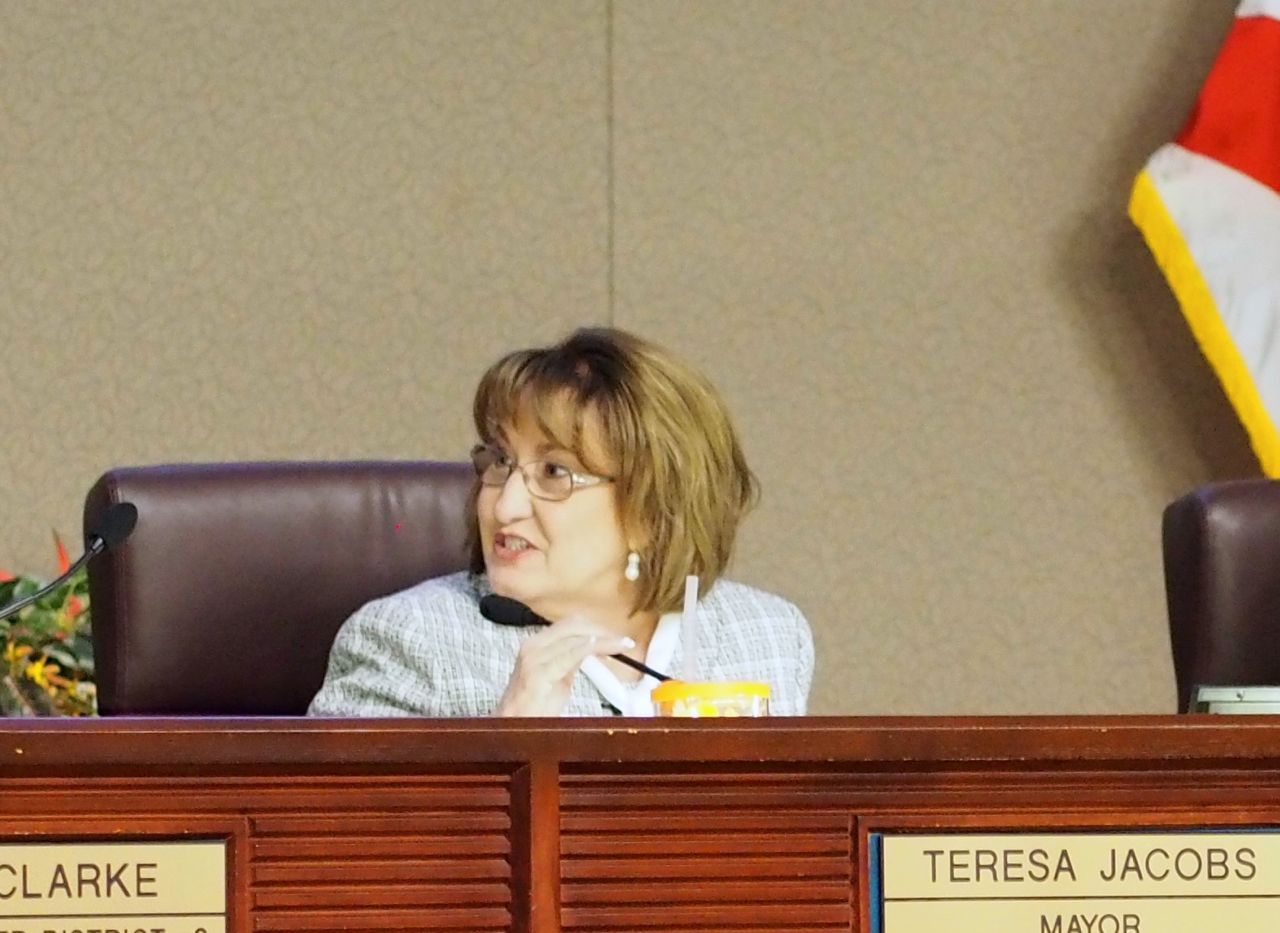 Osceola County Expressway Authority plans to run a new highway through an Orange County nature park drew strong fire Tuesday at the Orange County Board of Commissioners meeting, but Mayor Teresa Jacobs and the commissioners were uncertain they could do anything about it.
Several dozen people came to the meeting to appeal to Jacobs and the commissioners to take a stand against the expressway authority's planned route for an eastward extension of the Osceola Parkway, a multi-lane, divided, limited-access tollroad, because those plans now call for it to enter south Orange County for a few miles and then cut through the middle of the Split Oak Forest Forest Park, which is on the Orange-Osceola counties line.
That preserve offers 2,000 acres of undeveloped scrub oak forest with what supporters call unique habitats for wildlife and plants, and was set up more than 20 years ago as a mitigation bank, and became a popular hiking and nature spot. Numerous speakers from the Audubon Society, the League of Women's Voters, other groups, and individual conservationists and environmentalists lined up Tuesday to urge the commission to stop the road, or at least to move the alignment so it does not go through the park.
"We're here to get your commitment to protect Split Oak," said Marge Holt, chair and conservation chair of the Sierra Club Central Florida Group. She offered them a proposed county resolution and urged them to put it on a future agenda.
Consultants Paul Cherry and S. Clifton Tate of Kimley-Horn told the board that the Split Oak alignment was selected in part for safety reasons, because other potential alignments would force tight curves to get around area lakes and development. They also noted the proposed $250 million highway extension would cost far more in other alignments due to far more home relocations.
The Osceola County Expressway Authority's plans are longterm, part of the authority's 2040 vision to circle Kissimmee and St. Cloud with expressways connecting into those in Orange County. But at the authority's April meeting its board will consider signing off on the planned route.
Yet that might be all the Osceola County Expressway Authority does. That agency is currently in plans to merge with the Central Florida Expressway Authority, which would then take over all of the Osceola authority's roads, projects and plans.
And that left Jacobs and the Orange County commissioners in a potential difficult situation. The Orange commissioners might have the power to stop an Osceola project from extending into Orange County. But, except for the fact that Jacobs and Orange Commissioner Jennifer Thompson have seats on the nine-member CFX board, they would have no direct power to tell the Central Florida Expressway Authority what it can or cannot do.
With a potential resolution in hand, Jacobs asked the board's legal counsel to check to see what the county could do.
"I think when it's Osceola we probably had authority. I'm not sure when it becomes Central Florida Expressway Authority," Jacobs said. "Once it transfers, I don't think we do."
The Central Florida Expressway Authority may be taking the plan back to square one. Because the authority will inherit all of Osceola County Expressway Authority's projects, it also will inherit all of that agency's liabilities and longterm construction and maintenance commitments. As a result, the Orlando-based Central Florida Expressway Authority is negotiating with Kimley-Horn to conduct an entirely new feasibility study for the Osceola Parkway project. That is a very early step in the process of road planning.