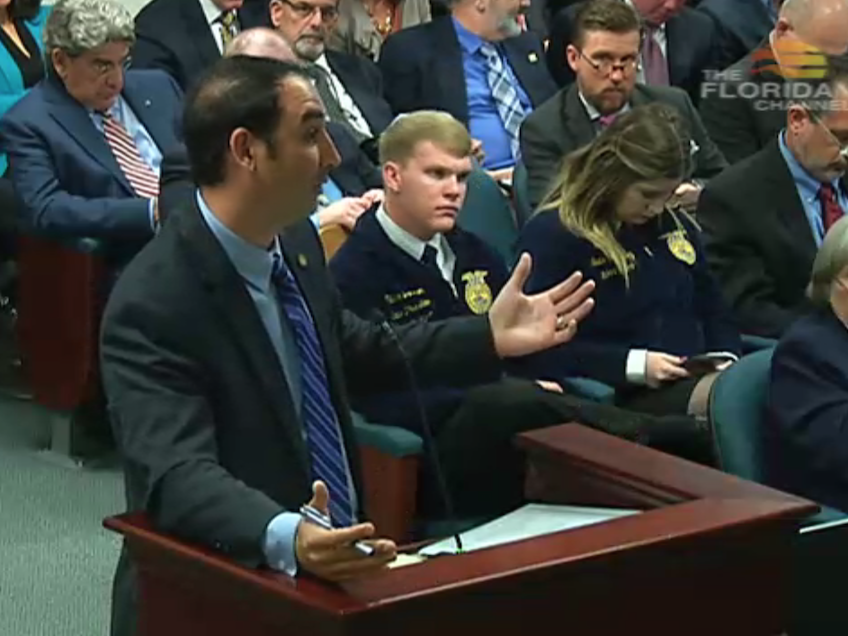 A bill that would roll back all local ordinances and regulations of vacation rental houses to 2011 codes got a split-vote approval Tuesday from the House Agriculture & Property Rights Subcommittee.
The issue was fashioned as one pitting property rights — those of people or companies that buy houses and convert them into short-term vacation rental properties, versus those of neighbors who don't like having small hotels pop up in their neighborhoods.
Senate Bill 425, presented by state Rep. Mike La Rosa of St. Cloud, would essentially ban cities and towns from treating vacation rental houses differently from any other houses in the neighborhoods. That was Florida law after a similar bill was signed in 2011, but much of that deregulation was rolled back in 2014 after cities and counties complained.
The ensuing regulation has gotten out of hand, La Rosa argued.
"We've seen an obscene amount of ordinances from local government, which basically, in my mind, is a property taking: You bought this property for a certain reason, but we're going to pass all these ordinances preventing you from being able to rent that property."
At stake is the rapid rise throughout Florida, but particularly in tourist areas, of single-home vacation rentals, fueled by such app-based advertising services as Airbnb and Home Away, which are funneling hundreds of thousands of Florida visitors into alternatives to hotels, motels and resorts. Alternatives typically with multiple bedrooms and baths, kitchens, yards and swimming pools.
Also at stake are cities and counties alarmed by vacation homes popping up anywhere, sometimes occupied for a few days at a time by quiet families from England, and sometimes by fraternity brothers looking for wild times with loud parties, lots of trash and numerous cars taking up the street curb.
Lori Killinger, a lobbyist for the Florida Vacation Rental Managers Association and Jennifer Green of the vacation rental advertising app Home Away argued that the regulations can stifle the tourism industry. Killinger said the vacation rental business is a $31 billion a year business, but that goes to one homeowner at a time. Green argued that visitors are looking for choices.
"Some individuals are making decisions about coming to Florida on whether or not they can stay with 15 people in six hotel rooms, or they can stay all together at the beach down in the Keys, or Pinellas County or somewhere similar," Green said. "So the question for you all is do you want to do anything to stifle tourism for Florida?"
Homes turned into vacation rentals are not homes anymore, argued opponents of the bill, such as Florida Association of Counties lobbyist Eric Poole and Casey Cook of Florida League of Cities.
Flagler County attorney Al Hadeed told stories of fraternity parties, and of one house flooded with lights by some renters who were using it to film a pornographic movie.
The 2011 law, Hadeed said, "opened up real estate syndicates that created a hotel in single-family neighborhoods."
He drew some support, notably from Democratic state Reps. Ben Diamond of St. Petersburg and Kamia Brown of Ocoee who argued that home rule should give deference to cities and counties to decide for themselves what to do about vacation rentals.
But La Rosa responded, and won, that they still can pass ordinances to control problems, but the ordinances need to address all houses, not just vacation rental houses.
"I'm saying treat vacation rentals like all other properties," La Rosa responded. "Whether it's a trash issue, a noise issue, or too many cars out on the street, treat rental properties like all properties."