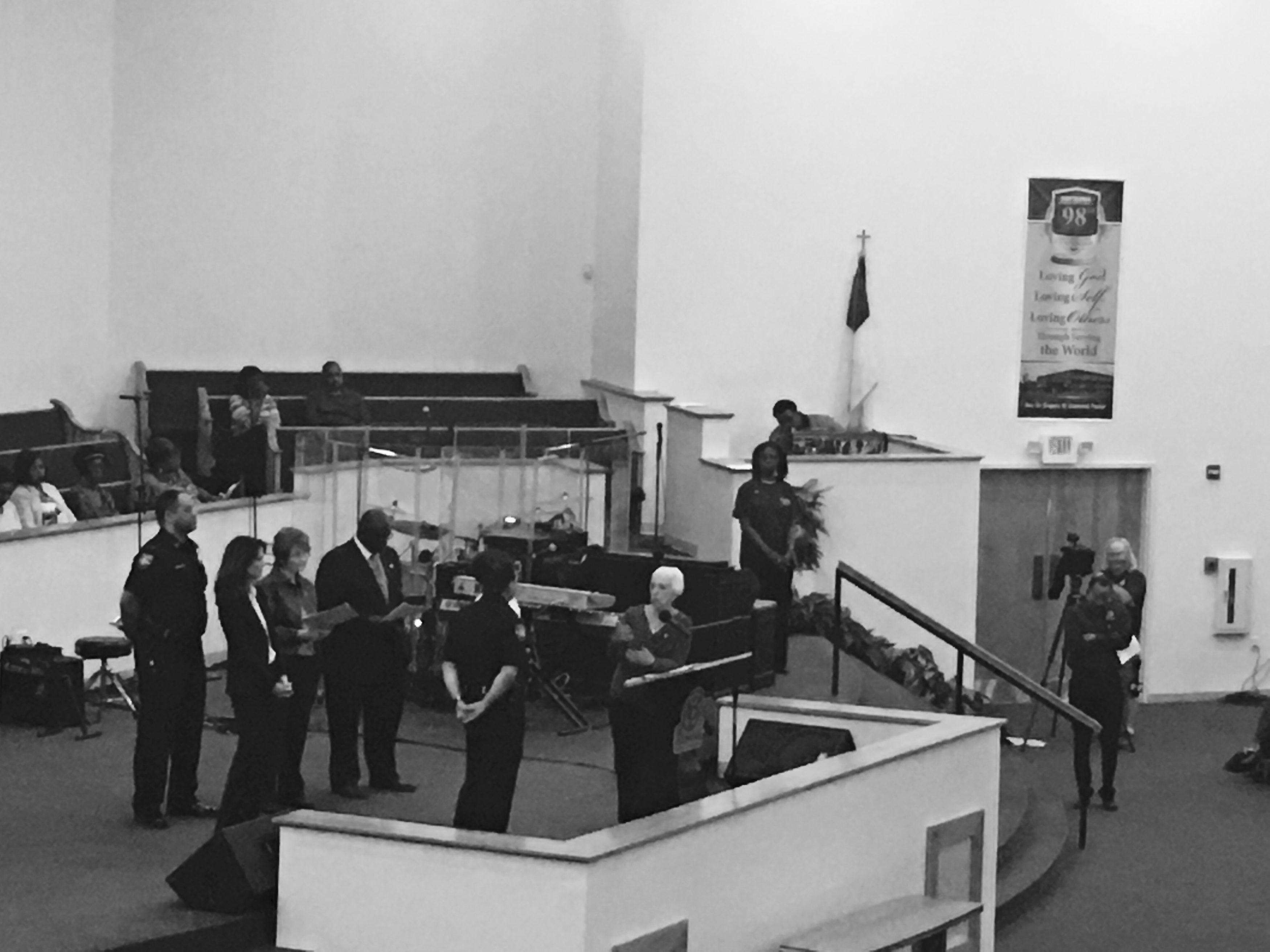 The Jacksonville religious group ICARE has been pressuring Mayor Lenny Curry to bring back a homeless day center that was once in Jacksonville.
However, already-fractious discussions between Curry and the clerics broke down last month, and he wasn't to be at the Monday ICARE "Nehemiah Assembly."
Moreover, the city's data suggests there are better ways to spend finite resources, as the homeless day center was not completely effective in terms of the city's goals, and took away resources that would otherwise go for getting homeless people into homes.
And the original funding for the day center came from Obama-era community development block grants that Donald Trump looks to zero out of the budget.
With all that in mind, the ICARE show went on anyway.
So how did it play?
_____
The program for the event, distributed upon entry, referenced the ICARE version of the homeless day center narrative, ignoring the lack of a dedicated facility or of the federal funding that got the original facility online.
Also included: Curry's contact information, with a stock message. "I am disappointed that you did not attend … and I want you to fund the homeless day resource center," the message read.
_____
As the event kicked off, a speaker noted that when opposed to something, the crowd was to respond "not with boos, but deafening silence."
That was true, he said, even when considering concepts like "homeless men and women in our city don't even have a place to shower" — the first of numerous allusions to the homeless day center dispute.
The call: "to demand justice from our public officials."
For minutes before the official program began, the crowd practiced responses in unison at the urging of the pastor, who let them know that ICARE pastors would be holding the microphone at all times, even when public officials were speaking.
And that there would be no questions from the floor, as ICARE had spent months researching the answers.
_____
The pastors had their say, of course.
Catholic Bishop Felipe Estevez, notable for recently comparing objectors to LGBT rights expansion to people objecting to serving in combat during the "darkest days of World War II," invoked Pope Francis in his argument for a homeless day resource center.
Rev. Tony Hansberry likewise argued for a homeless day center, saying "we keep displacing the homeless to hide them," and that the homeless day center would help address that cohort's needs.
"I urge all of you to continue to hold his feet to the fire," Hansberry said.
Myrtle Collins said that homelessness increased 33 percent in 2015 and 2016, constituting a "crisis."
"A year ago at this assembly, we called on Mayor Curry to open a day resource center. He said the pension tax had to pass first. That tax passed last August," Collins said.
"At our meeting with him in the summer, Mayor Curry cited a commitment to make sure the most vulnerable people in the city receive service," Collins said.
Collins noted that Curry said that he would not attend the assembly if ICARE "went to the press."
Press coverage followed, then Curry's "prior commitment," Collins said.
Radio DJ Kenny Leggett called on Curry to be a "man of [his] word."
Pastor James Wiggins said Curry "clearly said [he] would" support a day center, showing video of last year's event where he emphatically said "yes" when asked.
The hard sell continued, despite Curry's absence, as members of the crowd began to filter to the exits from the balcony and floor levels.
____
Curry's absence wasn't the only schedule disruption. In lieu of Superintendent Nikolai Vitti, who looks poised to move back to Detroit and run the district up there, the chief of schools (Iranetta Wright) "brought greetings on behalf" of Vitti.
Sheriff Mike Williams and State Attorney Melissa Nelson did show, during a segment of the program when the focus was civil citations for young people and other restorative justice mechanisms, an ongoing concern of the group that has been rolled out slowly in Jacksonville.
Williams committed to offer civil citations to 90 percent of eligible youth by March 2018, and to expand community accountability boards … though got pushback when he urged "officer discretion" in a statewide rollout of the program via SB 196.
Williams said his department moved from 10 percent to 83 percent issuance of citations, but that wasn't enough for his questioner.
Nelson vowed, meanwhile, to divert non-violent youth to neighborhood accountability boards, and to use diversion program.
"You've already seen an increase in that," Nelson offered, compared to the previous state attorney.
Nelson, in addressing ICARE, noted the cumulative effect of its collective concern.
Lauding the "energy in the room," Nelson said she's "paid attention and I've acted" and will continue to "work with ICARE and listen to ICARE."