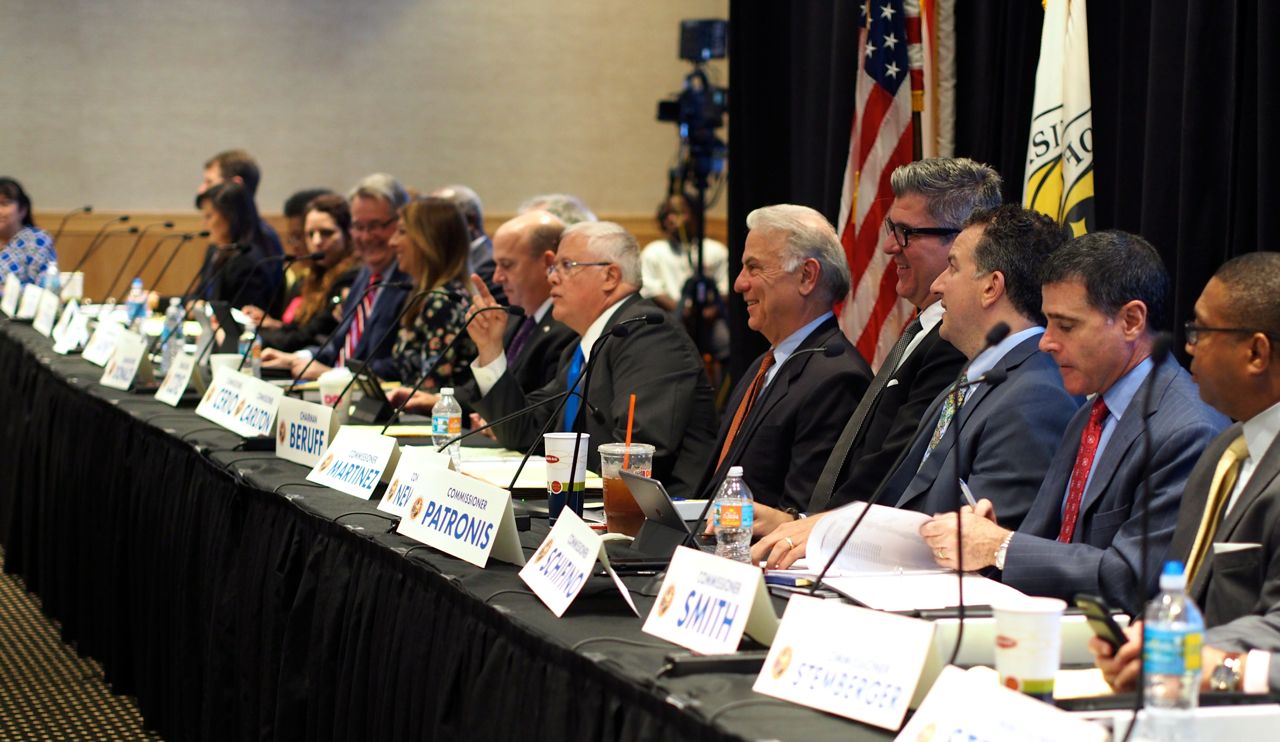 If there was any concern about whether citizens would show up to tell Florida's Constitution Revision Commission how they feel about the state's founding document, the panel's first public hearing meeting Thursday night at the University of Central Florida put that to rest.
A crowd overflowed the 200-seat meeting room, then overflowed the 86-seat overflow room, and then filled the hallway of the Fairwinds Alumni Center. More than 100 people signed up to speak. Most of them offered recommendations on changing the Florida Constitution, with wants ranging from restoration of felons' rights, to closure of a perceived loophole in order to help regulate abortions; from abolishing Florida's right-to-work status, to preventing judges from overturning elections.
And a few came to complain about the commission itself, its rules, the late notice for this meeting, its policies overriding some of Florida's Sunshine laws for commissioners' activities and records, and its partisan and perceived ideological one-sided makeup.
Chairman Carlos Beruff, the Manatee County builder and former Republican U.S. Senate candidate whom Gov. Rick Scott picked to lead the every-20-years review, took it all in with grace. Even in the face of overt criticism, he stuck to his promise to just listen, even if other commissioners complained about such things as applause for speakers interrupting proceedings.
"It's about the citizens of Florida showing up, and making a difference in a document that regulates the state of Florida, the constitution," Beruff said. "We're at capacity, which is a wonderful thing. I hope every meeting we go to and attend in the next 14 months is at capacity."
And they showed up, at least well over 300 did so. The commission's attendance was less impressive, with just 26 of 37 members appearing at the first meeting.
Several speakers argued for the commission to end Florida's stripping of rights of felons, which has left the Sunshine State with by far the most residents unable to vote or run for office.
Several more called for the commission to give Florida voters the rights of initiative and referendum to pass and repeal laws, and for recalls for elected officials.
Paul Heroux of Orlando argued that the lack of an initiative process for citizens to push for law changes is what leads to abuse of the constitutional amendment process, as the only means citizens have to push for simple statutes.
"The avenue of amendment by state constitution is a frustrating way for people to have their voices heard, especially when we know it could be addressed in statutory format," Heroux said.
"Pig gestation," he continued, referring to the infamous 2002 constitutional amendment regulating confinement of pregnant pigs. "Was it a good statute? Heck yeah. Rotten amendment."
Others called for other changes in Florida election laws, including moving opening primaries and moving some elections to Saturdays.
Mat Staver, founder of the Liberty Counsel, an Orlando-based Christian-conservative activist law firm, was one of several speakers to urge the commission to remove Article 1, Section 23, of the Constitution, which they said said has been preventing laws requiring abortion notifications.
Others countered with a call for an amendment to assure women access to safe and legal abortions.
Michael Johnson, who did not give any more identifying information, at first called upon something to protect liberties of women, gays and Floridians of all creeds and religions, and then declared that what that should be is some sort of ban on Sharia law.
Gary Bruhn, mayor of Windermere and incoming president of the Florida League of Cities, pushed the commission to strengthen protections for cities and counties to govern themselves under the home rule doctrine, complaining that the Florida Legislature whittles away at their powers ever year, especially this year.
Still others called for very specific changes that might escape the notice of most people. Blaise Trettis, state public defender for Florida's 18th Judicial circuit, urged the commission two delete two sentences in the constitution he said make Florida's search and seizure rules far more lax than they should be.
And then there were those who cautioned the commission to live up to the independence and transparency that Beruff had pledged, and expressed skepticism.
Ann Hellmuth of the League of Women Voters of Orange County expressed deep concern about the commission's rule allowing individual commissioners to talk to each other about the panel's work, outside of Florida's open meetings law requirements.
"This should be corrected in order to give everybody the confidence in the openness and the transparency of the CRC," Hellmuth said.
Sarah Wissig of Orlando brought Beruff's only rebuff of the night when she accused Commissioner John Stemberger of being a bigot who did not belong on a state board.
"I would like to bring attention to the presence of an open bigot on the commission and I'm wondering for what political purpose someone who has spent their entire life and career demonizing lesbian, gay, bisexual and transgender Floridians, what political purpose does it serve having John Stemberger on this commission?" she asked.
Another commissioner angrily objected, but Beruff politely dismissed her, saying, "This is not appropriate. Thank you so much for your comments."
Later, Stemberger, president of the Orlando-based Florida Family Policy Council, a Christian conservative organization that has taken strong lines against gay rights, shrugged off Wissig's comments, saying he thought it was in poor taste, but within her rights.
"She has a constitutional right to speak, and I respect that," he said.