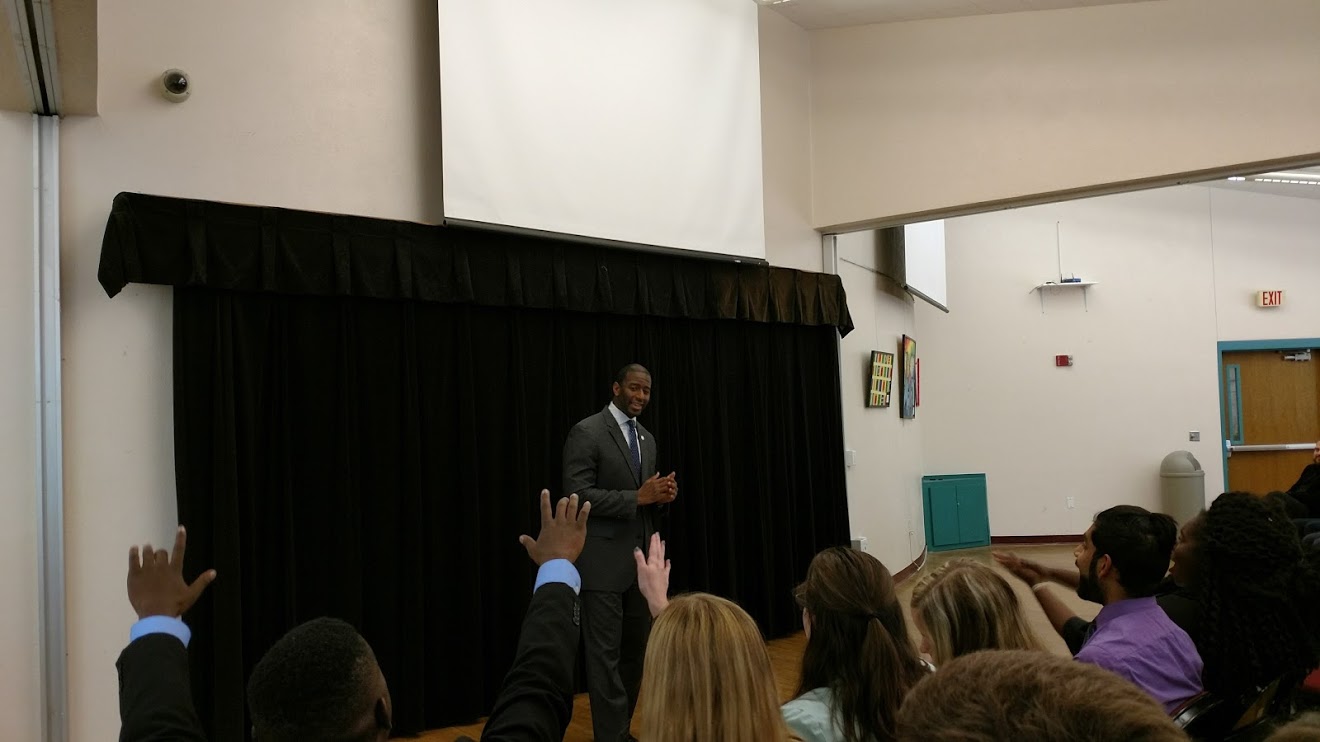 Even though the 2018 election cycle has barely begun, there's no question that Tallahassee Mayor Andrew Gillum is quickly learning that his progressive stances are finding enthusiastic responses as he barnstorms the state.
"We can win elections in this state again by being Democrats!" Gillum told an enthusiastic group of Florida College Democrats in Tampay, where they were meeting for their spring convention.
"We don't have to obfuscate. We don't have to run from who we are. We can say exactly who it is we are and what we believe and why we're good for the rest of Florida," he said at the conclusion of his formal remarks to the crowd of approximately 120 students who gathered at the University Area Community Center.
Referring to previous wins at the ballot box on small class size, solar power and medical marijuana, Gillum asked the crowd rhetorically what was the disconnect that ultimately finds that "our candidates can't bring it home?
"I would submit that it's difficult to bring it home if it is difficult to tell the difference between the Republican nominee and the Democratic nominee," he said, a clear shot at previous statewide centrist-oriented Democratic candidates like Patrick Murphy, Charlie Crist and Alex Sink.
Noting how the past two gubernatorial elections and last fall's presidential race all were within 1.5 percentage points in the GOP's favor, Gillum said the difference in most of those cases was just 70,000 votes in a state of 20 million.
"I believe we might have a chance, a shot at turning 100,000 more people believing like us out, and taking this state back for people. Not special interests, but for people."
Gillum spent another ten minutes fielding some questions from the students. He made an emphasis about how he's not afraid of taking on sacred "special interests," referring to the Second Amendment Foundation and the group Florida Carry suing the Tallahassee City Commission for refusing to repeal ordinances that prevent shooting guns in a public park.
And with Syria back in the headlines, he reminded the audience that back in the fall of 2015 he made a point of welcoming refugees from that war torn country to his city, in exact contravention of what Governor Rick Scott was calling on at that time.
"We had a governor and a Legislature who said that Syrians were no longer welcome in the state of Florida. Right? Never mind that the governor has no say based on immigration policy on who can come in and out of the state of Florida," he said. "So he took license, so I took license too. I said immigrants and refugees were welcome in Tallahassee."
Saying he got "tons of blowback," Gillum said the reason he stood up what "our values  matter when it's hard," relating that's equally hard for immigrant communities in Florida right now.
He also spoke up for state workers, talking about how he's been able to give three percent pay raises for municipal workers in Tallahassee since being mayor, and said he would like to be able to do slowly address the lack of any such pay increase for a decade (the governor has proposed merit bonuses this year)
"Our governor goes around bragging that we're the cheapest state to run in all of America, we have the cheapest work force at the state level," he said. "I don't know about you, but if I'm governor of the third largest state, I want an efficient, and effective and highly talented and highly competent work force."
Chris King, the only other officially declared Democrat in the 2018 gubernatorial race, was scheduled to address the group on Saturday night.