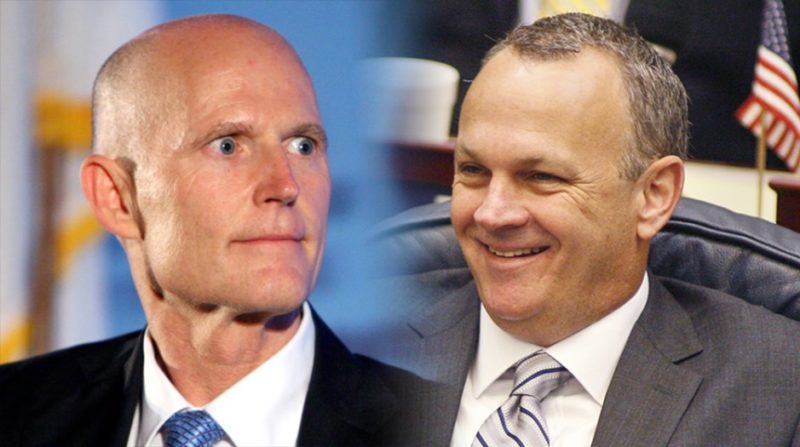 Florida Democrats have become such a non-factor in state politics that the real drama frequently becomes which faction of the Republican party will prevail on a given issue.
Think about it.
We have had knockdown, drag-outs between the GOP-controlled House and Senate. This year the main event has been the ongoing feud between Republican Gov. Rick Scott and House Speaker Richard Corcoran.
It's almost like Democrats don't exist.
Republicans have long had a consistent message of tough on crime, lower taxes and regulations, gun expansion and job creation. Democrats, on the other hand, basically have campaigned on the "Vote For Me Because I'm Not Him (or Her)" but, guess what? They may finally be getting the message that they need, well, a message.
"What we have to do is convince them that voting for us will make a difference in our lives," Tallahassee mayor and declared Democratic candidate for Governor Andrew Gillum told the Democratic Progressive Caucus of Florida in Tampa recently.
And in one of the best lines of the still-young campaign so far, Gillum told that crowd Democrats wouldn't win 2018 by being "Republican-lite."
Businessman Chris King, the latest declared Democratic candidate for 2018, kicked off his campaign by telling the Orlando Sentinel, "The challenge for the Democrats, I think, is to offer something different, something authentic."
Authentic, eh?
What would that look like?
How about explaining why Medicaid expansion is important because it could actually lower health care costs in the long run. Or maybe, uh … it's just the right thing to do?
Explain what happens if we don't take care of the environment. Under Scott, the GOP has gutted many environmental protections and the Legislature often mocks any attempt to protect the land we inhabit. Don't just say "GOP, BAD!" though. Democrats need to explain why their way is better.
Oh, and there is transportation. Democrats have really dropped the ball there. So explain that the GOP vision, as put into practice by the Florida Department of Transportation, calls for a steady increase in the number of toll roads while rejecting any attempt at effective mass transit. You think people really want that?
Show the growth numbers expected in Florida over the next 20 years and present a vision of what the state will look like if the only transit option is to build more roads. That approach worked extremely well for Democrat Pat Kemp in last November's election for the Hillsborough County Commission, by the way.
See how easy this is?
Guns? Democrats have ceded that and related issues like Stand Your Ground to Republicans, mostly because (I believe) they cower in fear at that the National Rifle Association will come after them hard for saying we need to bring common sense to the Gunshine State.
Psssst. The NRA will come after you anyway, quivering Democrat. So, take on that fight, loudly. Go after Stand Your Ground and the GOP's latest pitiful move to force prosecutors to prove a shooter didn't feel threatened when pulling the trigger.
Democrats are going to have to shout such things from the rooftop, with clarity and determination. It won't be easy. Republicans have controlled the microphone for a long time now while Democrats have curled up in the corner with nothing to say.
Are they up for this?
Time will tell, I guess.