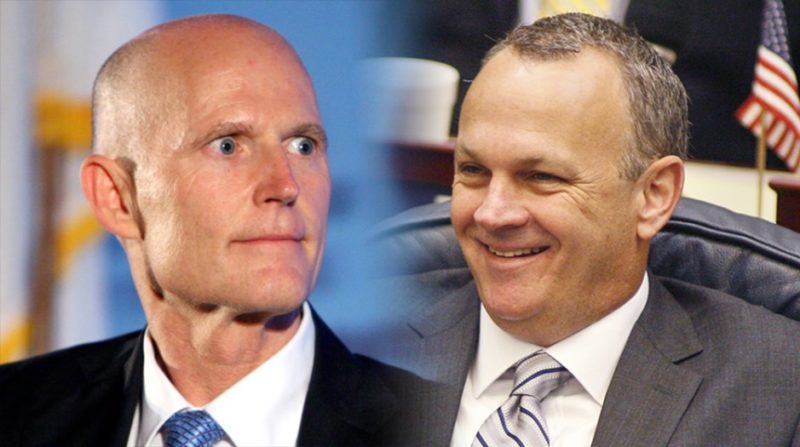 With the House seemingly intent on gutting VISIT FLORIDA and eliminating Enterprise Florida, Gov. Rick Scott suggested he won't stop counterpunching.
The governor, who spoke to reporters after Tuesday's Cabinet meeting, has been openly warring with House Speaker Richard Corcoran. He's been out to kill state government's business incentives programs.
Corcoran counts Enterprise Florida (EFI), the state's economic development organization, and VISIT FLORIDA, its tourism marketing arm, as dispensers of "corporate welfare."
Scott says they help create jobs. Though both are public-private partnerships, both take in far more public money than private.
The governor has been going to the home districts of Republican House members and hosting "roundtables" with the aim of "encourag(ing) members of the community to voice their support for EFI and VISIT FLORIDA," spokeswoman Lauren Schenone said.
At these roundtables, however, Scott has pointedly criticized House Republicans who had voted to kill incentive programs and the two organizations.
"I'm traveling the state to make sure everybody knows the importance of what our Legislature does," Scott said Tuesday. "We're at record tourism numbers," with close to 113 million tourists visiting the state last year.
With thousands of jobs tied to tourism, "it's important to me that we fully fund VISIT FLORIDA," he said. "I know it's a lot of jobs … If you look at the fact we added all these jobs, it's because we got a good return for taxpayers. We've also recruited companies to expand and to move here. It's really had a very positive impact."
But many of those jobs were created without the use of subsidies, leading to a question of whether that worked against the governor's position. Scott's proposed $250 million Florida Enterprise Fund was zeroed out by lawmakers in the current year's budget.
"We haven't seen a lot of big deals; we haven't seen a lot of corporate offices moving here," Scott said. "There aren't a lot of manufacturing plants moving here. We've got to compete … this is about somebody's job."