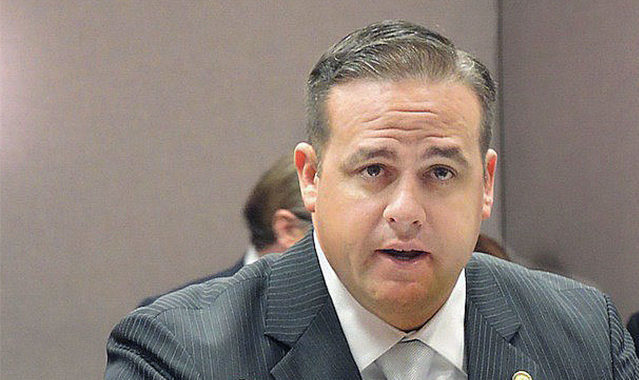 My father-in-law being a U.S. Marine, I've learned not to use the past tense to describe his service. Even at 67 years old, my father-in-law is a Marine, not was a Marine.
Republican state Senate Frank Artiles is a Marine, not was a Marine.
Volunteering to serve our country shows Artiles has far more courage than I've ever had in my life; for that, Artiles — no matter what he says or does — deserves respect.
But now, Artiles must find a level of courage and self-sacrifice beyond wearing the uniform.
He must resign from the Florida Senate.
As was first reported by the Miami Herald's Patricia Mazzei (during her first day of platooning in Tallahassee to cover the final weeks of the 2017 Legislative Session), Artiles dropped the N-word to a pair of African-American colleagues in private conversation Monday night — after calling one of them a "f—— a——," a "b—-" and a "girl," the two senators said.
Over drinks, after 10 p.m. at the members-only Governors Club just steps from the state Capitol, Artiles told Sens. Audrey Gibson of Jacksonville and Perry Thurston of Fort Lauderdale that Senate President Joe Negron of Stuart rose to his powerful GOP leadership role because "six n——-" in the Republican caucus had elected him.
No matter what your stomach feels about political correctness, especially in this era of Donald Trump, what Artiles said is abhorrent.
Actually, that's not the right word for what Artiles said because there isn't the right word to describe what he did other than to say it crossed a line in a way that cannot be forgiven.
He must resign.
Otherwise, every black lawmaker who serves in the Legislature while Artiles is a member will see his square jaw and say to themselves, 'That man called us all niggers. And his white Republican colleagues let him get away with it.'
That's right, Sens. Negron and Wilton Simpson and Bill Galvano. If Artiles is allowed to continue to serve in the Florida Senate, it's because you permitted it. Contra, if the three of turned your back on him now, he'd have no choice but to resign.
Instead, he may survive behind the cloaks of your indifference.
Harsh statements — Galvano's was the strongest of the three, while Negron should face questions about why it took him so long to fully condemn Artiles — are not enough.
He must resign.
Of the forty members of the most elite club in the state of Florida, is it any surprise that it is Artiles who dropped the nuclear n-bomb? Not to anyone who tracks Capitol politics.
Artiles is the lawmaker who once sponsored a bill limiting transgender people from using restrooms of their choice.
He made headlines in 2015 when he punched a college student in the face at Clyde's & Costello's, a bar just a block away from the Capitol.
Late Tuesday night, The Miami Herald reported it received a copy of a 2014 recording of Artiles in which the former Marine used the term "hajjis" — an anti-Muslim slur used by many U.S. soldiers.
And those are just three of the stories which have made it to the media.
The reality is, as countless individuals who work in The Process could attest, there are dozens of stories of Artiles, fueled by far too much alcohol, intimidating (or in some cases, physically threatening) people.
In fact, that's not the only epithet tossed out that evening.
A lobbyist, who shall remain unnamed, said it was reported to him after he left the Governors Club that same night that Artiles called him and another person who works in the Capitol "faggots."
That's according to two friends of the lobbyist, who told him of the exchange later in the evening. The lobbyist then told me.
Everybody is something in Frank Artiles' book. His colleagues who supported Negron for Senate President are "niggas" while Negron himself is a "pussy."
(By the way, someone should ask Artiles what he means when he said Negron won the Senate presidency because "six niggas" in the Republican caucus had elected him. Sens. Aaron Bean and Jeff Brandes were two of the key votes for Negron; does that make them "niggas?")
Being a drunk asshole is not reason enough for Artiles to resign. Were that the case, there'd rarely be a quorum in the Florida Senate.
It's doubtful Negron and Co. will have the steel to force Artiles from the Senate. There are disappointing whispers that they don't want to give up the Democratic-leaning district Artiles represents.
Perhaps the black members of the Florida Senate can make this enough of an issue so that Artiles has to resign. They should threaten to boycott the rest of Session if he doesn't.
Or, if Artiles doesn't resign, maybe Negron can send Artiles home without his supper. The Senate President could instruct Artiles to not participate in the rest of the 2017 Session as a punishment for his hate. It's not a full-blown resignation, but it's better than a tersely-worded news release.
Of course, Artiles himself should find the courage to resign after realizing that he doesn't deserve the privilege of serving in the Florida Senate.
At this point, Artiles has made too many mistakes to continue to serve.
I say this as someone who himself once made so many mistakes I had to take myself out of the political game, so I could deconstruct all that was wrong with me.
Self-sacrifice for an institution you respect is not a bad thing.
A Marine like Frank Artiles knows this.