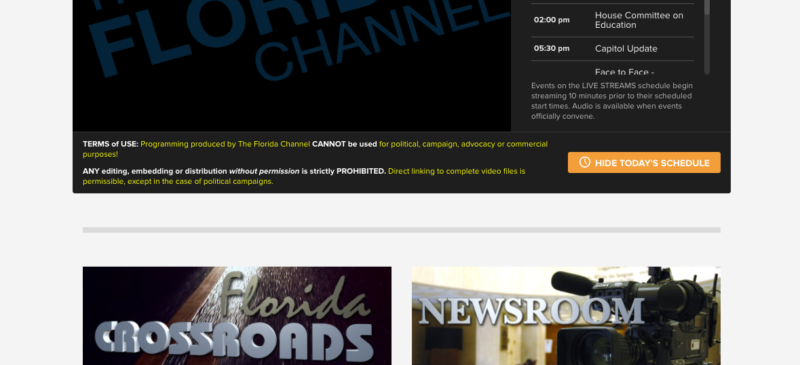 The Florida Channel wants you … to stop stealing its videos.
A new disclaimer began popping up Friday under the channel's online video feeds: "Programming produced by The Florida Channel CANNOT be used for political, campaign, advocacy or commercial purposes!"
It adds: "ANY editing, embedding or distribution without permission is strictly PROHIBITED. Direct linking to complete video files is permissible, except in the case of political campaigns."
Florida Channel executive director Beth Switzer on Monday explained the "terms of use" reminder was sparked by the "increasing number of people stealing (videos) for advocacy purposes." She did not point to specific examples. 
Switzer referred to a state law that she said prohibits such use.
It says, in part, that the "facilities, plant, or personnel of an educational television station that is supported in whole or in part by state funds may not be used directly or indirectly for the promotion, advertisement, or advancement of a political candidate for a municipal, county, legislative, congressional, or state office."
The law, which doesn't mention work product such as videos, provides that a violation is a second-degree misdemeanor, punishable by up to 60 days in jail and a $500 fine. Those parts of the law were added in 2014.
Aside from a "huge number of videos being lifted and put out there," Switzer also said her office is getting swamped with calls asking her staff to provide edited clips for use in commercials and other promotions.
"Making copies of what we do is not really in our scope of work," she said.