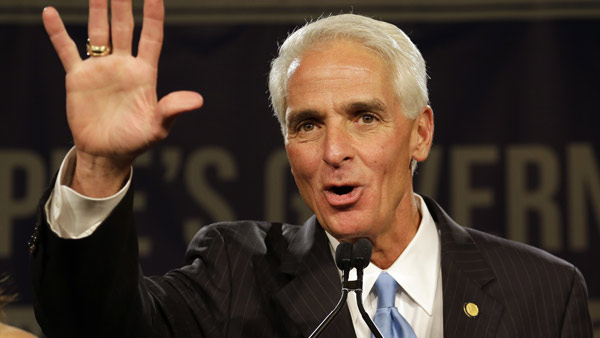 Virginia Gov. Terry McAuliffe says he had broken the record for restoring voting rights to convicted felons, calling it his "proudest achievement" as governor.
And Charlie Crist is leading the cheers applauding the move.
McAuliffe boasted Thursday he had individually restored rights to 156,221 Virginians, surpassing the previous record-holder — Crist — by a nose.
As governor of Florida from 2007 to 2011, Crist restored voting rights to 155,315 felons, according to figures that McAuliffe's office obtained from Florida.
"I applaud Governor McAuliffe's leadership on a moral issue that goes to the heart of our democracy, the right to vote," Crist said. "Clemency can be life changing. I thank Governor McAuliffe for his shared commitment to protecting civil rights and correcting wrongs in the criminal justice system."
"I hope more Chief Executives follow his inspirational lead," he added.
Meanwhile, the Florida Supreme Court approved language last week of a proposed state ballot initiative which would restore voting rights to nonviolent ex-felons.
Desmond Meade, the head of the Florida Rights Restoration Coalition, said his group had collected 75,000 signatures to ensure a court hearing. He'll need another 700,000 by early next year to qualify to get the measure on the 2018 ballot.
Florida is one of just three states that permanently bars ex-felons from voting unless they get clemency.
"Expanding democracy in Virginia has been my proudest achievement during my time as Governor," McAuliffe said in a written statement. "Over the course of the last year, I have had the privilege to meet with many of the men and women affected by this order, and their stories inspired us as we continued this fight against the hostile opponents of progress."