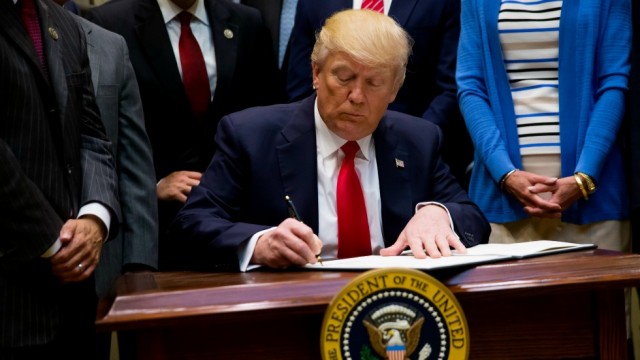 For the second time in his short presidency, Donald Trump signed an executive order on religious liberty that's not nearly as meaningful as his supporters and critics thought.
The measure could allow churches and other faith-based organizations to become more active politically. It promises to "vigorously promote religious liberty," as well as direct the Internal Revenue Service "to exercise maximum enforcement discretion to alleviate the burden of the Johnson Amendment, which prohibits religious leaders from speaking about politics and candidates on the pulpit."
And it will allow federal agencies to exempt some religious organizations from Affordable Care Act requirements that provide employees with health coverage for contraception.
The lesbian, gay, bisexual and transgender activist group Equality Florida had scheduled a conference call with reporters Thursday to discuss the order but opted to call it off once their attorneys read the contents of it.
"This is the second time that an anti-LGBTQ "License to Discriminate" Executive Order has been threatened and watered down," said Equality Florida's Public Policy Director, Hannah Willard. "Each time, rumors were forcefully denounced and met with huge outcry, demonstrating the public's strong opposition to anti-LGBTQ discrimination in the name of religion."
In February, a supposed draft of an executive order on religious issues was leaked to The Nation. That version contained provisions designed to protect religious organizations and individuals who speak out against same-sex marriage, transgender identity and premarital sex.
While acknowledging that this executive order doesn't actually go that far, Equality Florida warns the worst may be yet to come.
"The final Executive Order released today may be a watered-down version of the draconian draft we feared, but make no mistake: we have absolutely no reason to believe a more explicitly anti-LGBTQ action won't come at a future date," says Willard. "And if anyone in Florida uses this Executive Order to discriminate against a single member of our community, Equality Florida will be there to fight back with everything we have."
Conservatives are not happy with Trump today. The National Review's David French writes," he should tear it up, not start over, and do the actual real statutory and regulatory work that truly protects religious liberty."
Tim Schultz, the president of the First Amendment Partnership, which works with legislators at the state and national level on religious-liberty issues, told the Atlantic that the conservative reaction to the order would be mixed, especially because it leaves out protections for those who object to same-sex marriage."