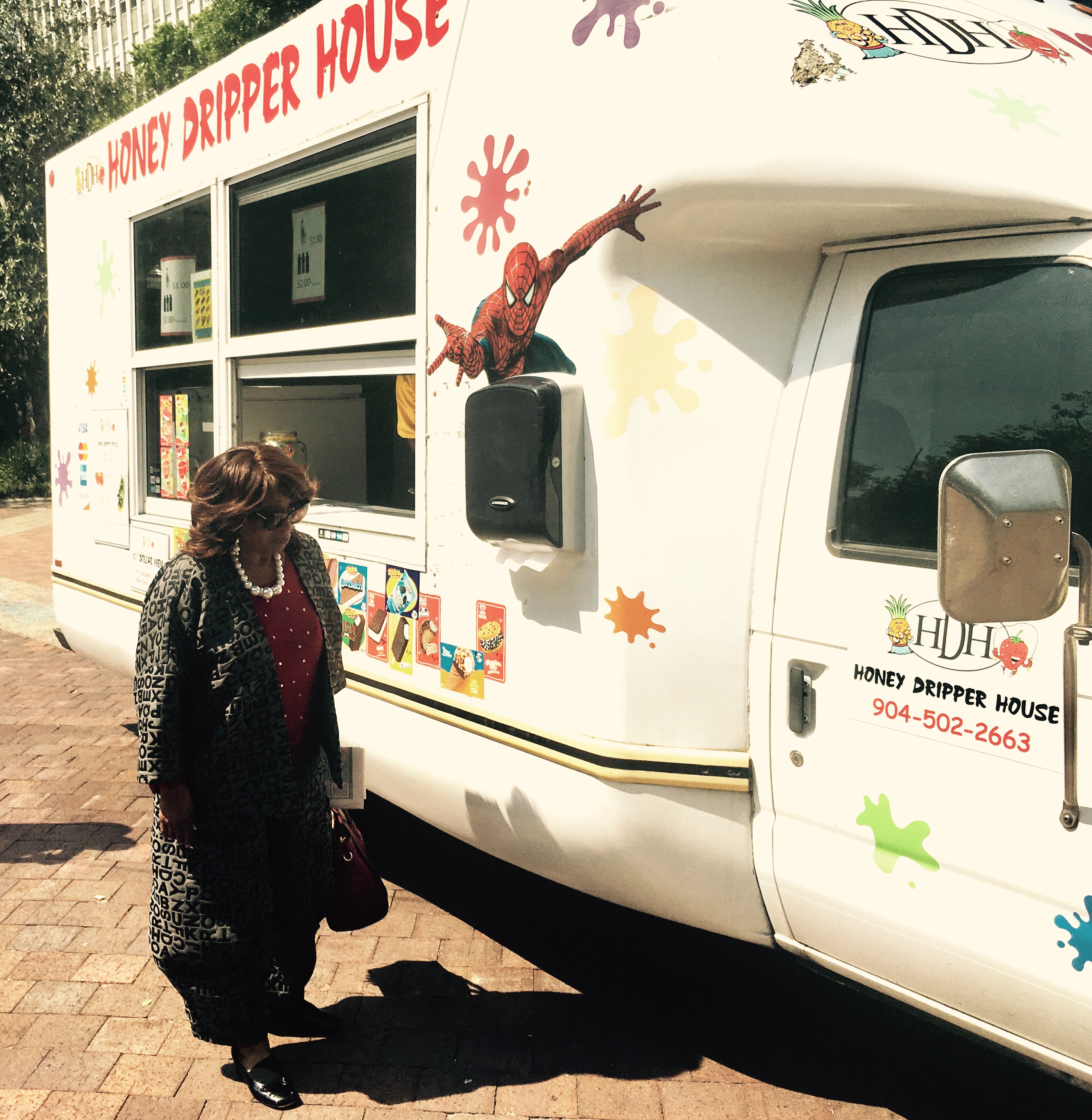 Defense testimony in the Corrine Brown trial is archived below.
Brown, in her testimony Thursday, cried more than once, as she contended that she knew very little about the counterfeit charity, just as she knew very little about her tax returns having inflated donation levels. Brown contended that former chief-of-staff and co-defendant Ronnie Simmons — who rolled on her in February — handled the entire interface of her political machine with his ex-girlfriend's charity.
The complete write-up follows.
____
"They're trying to destroy my life": Blistering cross-examination of Corrine Brown continued Friday, with U.S. Attorney A. Tysen Duva hammering the former Congresswoman over inconsistencies between her testimony and that of prosecution witnesses and the financial records upon which the government's case is predicated.
An hour into testimony, Brown broke down into tears,
As on Thursday afternoon, Duva was aggressive in interrogating Brown – a woman who, over the years, considered aggressive questions from the press grounds for cutting off interviews.
However, in the biggest interview of her life, she had no recourse to cut off her interlocuter.
Initial inquiry focused on Brown's donations to Bethel Baptist Church, New Destiny Christian Church, and Clara White Mission between 2009 and 2015, which were less than reported on federal income taxes, according to church records.
Brown, in a muted voice, confirmed that was the case – what fire she might have had Thursday was apparently dampened by Thursday's torrential rains.
The early part of questioning involved a familiar rhythm: the prosecutor asking Brown about evidence in the case, and Brown disclaiming knowledge or responsibility.
Brown mentioned "cash in the bucket" on Thursday, but confirmed that cash she gave didn't make the difference up between what was reported and what was donated.
However, when asked how much she gave to these churches, she couldn't recall.
Brown, sounding like a chastened senior citizen much more than someone who was the most powerful Congressional Democrat from this area since Charlie Bennett, was in Grandma Corrine mode throughout much – but not all! – of this line of questioning.
"Let's be truthful with this. I did not double-check my taxes. It was a mistake. Several people worked on my taxes," Brown said, getting emotional.
The line of questioning was then cut off by Judge Corrigan, who appealed for decorum and the avoidance of crosstalk.
"How some of this got on here, I can't tell you, sir. But it was not correct. Sir," Brown said.
Brown, regarding various signatures on her tax documents, said "none of these have been my signature, sir."
The same held through for a check to the IRS: "I know Corrine Brown didn't write it."
That $2,057 check for Brown's 2010 tax return was backed up with three $800 deposits, moved over from the One Door account by Simmons; again, Brown disclaimed knowledge, saying she was "confused by the question."
"I don't know who wrote this check … I am saying this is not my signature and I did not write it," Brown said.
When asked why someone else would write it, Brown didn't know.
"All I know is that this is not my signature and I did not write this check," Brown said.
Brown disclaimed documents saying that Brown gave verbal accounts of a $12,500 One Door donation to her tax preparer.
"This does not establish anything. This is not my writing," Brown said.
Brown also didn't know about a $3,000 check from One Door, but then identified the writing as that of her daughter, Shantrel Brown.
The Browns were at the Beverly Wilshire, and Brown couldn't remember which of several reasons might have occasioned her cross-country flight.
"I went to LA for numerous reasons … in addition to that, I attended foreclosure workshops … I can't tell you why I was there, but I went there for four separate reasons … I don't have my scheduler anymore, so I don't know why I was there," Brown said, as part of rambling about events that rivaled Faulknerian stream of consciousness.
Brown, describing the $1,000 put into her account in L.A., said it was for backpacks for Jacksonville kids, for a "back to school drive at the Jacksonville Zoo."
"We went to the Garment District," Brown said, to negotiate discounts for cash purchases.
And why would Shantrel drop a grand into her mother's account? Corrine was "working. I'm not going to the bank. I'm not shopping."
Brown's recall of the trip was faulty, as she couldn't initially recall coming from the Bahamas to L.A., until she rambled her way into recalling that she was visiting a Beaver Street Fisheries plant in the Bahamas.
"I do work. And then I do other things." Brown said, regarding a stay at the Atlantis in the Bahamas – one of the nicer hotels, apparently.
Brown then disclaimed responsibility for reading her own mail, when asked about an associated bank statement to that trip.
When asked about $10,000 of cash deposits reflected on a summer 2013 bank statement, Brown noted "it seems you're going over the same figures again. You're repeating the figures."
Drill down continued into Brown's shopping and spending, with a $558 tab at a clothing store and an $850 tab for "cleansing" at a Beverly Hills cosmetic center coming under scrutiny, especially since those spends came after the One Door money was dropped into Brown's account.
"Credit cards work," Brown said.
Prosecutor Duva crowded Brown on the stand, being told at one point to retreat by Judge Corrigan, as surveillance clips of Brown taking out money were addressed.
Brown: "I don't know why the government would spend money looking at a person taking $100 out of their bank account."
In the reporting period, Brown spent over $17,000 – much more than her salary.
"I know how to rob Peter to pay Paul," Brown said, inadvertently summing up the complex narrative of the case into one pithy sentence.
Corrigan continued to deflect Duva's hectoring, perhaps in deference to who Brown once was, perhaps because of the optics of a tall white male prosecutor looming over an elderly African-American lady on the stand.
The hits kept coming anyway.
"At no point did I think Ronnie was stealing any money! Not one! Do you think I would lie?"
Brown, getting emotional, broke down finally
"Do you think that I would do that?
Brown burst into tears, and a 15 minute recess ensued, with her attorney hugging her as she crumbled on the stand.
"They're trying to destroy my life!"
____
"My reputation has been destroyed"
$141,905: the total cash deposits into Brown's account from 2009 to 2014.
How did it get there? Brown didn't know. And the government went through the paper trail to draw out a narrative which is now familiar to those following the narrative of this trial, now in its 8th day of testimony.
Brown's office was a "shambles," and for that she took responsibility.
But none of the 22 counts she faces has to do with bad office management.
And despite her assertion that her "reputation has been destroyed," none have to do with one's reputation either.
____
After the recess, Duva drilled down into donor checks, such as a Sept. 2014 disbursement of $10,000 from a New Jersey anesthesiologist.
A more composed Corrine Brown confirmed receiving the check, but when asked if the payee line was blank, her answer was interesting.
"He gave me an envelope of checks. I didn't look at the checks. I took the envelope back to Washington and gave it to Ronnie Simmons," Brown said.
One $10,000 check to the Alexander Agency led to about $6,000 of cash deposits into Brown's account. Shantrel Brown also got $1,000 from that check.
"I can't testify to that," she said.
Von Alexander, a former Brown employee who owns that Jacksonville PR agency, wrote a series of checks to cash from that account.
Brown denied having told Simmons to write that check to the Alexander Agency, contradicting the testimony of her former co-defendant and chief of staff.
When asked about the notation of "printing" on the check, Brown said she discussed a number of needs with Lipsky, who wanted Brown's help with a legislative issue – a common thread with these donors.
"I don't know why Von Alexander said the things she said, unless it was what someone told her to say," Brown said, again diverging from an employee of many years.
"I did not give her that information or any information she gave," Brown said, noting that Alexander was flat broke, struggling for food and gas money, and begging for money at Brown's mother's house.
"Over time, she received a lot more than $6,000," Brown said, positing the money as reimbursement. "I see a check made out to the Alexander Agency that is not my handwriting."
Brown's bank statement was brought forward from the Sept. 12 – Oct. 14 showed $17,117 of deposits – thousands more than Brown made in official money.
Brown said "maybe I took a loan out … I don't recall."
Brown then dismissed the forensic accountant's analysis as "garbage in, garbage out," an analysis that drew direct lines between timely deposits and spending outside traceable money.
"When you sit up here and say she would have overdrawn her account every month, without input from me, I don't know how you can do that," Brown said.
"I'm not a computer person, but if you feed garbage in, you get garbage out," Brown added.
Questions came forth about One Door cutting a check for a political reception for a DC City Council candidate.
"When I saw this check, I wondered why this check was sent in. I have a fund to help other candidates. This doesn't make sense," Brown said.
Brown was likewise confused by a $3,055 check to Von Alexander from One Door, money that ended up in Brown's bank account a day later.
"Everything that Von Alexander said was that the Congresswoman told her to do that. I wonder who told her to say that?"
Pointing out that Alexander had under $5 in her account at the time of that deposit, Brown again mentioned Alexander's "financial troubles."
A $2,086 check from Aug. 2013 to Von Alexander from One Door, for Brown's golf tournament, was explained by Alexander being the event coordinator – and that the money could have been for reimbursement.
"I do know one thing. This is not Corrine Brown's signature. And I did not write this check," Brown said.
Of that deposit, $1,650 went into Brown's account.
"Von Alexander constantly borrowed money," Brown said. "When her clients paid, she repaid me."
A Sept. 2013 check from One Door to Alexander was cashed, then $1,000 was deposited into Corrine Brown's account, and $500 into Shantrel Brown's account.
"We just want to bore them to death with the same thing," Brown said about the prosecution's recounting of transactions.
"Any money put into Shantrel's account," said Brown, was reimbursement money, which would go to bills for their shared townhouse in D.C.
A Dec. 2013 check from One Door to the Alexander Agency also surfaced in interrogation.
Of the $2,500 check, $1,800 was cashed out, and fifteen minutes later Brown had $900 dropped into her account. Brown's daughter also got $900 dropped in.
Duva asserted that Brown gave her the check; Brown denied that, then seemingly recanted.
"Everything she did was at the request of the Congresswoman," Brown said, noting that her relationship with Alexander was not "one-sided," as Brown "gave her money."
"It was reimbursement for money I gave her," Brown said.
When asked if anyone corroborated Brown's take, she noted "I didn't see another parrot in the courtroom."
___
Another line of questioning had to do with Brown's serial balance inquiries ahead of a July 2015 $800 cash drop. Brown was outraged that those inquiries cost $2.50 a piece.
July 20 2015 was, said Duva, around "the time of the China trip" – a purportedly educational endeavor that saw Brown's family and friends going to Asia for cultural enrichment.
Duva's question: "Were you waiting on that money?"
Brown "definitely wouldn't have done ten or fifteen … I certainly would not have done ten at $2.50 a piece."
Brown went on to discuss the China trip further, noting that she worked hard to raise money to ensure the trip, sponsored by a NYC non-profit, would not be canceled, and "the kids went to China."
Shantrel Brown's half-sister, multiple people from the McKissick family of Bethel Baptist Church, and former Jacksonville Mayor Alvin Brown's son were among those "kids."
"Two or three of them I know," Corrine Brown said.
As with other fundraising pushes, money found its way into Brown's account, $800 at a time. And as with those other pushes, Brown disclaimed responsibility, pushing it onto Simmons.
"Whatever your analysis is," Brown said, "it's not correct."
___
Discussion followed of the myriad ways to give to Brown: the campaign account, Brown's PAC, the legal defense fund, and One Door.
"You got a lot of money from One Door for Education," Duva asked, "didn't you?"
Brown referred to One Door and other mechanisms as "ways to support Corrine Brown," noting that he campaign account was her "#1 option."
"These are different ways you can support Corrine Brown … if you chose to," Brown said.
A form that listed One Door up top of those four ways, Brown said, was not her handiwork.
___
Duva continued to hammer Brown on inconsistencies, bringing up more questionable signatures on tax forms.
Brown signed a document saying that she reviewed her 2014 tax return.
"Also my testimony is I did not check my tax information closely … I was so busy doing other things that I should have taken more responsibility to make sure my taxes were done properly," Brown said.
When questioned about a 2010 tax form that former assistant Carolyn Chatman did not file, Brown got exasperated: "Is this the same $2,100 you keep asking about?"
Indeed, it was.
Brown blamed "a lot of sloppy bookkeeping … a mistake on my part" for this and other tax woes.
"It was my fault. It was my mistake. Sloppy bookkeeping," Brown said.
___
Dubious donations to Edward Waters College – a focus of much of the government's tax case, as Brown historically inflated charitable contributions on her filings – also were points of inquiry.
A $12,000 "donation" in 2008 of furniture was debunked by longtime EWC employees saying the furniture was donated around the turn of the century.
Brown, when asked if a tax audit would "wake her up," noted that "this is just the way they deal with me constantly, because I've had several audits."
When asked why the audits didn't spur her to pay more attention to her returns, Brown skated around the answer.
Onward to Jacksonville City Councilman Reggie Gaffney's Community Rehabilitation Center and associated companies, where the answers were less than revealing.
Brown got money from CRC and associated companies, such as a 2011 check to cash for $4,000 that went into Brown's account.
"That was his money. I think it was a loan. I do know you met with him. What did he tell you?"
When asked why Gaffney would be floating Brown $4,000, she had no real answer.
___
Brown, in the redirect, turned on the waterworks about Simmons, her mentee.
"I thought he had made it … I never thought Ronnie was taking any money," Brown said.
"I really would have fired Ronnie and turned it over to the House Ethics Committee," Brown added.
"There's no way I would jeopardize my constituents."
__
And that was that.
The onlookers began to file out of the courtroom.
And the defense rested.
Cross-examination begins: The cross-examination began with an assertion.
"You said Ronnie Simmons was 'your boy'. You mentored him … he rode your coattails," US Attorney A. Tysen Duva said, bringing his A-Game from the jump.
Volume in the back of the courtroom has been a problem throughout this trial, but Duva's voice boomed, reflecting a sense of general grievance and irritation at the case – and the political machine itself.
Simmons "was your boy for 30 years … why would he put you in that position," Duva asked, regarding the One Door scheme.
Brown couldn't explain why Simmons would do such a thing.
She also couldn't explain why Von Alexander was making cash deposits into her account.
Duva painted Brown as sophisticated beyond the defense narrative: a powerful Congressperson with advanced degrees.
"You've got to know the issues. You've got to push an agenda … caucus with groups … and that takes time, doesn't it?"
To these and other questions, Brown answered "yes sir."
"You spent time trying to bring things to the district. And you even had a slogan," Duva said, then made her say the slogan.
"Folks went to the polls … twelve elections," Duva noted.
"Every day, you caucused, and you voted, and you determined things that affected the lives of all Americans," Duva added.
The hectoring continued, with Duva wondering if she knew everything in the budget.
Brown, alas, did not know all the details.
The point of this – to establish Brown's fundamental competence.
Duva then moved onward, compelling Brown to speak up, rather than nod, before discussing her salary, which was nearly $200,000 at her peak.
"You were, what, a top three or four percent wage earner in America. You made a decent living. Much more than me," Duva said.
"I paid my bills," Brown related.
Duva moved to taxes, questioning paying them in October rather than April.
She said that there was always something going on in April in the House.
"I wasn't as organized in handling my taxes as I was in other areas," Brown said.
Staffers would "try" to help with the taxes, collating information ahead of the deadline, Brown said.
Brown also expressed confusion about who prepared her taxes, conflating the latest tax preparer with the "one who died."
When presented with a list of Schedule A contributions, Brown couldn't recall telling her tax preparer that she'd dropped $12,500 into One Door for Education as part of yet another generous year of charitable giving.
"I don't recall … I don't recall … I don't recall," like a refrain.
Brown said she never gave One Door money, contradicting her tax returns, but she "never gave that information" to her tax preparer.
When asked why she was clueless about her taxes, Brown said she "did not know what was in [her] tax returns."
"Maybe she talked to someone else," Brown offered. "I don't know who did it."
Duva pressed Brown on donations from 2013, which totaled – at least theoretically, at least on the tax return – $27,655.
Shown a copy of her tax return, sounding dazed, Brown identified it as her own.
"I see the number," Brown said.
Regarding church giving for Bethel Baptist, Brown noted that some of her donations that she claimed, but were not "captured," were "love offerings."
"I'm not with the IRS, but my understanding is you can do love offerings," Brown said
The interrogation paused for evening recess, the toughest questioning Brown has gotten since a press conference after an August, 2016 debate, where she compared these charges to false accusations of pedophilia.
More of this comes Friday morning.
—
Corrine Brown takes the stand
Taking the stand on her own behalf Thursday: Corrine Brown.
Brown, in a bravura performance (and possibly, the last of her public career) took the stand for over three hours Thursday afternoon, with most of the defense's witness list left on the cutting room floor.
Brown, who has played to big rooms in the past, was greeted by a packed courtroom … and a drowsy, post-lunch jury, which has seemed throughout the trial to be overwhelmed by detail of dodgy financial transactions.
Questions going in included how she would account for the various charges, how she would present on the stand, and what she would say about Ronnie Simmons, Carla Wiley, and the accusations of unjust enrichment and fraud made against her over the course of the prosecution's arguments.
Brown cried on the stand, many times. Admitted mistakes, many times. But in terms of the counts, she held herself blameless.
"I believe that in life you do the very best you can to try to help other people … to steal, that's not who I am … I am someone who cares deeply about the community … on call 24 hours … always involved in so many different projects."
"I should have been more attuned to what was going on around me," Brown said.
____
Brown, dressed in black, walked unassisted to the witness stand. She was lucid, alert, and was classic Corrine Brown – still the most interesting political personality in Jacksonville
Off the bat: she denied conspiracy. Denied wire fraud. Denied false tax returns. Denied false financial disclosure forms.
Testimony moved to Ronnie Simmons.
"I saw a lot of potential in Ronnie," she said about when she met him.
Simmons moved on to work for Brown in the Florida House, then the U.S. House, setting the stage for the charges considered by the jury.
By the time she went to D.C., Brown and Simmons interacted daily. Simmons ran her campaign in 1992, then moved to his chief of staff position in 1993.
He lacked experience. But she "wanted to groom him … wanted to give the young man a chance."
Brown, even early in her testimony, veered into declarations about her amazing career as the "#1 Democrat in Veterans Affairs," a role she attained after getting decades of tenure.
And all the while, Simmons was there. And so were financial obligations.
Brown had a home in suburban D.C. and a home in Jacksonville. And was tightly scheduled.
"A lot of people think you live this glamorous life … you're stuck on the Hill. That's where you live," Brown said.
Brown described herself as taking meetings from "anywhere," a function of her rank and seniority on committees.
"I would take the meetings myself," Brown noted.
As well, Brown endeavored to travel home once a week – Jacksonville or Orlando mostly. And Simmons often would make the arrangements, Brown said.
Brown received reimbursements – but they came out of her Congressional budget.
Brown also got cash from Simmons, she said – which her attorney framed as being unusual.
"Any cash that Ronnie gave me – he told me it was his personal cash. If we had an event, Ronnie would put up his credit card," Brown noted.
Brown, when asked, discussed at length her association with the Congressional Black Caucus … glossing over specific questions about events in the One Door era to answer more holistically.
"I always had events … the entire time I was in Congress," Brown said.
The events, Brown said, generated scholarships.
"I had over 60 students get scholarships from the CBC … personally … interns in my office," Brown said. "I worked with them, and I trained them."
Her voice quavered, as she talked about One Door.
"I can't actually remember when I heard about them being the sponsors for one of my activities," Brown said. "One Door wasn't a major issue for me. But I know now it should have been."
Despite having the name One Door on event flyers, Brown lacked the skills to make the flyers. She said she couldn't even use a computer.
Simmons pitched Brown One Door as a "charity that would be working with us on some of our initiatives." He never showed her proof of what it was.
"Why would he show me? I'm not on the board … I don't look at organizations' statements," Brown said.
"They were just one of many organizations I worked with," Brown said.
Brown discussed her Invitational Golf Tournament, noting that she was "instrumental" in starting a minority transportation group, COMTO, listed as a co-sponsor. The idea of the golf tourney: to appeal to "transportation leaders" who "wanted to play the TPC" course at Sawgrass.
"I don't know why my golf tournament is such a big deal. Some members have golf tournaments every week," Brown said, exhibiting a flash of the personality media got to know over decades.
Brown, when asked about the charter flight on Florida Democratic Party chair Stephen Bittel's plane to a Jaguars/Redskins game, said that it was someone else's idea, that it was just to raise money for scholarships – and that she didn't know it was Bittel's plane.
She defended the spend: "Every event has a cost associated with it."
Brown then discussed One Door donors. She mentioned One Door to them, as part of a larger group of concerns.
She might take a flyer or a document promoting an event, provided by Simmons, to introduce them to the concept.
Raising money, she said, often happened over dinner or coffee: "they'd talk about their issues," Brown said of donors, "and I'd talk about mine."
Regarding one of them, "I wouldn't want him to think that they donated money to me, and it didn't go where I said it would."
"All of them," she added, her voice cracking again.
Regarding another donor, John Baker, Brown denied telling him she "founded" One Door.
Then she issued a blanket denial of telling anyone that.
She did tell people that One Door was a way to "help Corrine Brown," as some big donors "didn't think Corrine Brown needed any help."
Brown, at many points in the testimony, discussed how she offered tangible help to the donor class, rejecting the proposition of a "one-sided relationship" in these dynamics.
Brown then discussed the need to fundraise.
"I hate fundraising. That means you're supposed to go for hours to the Democratic club and work the phones," Brown said.
Noting that her entire fundraising team was subpoenaed in 2016, she said that's why she lost her last election.
Donors could give to Brown in any number of ways: the official campaign account and the Leadership PAC were two. And One Door was another. And the Legal Expense Trust Fund, established to fight the redistricting that changed her district.
"Every ten years, I fought against redistricting. You've got to raise funds," Brown said. "Attorneys are really expensive."
—
Pivoting back to One Door, Brown asserted that she never told anyone it was solely a scholarship fund.
And Simmons never told her One Door wasn't registered as a 501C3. She found out post-indictment.
"One Door wasn't a major issue for me. But I know now it should have been," Brown said. "I never did [take money] from One Door."
And she didn't know Simmons, who was like a son to her, was taking money either. If she had, she would have reported it to House Administration.
"I would have fired him. And I loved him," Brown said.
Brown denied Simmons' assertions that she directed him to take money from One Door and give it to her. Brown claimed to have trusted Simmons with access to her bank accounts.
"It might sound strange, but that's what we did," Brown contended.
What sounded stranger, to Brown: the idea of her getting blank checks from One Door. She said that "never happened."
"He did not give me any blank checks," Brown added later.
Brown didn't know Simmons was copping a plea either.
"I didn't know that. I didn't know that … I had no idea," Brown cried.
Regarding the Jan. 2016 call between Brown, her daughter, Shantrel Brown, and Ronnie Simmons, after the FBI visited Simmons, Brown told people to "get an attorney."
There was no discussion, she said, of coordinating stories.
Even when the FBI called, Brown said she had no idea One Door had any issues.
Then the FBI came to visit Brown.
"When he pleaded guilty," Brown realized that something was wrong.
Until then, she claimed to have taken Simmons at his word.
"There's another part to this story, and I have found out … I never knew that money was taken from One Door and used for things we didn't advertise for," Brown said.
"I loved Ronnie Simmons like a son, and I thought I got him out of his environment. There's a lot of young people from his community who ended up in jail," Brown said.
"I never thought he was stealing … now I know. He had no reason to steal."
—
Brown said she had contact with One Door CEO Carla Wiley "maybe five" times.
"She said she was Ronnie's girlfriend," Brown related. But they never talked about One Door.
"I knew she was one of the organizers of the events," Brown said about the $330,000 of money raised in nine co-branded Brown/One Door events.
Brown never knew Wiley was taking money from the till. And she didn't know One Door was paying for romantic trips for Wiley and Simmons, including to one of Miami's best hotels.
"I can count the number of times I talked to her," Brown related.
Brown also discussed hiring Simmons' sister as a phony employee, saying she had cancer, and the school district for which she worked had bad health insurance.
If Brown had known Simmons was pocketing his sister's salary, he would have been fired, she added.
And Brown was appalled by the idea of taking money and putting it into her account from One Door.
"Why would you take money? There was no reason," Brown said when asked about taking money from One Door and putting it into her account.
Brown, when asked about her shopping habits, gave preferences: Dollar Tree over Dollar General.
"Everything at Dollar Tree is a dollar," Brown said.
—
After recess, Brown also discussed soliciting funds for a computer drive, after having been shown a solicitation letter that she claimed to have never seen before. She speculated that Simmons may have written the letter.
The same was true, she said, for a solicitation letter for a senior citizens' bus trip to the second Obama inauguration.
Brown was in favor of the trip to the "historical" event. However, she didn't know One Door was sponsoring the effort. It had never been discussed, she said.
"This is the first time I've seen this letter," Brown observed, noting the "fancy" electronic signature was "not one we usually used … I never seen this one."
The letter included a "call to action" pitch, urging remittance to Carla Wiley.
"Several of these documents, this is the first time I've seen them … never did I draft any documents. I didn't know how to do that," Brown said.
Brown also contended that she was not part of the planning committees for her events.
Regarding a $750 birthday cake for Shantrel Brown, paid for out of One Door money, Brown said she "never looked at how much the cake cost."
Regarding the "Queen Corrine" drink, she said she had no role in formulating that sweet strawberry libation.
—
On the subject of Von Alexander, Brown hired her to "staff me on the weekends, and she was responsible for taking me to the airport and picking me up."
Alexander issued a devastating testimony about checks that she had processed to give Brown cash.
Brown said that she "absolutely not" would have asked her to do anything illegal, including funneling money into Brown's account.
"Von Alexander owed me money. She was about to lose her house. Almost lost her car. Von lived in a crisis. When I met Von, she didn't have a job, didn't have insurance, and I hired her."
And kept employing her, despite a brain tumor that led to memory loss.
"I gave her money … she needed assistance to help her. I understand when you give money to your family, it's a gift, but when you lend money, you expect it to be paid back," Brown said.
When asked about Alexander, a part-time employee, having One Door checks, Brown was blunt: "Why would she have them?"
Brown also questioned the idea of routing money into her daughter's account, claiming that two sets of bills precluded her doling out money to her lobbyist daughter.
—
On the subject of Onyx magazine, a vanity-press publication doled out to the African-American community, Brown said it was a campaign expense and the cost of the cover was $5,000.
"Friends of Corrine Brown paid for the cover," Brown said.
And Von Alexander handled part of the transaction: "Von Alexander was one of the persons who would pay the printing costs … through the Alexander Agency … political type stuff."
On the subject of fudged financial disclosures, Brown said Simmons filled them out.
"That's the kind of thing that he did," Brown said.
And on the subject of her personal finances, Brown said she let Simmons handle a lot of the details, taking over from a previous staffer.
She didn't know why hundreds of thousands of dollars flowed into her account; she was too busy "working for her constituents," and Brown's records were garbage.
"I was the kind of person who came with multiple shoeboxes," Brown said about trips to the tax preparer. And she was always filing at the last minute.
"If I had it to do over again, I would have done it differently … I was always busy doing something else. I should have spent more time on my personal business. Making sure the office ran the way it should have," Brown said.
"I made mistakes. I just didn't pay the kind of attention to details that I should have," Brown added.
—
Among those mistakes: inflated reports of charitable contributions to non-profits in Jacksonville.
Brown said she actually did donate furniture to Edward Waters College, despite it being disputed by multiple EWC staffers.
"The office didn't look like the President's office," Brown said, calling it "old" and "unattractive."
Brown claimed to work over a "period of time" to score that furniture, along with a computer lab at EWC.
Any retroactive deductions were just happenstance.
"I believe in paying my fair share of taxes," Brown said. "I never intentionally did anything wrong."
Brown addressed inflated donations to churches also, a claim made by multiple employees of local churches.
"There are many times that you give that you don't write it down," Brown contended.
Regarding Reggie Gaffney's Community Rehabilitation Center, to which her charitable deductions were questionable at best and fraudulent at worst, Brown noted that he'd known Gaffney for 20 years.
The letters – of which one thanked her for $10,000 of her "time" – struck her as novel; she hadn't seen them, she said, until this process.
Brown would go by a CRC thrift shop "all the time" and "donate goods."
She kept her records in a shoe box, she said.
—
Brown kept coming back to the idea of "not taking care of Corrine," noting she forgot to file for Social Security.
"Everybody I know knows I work my hardest. From early in the morning until late at night."
Brown described her shopping as trips to the drug store, perhaps to buy something for her mother, her voice cracking again.
"I go to the stores and I compare the prices … I shop," Brown said, rejecting the portrayal of her as a shopaholic with a taste for the finer things.
Brown also rejected any idea that she did online banking … though now she knows how to use an ATM.
—
All told, Brown presented the case her defense needed: one of plausible deniability, in which every action could be explained away.
However, as thunder boomed outside, auguring the first real rain in weeks in Jacksonville as Brown cried on the stand, there were two potential reads on the natural phenomenon.
One read: that the rain had a baptismal quality, offering the renewal that only clean water will provide.
Another read: that the rain was as ephemeral as Brown's well-timed waterworks.
The cross-examination, no doubt, will be dispositive.
—
John Delaney speaks: In what was framed as an abbreviated presentation of defense witnesses, Corrine Brown's lawyer James Smith began defense testimony late Thursday morning with three witnesses – ahead of Brown taking the stand after lunch.
The big get: former Jacksonville Mayor John Delaney.
The current President of University of North Florida, Delaney interfaced with Brown as Mayor from 1995 to 2003, then in his role at UNF since.
Delaney met Brown when she was in the State House in the 1980s, and interacted with her a "lot" when at City Hall – with Brown offering access to her contacts, and help getting the Fuller-Warren Bridge and the current federal courthouse funded.
"She's bluntly honest, and sometimes it gets her in trouble … Corrine tells the truth. I've always 100 percent relied on what she told me," Delaney said.
When subject to cross-examination, Delaney said he did not know her finances or banking activity.
Leaving the stand, Delaney paused to hug Corrine Brown, and kiss her on the cheek.
Brown will take the stand after lunch.
—
Along with Delaney, two others took the stand.
Both attested to her philanthropy. And one painted Brown as an enfeebled old woman who relied on staff for pretty much everything beyond delivering remarks.
Brenda Simmons-Hutchins – no relation to Ronnie Simmons – took the stand first.
Brenda Simmons-Hutchins was a few years ahead of Corrine Brown in high school, then worked with Brown at the local community college later on, and their professional paths continued to interact.
Simmons-Hutchins is a member of "The Links" – an organization of African-American women devoted to community service, which collaborated with Brown on a project doling out laptops to local female 6th graders at a certain middle school.
This project was questioned during the trial previously.
Simmons-Hutchins understood that the laptops were bought from the school district's surplus stock, and they had to be bought with cash. They were, in fact, given to the students, Simmons added.
Simmons-Hutchins also attested to one student (her then 17-year-old grandson) who actually went on the Chinese cultural exchange trip Brown raised money for and programmed.
"All of the expenses were taken care of," Simmons-Hutchins asserted.
Prosecution pointed out that other Brown associates, including former Mayor Alvin Brown's son, were on this trip.
Rontel Batie, a former Brown Congressional staffer and lobbyist, was the second pre-lunch witness.
Batie noted Brown was early to arrive and late to leave the office, with the schedule stepping up further when she became the ranking member of Veterans' Affairs in 2015.
Ronnie Simmons, Batie said, made the offer and directed him through tortuous post-hire paperwork.
Discussion moved to Congressional Black Caucus events. And Brown's events "always had a cause," Batie said.
Batie remarked that Brown relied on staff to help with personal matters, including helping her to walk.
By the end, "she didn't do much walking at all," and had to be driven from her office to the House floor – just a hundred yards away.
"We pretty much tried to create an environment where she didn't have to do anything but walk into her room and deliver remarks," Batie said.
Despite her unfitness otherwise, Batie called Brown an "expert" on complicated Congressional issues, capable of multitasking.
When asked about One Door for Education, Batie said "they were honoring the Congresswoman for her efforts in Veterans' Affairs," but he didn't know who told him.
He didn't know anything about One Door otherwise, or about Brown's finances, casting doubt on how much he really