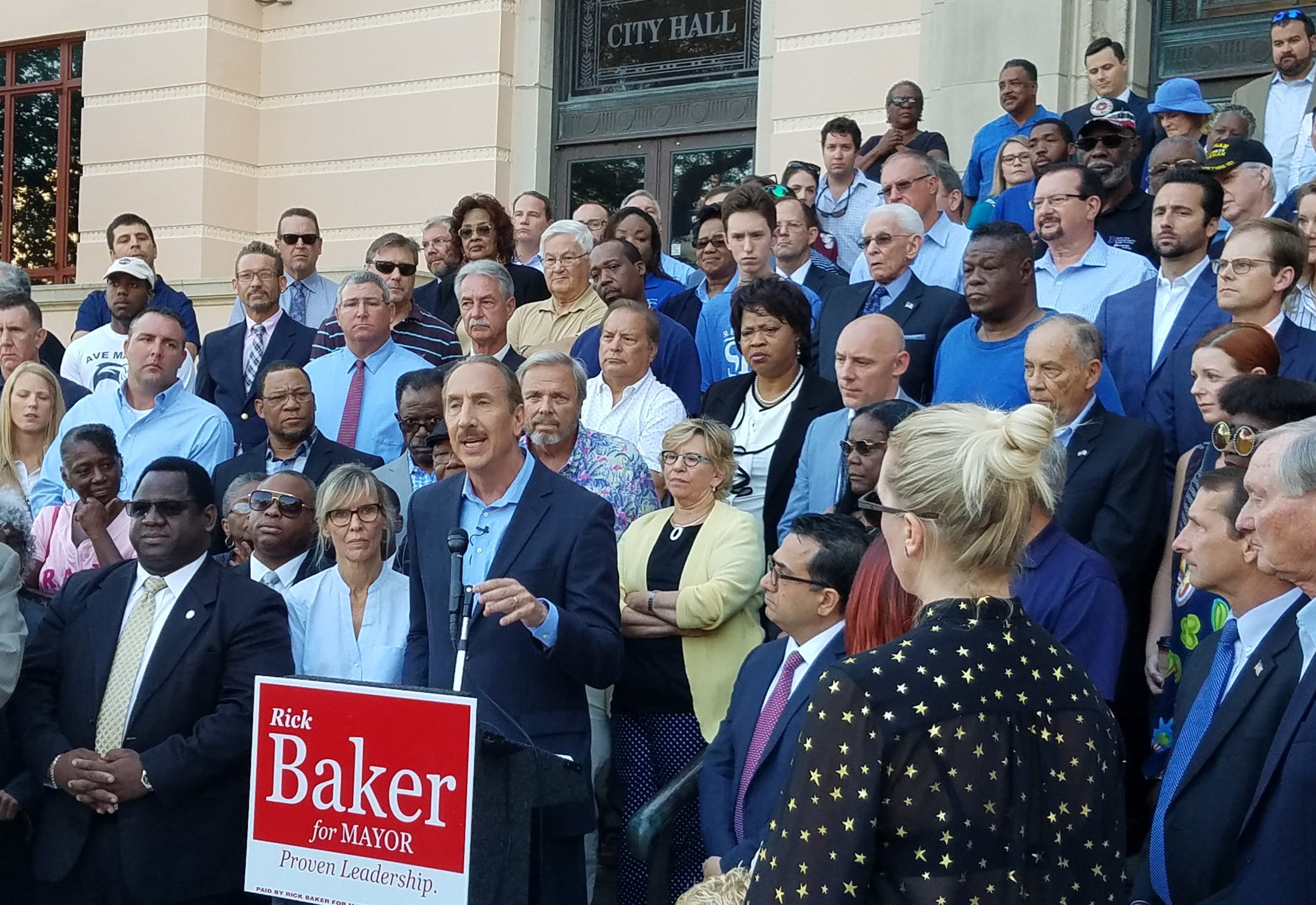 It's been seven years since Rick Baker exited City Hall as its most powerful, successful mayor. Hardly a day has gone by that someone — perhaps this site more so than anywhere else — has wondered whether he'd have to, like Cincinnatus, come in from the fields to save the city he loves.
Today, St. Petersburg received Baker's response, as he forcefully declared that he would challenge Rick Kriseman in what wrestling promoters would call a loser-leaves-town match.
Before I analyze what I thought was a semi-dystopian speech by Baker, I need to make it clear that SaintPetersBlog, both the site and the publisher behind it, are neutral in this race.
That may be hard to believe given my extensive history with Baker, but I owe it to the readers of SPB — which basically launched in 2009 to improve upon the lackluster coverage by the local media of that year's mayoral race — to provide the best, most even-handed analysis of this race.
So, for now, my heart may be with Rick Baker, but my mind and keyboard have no allegiance.
It's with that declaration that I can say today's launch by Baker was good but not great.
Baker and his fledgling campaign — still building a campaign website, repurposing old logos and slogans, making sure the phone lines don't go to other candidate's voicemails — did a solid job building a crowd for the speech. (It deserves extra points for making sure the launch took place early enough in the day so as to avoid the warm Florida sun.)
It was reassuring to see local campaign veterans Nick Hansen and Brigitta Shouppe circulating behind the scenes. Jim Rimes' presence means Baker has one of the best in the consulting business to offer strategic guidance.
It's hard not to chuckle at media consultant Adam Goodman's inexhaustible repertoire of making sure everyone knows he is attached to a candidate. But he's also a pro who knows how to cut a sharp commercial.
Functioning as one part crowd-builder and one part carnival barker, Amscot executive and former mayoral candidate Deveron Gibbons never stopped moving as he glad-handed almost everyone at the event. He even tried to be kind to me.
Gibbons: "I hear we're getting together soon."
Me: "No, I don't think so."
Gibbons: "But <name redacted> mentioned we'd be getting together."
Me: "No. That won't be happening."
Gibbons: "Um … OK."
Me: "Exactly."
Standing behind Baker was a coalition as diverse as a big-city parade.
"Look, there's Wengay Newton!"
"That's Minister So-and-so!"
"Why is the guy who sells OxyClean standing behind Rick?"
As for Baker's speech … I really don't know where to begin other than to say it's exactly not what I would have wanted Baker to say.
First of all, it was mercilessly too long. By minute thirty, people were done looking at their watches. By minute forty-five, people started worrying about being late to work.
Second, the former mayor employed too many sentences that only served to remind people of his former mayorishness.
Mind you, no one in the crowd was unfamiliar with the encyclopedia of Baker's many, many accomplishments.
Baker could have had everything done in 20 minutes, just saying: "I got sh-t done." Not even the most loyal supporter of Rick Kriseman would disagree.
But it was Baker's view of the present St. Pete that was more alarming than his insistence on focusing on the past.
Like Donald Trump, who stood on the National Mall and bemoaned the "American carnage," Baker did everything but describe the St. Petersburg carnage.
"They have no successes," Baker said, before blasting Kriseman for failing to build a new Pier.
City Hall is bleeding money, Baker added. The baseball team is leaving, Baker warned. The black community is ignored, Baker opined.
And running the Sunshine City into the ground, Baker contends, is Kriseman and a coterie of overpaid political appointees accountable to no one.
Oh, and by the way, the entire town is covered in sh-t because Kriseman broke the sewer system.
Not that this isn't a compelling argument. Undoubtedly, it's the kind of thing I know Baker has heard, including from me, every day since Kriseman entered City Hall.
But the truth is, St. Pete is doing fine. It has big ticket issues it must solve. And Rick Baker is probably the better executive to solve those issues.
But little about St. Pete is, as Baker said today, "disastrous."
That's why, if he wants to win, Kriseman needs to double-down on his criticism of Baker.
Don't, as John Romano seems to want, keep the race a low-key affair.
Blast, and blast away. Nonstop.
The message is simple. Just as it was simple for Joe Biden when articulating the rationale for Barack Obama's re-election in 2012.
"Bin Laden is dead and General Motors is alive," the Vice President said throughout the 2012 campaign.
"The Rays are still here and a new Pier and sewer system are on the way," is what Kriseman surrogates should say every day between now and the election.
Meantime, they should knock it off about Baker being against black people because he didn't support Obama. Didn't Baker endorse Herman Cain for president? Yes he did, proving that Baker has no issues with a black man in the White House.
As for my advice for Baker, it's the same as it ever was. Don't let your candidacy be about you "saving" the city. Again, the city is fine. It can be better, but to return to my Roman Republic reference above, the barbarians are not at the gate.
Voters want a vision of St. Petersburg in 2021, not a nostalgia tour of the city from 2001.