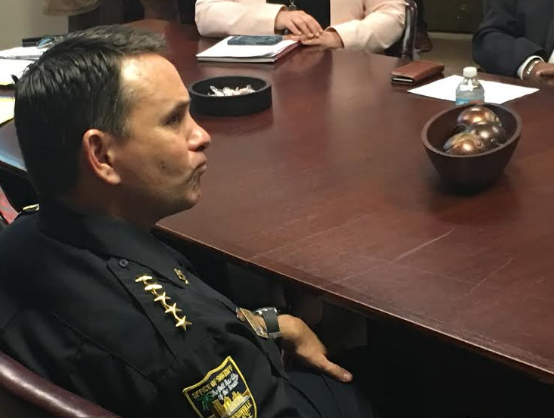 Get to know "A Safe Jacksonville."
That's a new political committee set up in Tallahassee on behalf of Jacksonville Sheriff Mike Williams, who only has to think back two years for a reminder of how competitive and expensive the race for Jacksonville Sheriff is.
Williams plowed through six opponents in the first election before narrowly defeating Democrat Ken Jefferson, who may be looking at a rematch (and, say some, may be looking at a City Council run). Whatever the case, Williams and his team are clearly taking no chances.
Chairing the committee: Kent Stermon, the COO/CFO for "Total Military Management," a Williams friend and confidant who was finance director for Williams' 2015 campaign, in which he raised $541,000.
Williams, the choice of former Sheriff John Rutherford, had no issue fundraising. But the state committee allows Williams to get a head start on any opposition, with the latitude to undermine any competition that might emerge.
This is especially essential in a sheriff's race like 2015 was, where oppo dumps flew from each side daily. Williams, handling law enforcement in the city, won't have to do any of the dirty work — that can and will be done on the committee level, allowing Williams to co-brand with Jacksonville Mayor Lenny Curry.
Curry, whose political committee ("Build Something That Lasts") is very active, won't face serious competition. And neither will Williams.
Even if Jefferson runs against Williams, reliable sources point out that there is plenty of oppo dump material that wasn't even used in 2015 — which was a brutal campaign by most measures.