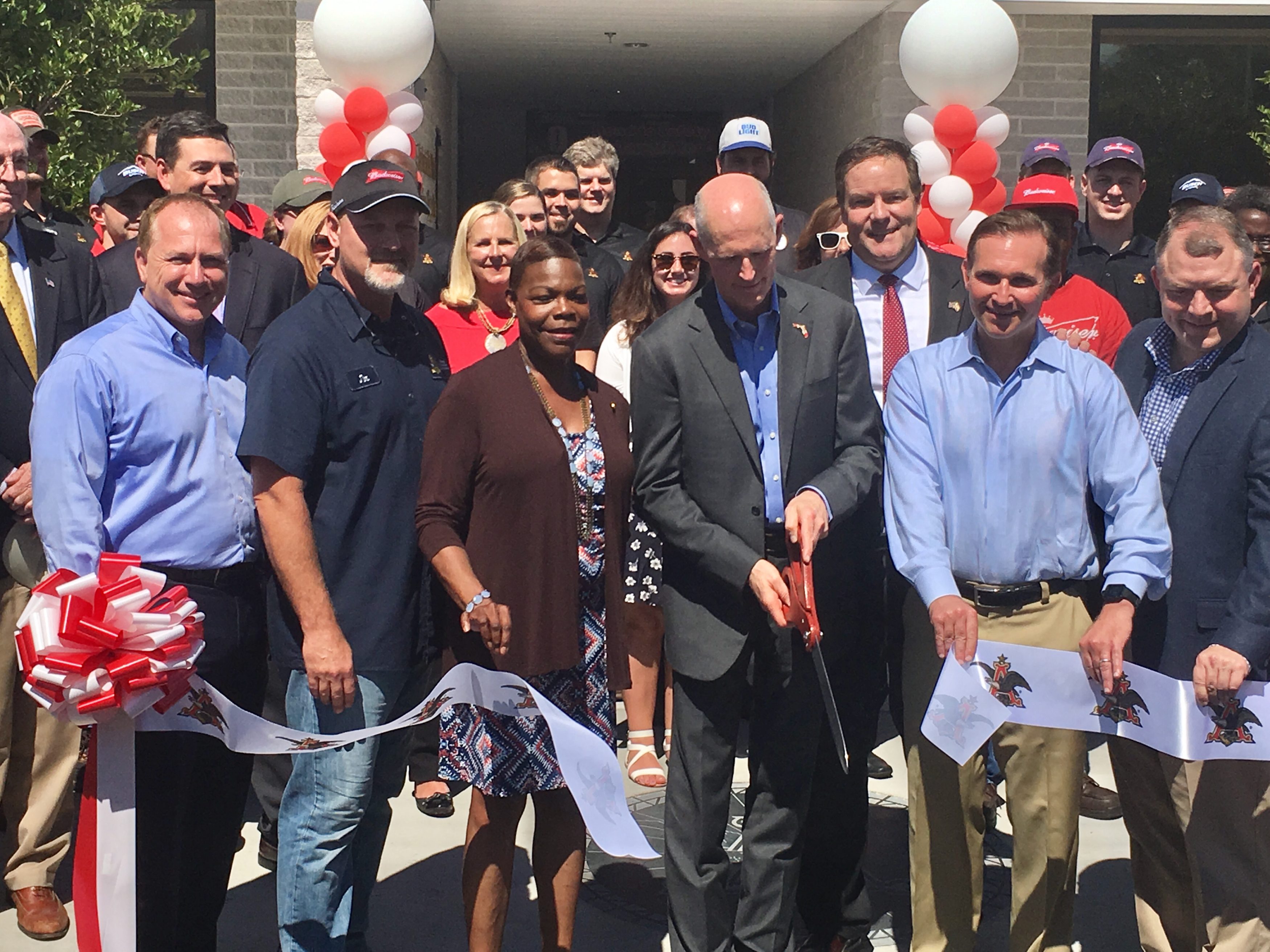 Florida Governor Rick Scott returned to Jacksonville Tuesday, for the ribbon-cutting at a beer bottling plant he'd visited more than once in recent years: Anheuser-Busch's expanded Metal Container Corporation manufacturing facility.
Back in 2015, Scott discussed the need for money for the Quick Action Closing Fund, part of a trend in which the "jobs governor" sought money to drive economic incentives that the Florida Legislature was less enthusiastic about.
The event in Northwest Jacksonville Tuesday was a success, driven out of incentives, including the late, lamented Quick Action Closing Fund. And with 102 new jobs created, the goal of 75 new jobs has already been eclipsed.
However, as Scott's final term as Governor heads for its end, Scott was able to speak more confidently about the past than the present.
"We've had a lot of success here," Scott said. "We're fighting. But the Legislature this year did not fund economic development."
As part of a phalanx of speakers at the event, held outdoors on sun-baked blacktop, Sen. Rob Bradley noted that the Governor's "jobs, jobs, jobs" message may not have resonated with the media, but was necessary.
Then, in a rare moment for a ribbon cutting, Bradley noted that this year's budget wasn't to the Senate's or the Governor's liking.
"We didn't get things with this budget," Bradley said. "Governor, I wish we could have done better this session."
Soon enough, Bradley introduced a note of levity — and a reference to Gov. Scott's veto pen, expected to be active this year in a fit of score-settling.
"Whatever you do, we understand," the Clay County Senator said. "Just don't do anything about the Keystone Lakes though."
That reference: to money that Bradley got for the Northeast Florida chain of lakes, currently subject to water depletion.
In a press gaggle after the event, Scott discussed the need for job creation.
"This doesn't happen by accident. This happens because we recruit companies, go out and get them to come here," Scott said, via "incentives."
With incentives increasingly under siege, there already is serious concern about how much more recruitment can happen going forward.
"We've got to keep fighting for these things. We're competing with 49 other states, foreign countries. This is one of the last projects [where] we had the Quick Action Closing Fund, one of the tools in the toolkit we had to recruit companies," Scott noted.
"We don't have those dollars anymore. So we're going to see fewer and fewer of these job opportunities."