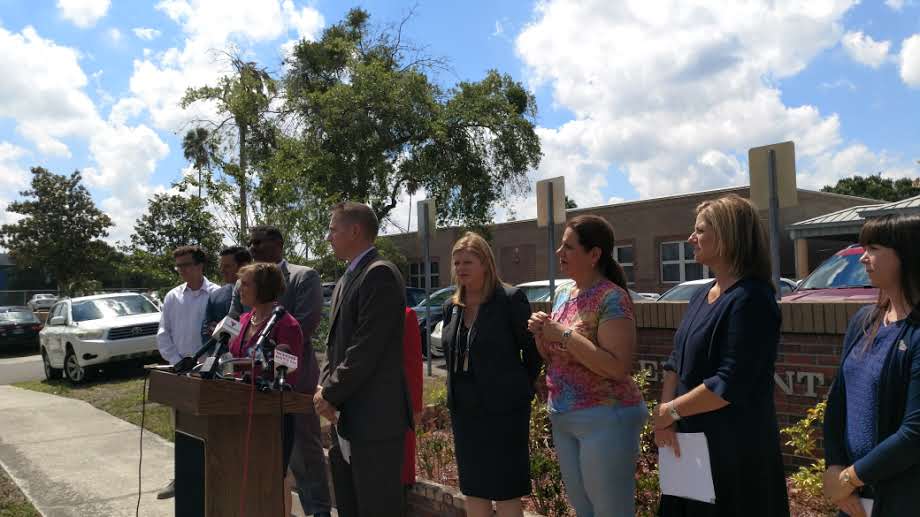 A host of political and education issues came together Tuesday in West Tampa to trash the massive $419 million public education bill that GOP lawmakers unveiled and passed in the final days of the Legislative Session.
"This is the mother of all education bills, " said Rep. Sean Shaw. The Tampa Democrat was referring to House Bill 7069, a 278-page conforming bill agreed to in secret and barely surviving a vote in the Senate before the Legislature adjourned earlier this month.
HB 7069, a massive 278-page education conforming bill that was agreed to in secret, barely survived a full vote in the Senate. Public school officials throughout the state have blasted the bill for its enormous incentives for privately run charter schools.
As a freshman who just completed his first session in the Florida House, Shaw said that the way he thought things were supposed to work in Tallahassee is that a bill is introduced in a committee and goes through other committees. Then, if it survives that process, the bill is ultimately voted on in the House and/or Senate.
Not this time.
"Not only is it filled with bad policy, the procedure with which it was done was way out of wack," Shaw lamented.
Three members of the Hillsborough County School Board — Susan Valdes, Sally Harris and Cindy Stuart — all appeared at the news conference held at West Tampa Elementary.
On Monday, the Florida School Boards Association became the latest organization calling on Gov. Rick Scott to veto HB 7069. In addition to criticizing the lack of transparency in the crafting of the bill, the FSBA have an issue on how Title 1 dollars would be spent if the bill passed.
"The way that the state has now taken a federal law and reregulated it basically at the state level is going to siphon millions and millions of dollars away from our schools that have the highest concentration of poverty," said a concerned Jeff Eakins, the superintendent of the Hillsborough County School District.
Another controversial provision allocates $140 million for the House's "schools of hope" proposal, aimed mostly at encouraging charter schools with a track record of helping academically struggling students. The measure would help open branches of charter schools near traditional schools that continually do poorly on state report cards.
"So if we're going to incentive the charter school that works down the street from a 'failing school,' what happens to the failing school that we've given no funds to get better?" asked a frustrated Shaw. "What happens in the next five years? The next 10 years?
"This harmful education bill continues to divert our tax dollars from our public schools, many going to for-profit corporations that act as charter schools," said Tampa-area Democratic Congresswoman Kathy Castor.
Mindy Taylor, an advocate for the Alliance for Public Schools, says her organization is most concerned about parental engagement, increasing funding for public schools, and maintaining local control of schools.
"The provision in HB 7069 violate each of these priorities," Taylor said.
Eakins stated that Hillsborough receives about $8 million annually for a recruitment retention program to lure nationally certified teachers to teach in some of the county's poorest area. "That's $8 million we will not be able to use in that particular program," he said. "The impact is going to be real."
Other provisions in the bill include additional funding for social services at a limited number of traditional public schools that are failing, an expanded bonus program for teachers and principals, restrictions on teacher tenure-like policies, a recess mandate for elementary schools, and the elimination of a required high school math exam.
A report from POLITICO on Monday indicated that Scott may, in fact, veto HB 7069.
"We've got to make sure we properly fund education, whether we have a great state college system, we have a great K-12 system," the governor said. "We've got to continue to do that."