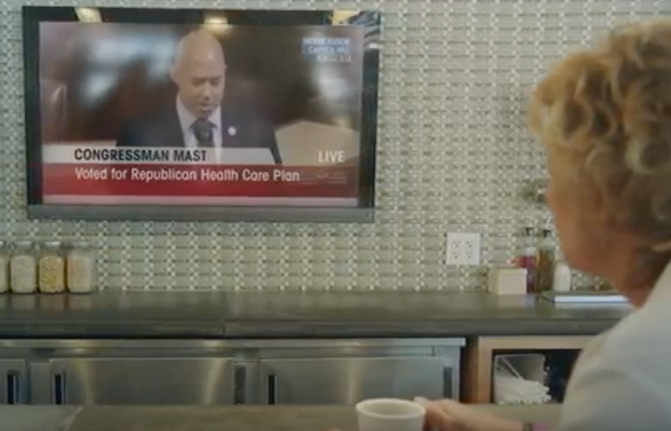 The Democrats' House Majority PAC is targeting U.S. Rep. Brian Mast among six Republicans nationally with video ads released Wednesday attacking their votes to approve the American Health Care Act.
The Mast commercial, released as an internet ad, charges that his vote, which helped the U.S. House of Representatives approved the bill 215-213, could allow insurance companies to charge older people five times as much as they charge younger people for premiums, citing an American Association of Retired Persons report.
The ad refers to the clause as the "age tax."
With video of people sitting around drinking coffee, reading their computer, and shaking their heads, the commercial also charges that Mast's campaign received $150,000 from insurance company and financial interests.
"Congressman Mast," the 30-second spot concludes, "Good for insurance companies, not so good for you."
Mast's re-election campaign responded by re-issuing his statement on why he voted for the American Health Care Act, which now is in the Senate, awaiting actions there. He noted that the Affordable Care Act – also known as Obamacare – failed in its promises and was leading to high premiums and other costs.
"The American Health Care Act delivers relief for families by ensuring that you get to choose your coverage and the federal government can't tax you based on what you think is best for your family," Mast added in that statement. "The bill returns control of health care from Washington back to you and restores access to quality, affordable options that are tailored to your individual needs."
The House Majority PAC released nearly identical commercials, dubbed "Wonder Why," in five other swing congressional districts Wednesday, in California, Minnesota, New York, and Texas.
The Democrats' rapid response to the American Health Care Act – also known as TrumpCare – indicates the battle over health care continues into the next election.
"House Republicans voted for a disastrous health care plan that will hurt millions of Americans across the country," Charlie Kelly, Executive Director of House Majority PAC, stated in a news release. "It is critical that we expose House Republicans for their dreadful plan that includes an 'age tax' – charging people over 50 years old up to five times more for their coverage."