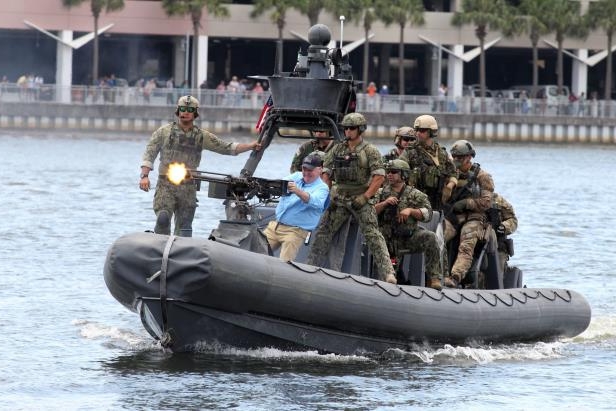 Over the course of six years as mayor, Bob Buckhorn has said things that have offended some people, but he has rarely (if ever) been forced to apologize.
Until now.
Unless you've been avoiding local (now national) press over the past couple of days, you know the mayor has been (metaphorically) under fire since the Tampa Bay Times' Howard Altman reported Friday afternoon on a number of reporters who took offense with a crack Buckhorn made at a military conference last week at the Tampa Convention Center.
As Altman originally reported, Buckhorn told the crowd about his experience as a hostage during a demonstration of special operation rescue tactics:
The highlight, he said, was when he was aboard a Navy special warfare boat, firing blanks from 50-caliber machine guns. "And so, the first place I point that gun is at the media," he told the crowd.

"I've never seen grown men cry like little girls, for when that gun goes off those media folks just hit the deck like no one's business. It's great payback. I love it."
Altman reported that the audience — approximately 1,000 people — mostly laughed at the remark. But some in attendance, specifically military reporters who have had live guns pointed at them for real, found nothing humorous about the comment.
Initially, Buckhorn blew off the furor.
It was "a silly reaction," he told the Times.
But after the story got legs in the national media over the weekend, Buckhorn spokesperson Ashley Bauman responded Monday afternoon.
"This was a story that he had told for three consecutive years," she said in a statement to FloridaPolitics.com, "and at no time was it ever construed to be serious or an accurate portrayal of what occurred."
"It was merely a humorous tongue-in-cheek description. Clearly, that does not translate on Twitter and in light of the current rhetoric at the national level aimed at the media, inadvertently served to reinforce some of those sentiments. That was not his intention, in fact, as the son of a former wire service reporter he has nothing but the highest regard for the work of journalists and their profession and he apologizes to those he offended."
The mayor also offended the sensibilities of some local residents when he typed, "whatever" on Twitter over the weekend in reaction to a tweet by Tampa Heights activist Rick Fernandez on his concerns with the Tampa Bay Express project.