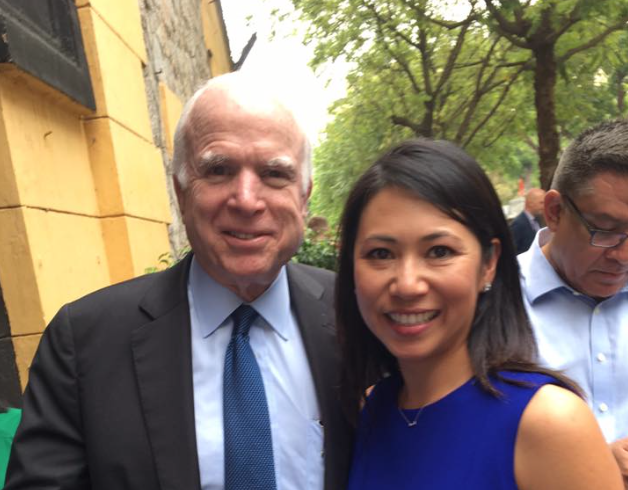 Winter Park's U.S. Rep. Stephanie Murphy, who was born in Vietnam and escaped with her family in a boat lift when she was six months old, returned to Vietnam Wednesday and joined U.S. Sen. John McCain and other members of Congress for a tour of the notorious "Hanoi Hilton" Vietnam War prison.
Murphy, a freshman Democrat, posted a picture Wednesday of herself with McCain outside the Hoa Lo Prison, now a historical shrine in Hanoi, with a caption that read:
"With Arizona Senator John McCain in Vietnam outside the prison in which he was held for more than five years as a POW. He is truly an American hero for his service to this country in times of both peace and war."
Murphy, McCain and other members of the U.S. Senate and U.S. House armed services committees are in Vietnam as part of a congressional tour of undisclosed sites in Asia.
Murphy's office said the members toured the prison at the invitation of McCain, the Republican senator from Arizona. He spent five and a half years imprisoned there during the Vietnam War, when he was a Navy lieutenant commander and was shot down during a bombing mission.
The four-nation trip is focused on strengthening the United States' Indo-Asia-Pacific alliances and partnerships. This is a bipartisan congressional delegation led by Armed Services Committee Chairman U.S. Rep. Mac Thornberry, a Republican from Texas.