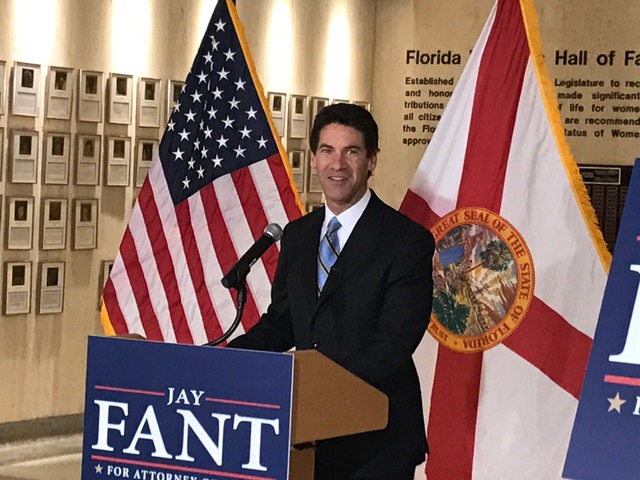 Jacksonville State Rep. Jay Fant wants the GOP nomination for Attorney General.
He announced in May, yoking himself to Pam Bondi's legacy, only to find Bondi endorsing his primary opponent, Ashley Moody.
Endorsements aren't everything, of course. Money helps.
Yet, after a splashy entrance into the race, which included a statewide tour of media markets, a look at the money in Fant's "Pledge This Day" political committee shows more hat than cattle as of the end of May.
Fant's committee didn't even hit five figures in May, with just $9,000 brought in from one donor (J.B. Coxwell Contracting) — sobering news for those Northeast Florida diehards who believe that the man without a country in the Florida House can somehow storm a statewide race.
Of that $9,000, $5,750 went out the door: $3,000 to Fant's own campaign account, and the balance to Front Line Strategies.
It remains to be seen how much buy-in Fant will get from locals.
At a recent meeting of the Duval County Republican Party, Fant served up red meat, saying that Mayor Lenny Curry — a political ally, up until that point — should have "done more to stop the HRO."
The HRO, or Human Rights Ordinance, was expanded by a veto-proof majority in February to codify LGBT rights. It is unclear what Curry could have done to stop it.
However, sources familiar with Mayor Curry's thinking indicate Curry's displeasure with Fant's comments. It remains to be seen how adversely that displeasure will affect the dispensation and generosity of the local donor class.
One suspects that it won't help, however, as Curry may be the most aggressive political operator in Jacksonville in decades, and generally takes note and action when people volunteer criticisms of his governing style.
As the AG field fleshes out this summer, Fant is going to have to show fundraising strength. While self-financing is always an option for the well-heeled Fant, other candidates in the race are certain to demonstrate fundraising momentum … and it is in Fant's interest to show such a commitment from his Northeast Florida base.